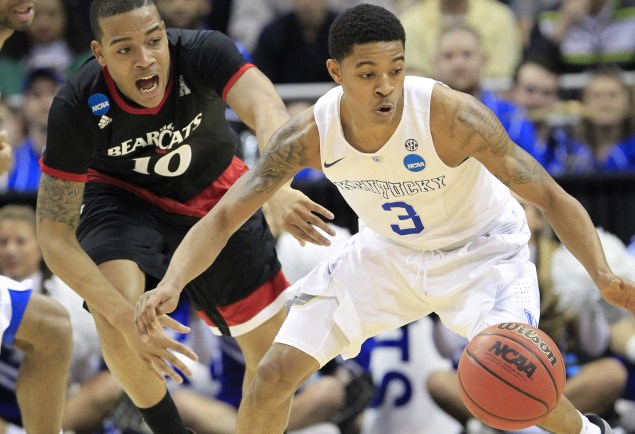 For the first time in NCAA history, we have a 36-0 college basketball team.
No. 1 seed Kentucky has moved within four games of their bid to go 40-0 this season as they fought to a 64-51 win over a scrappy No. 8 Cincinnati. The win moves Kentucky past Wichita State's record of 35 straight wins to start a season, a streak that the Wildcats ended last season in the Round of 32.
Aaron Harrison led the way for the Wildcats with 13 points while Trey Lyles added 11 points and 11 boards. Karl Towns scored eight in the first few minutes, but he was quiet the rest of the game. Freshman Tyler Ulis had a terrific floor game as well, finishing with nine points, five assists, three steals, no turnovers and one back-breaking three down the stretch.
The real difference maker was Willie Cauley-Stein. Cincinnati was actually the better team for the first 18 minutes in this game, leading by three points near the end of the first half and beating Kentucky at their own game: physical defense, tough work on the glass — they grabbed 22 offensive rebounds — and controlling the paint defensively. Kentucky needed a spark, and they got it when Cauley-Stein threw down this punishing dunk in transition.
That dunk sparked an 8-0 run to close the half, sending the Wildcats into the locker room with a 31-24 lead. Cincinnati would cut the lead to three in the final 20 minutes, but there was never a point where it felt like they had truly climbed back into the game.
You see, with Kentucky, we're always waiting for the run. A team can scrap and claw and battle and play well for long stretches, but sooner or later Kentucky is going to hit them with a run that creates some separation. And when that run hits, you're in trouble, particularly when you're a Cincinnati team that truly struggles to score.
A couple more notes on this game:
Remember the platoons? Yeah, me too. Marcus Lee and Dakari Johnson were super-glued to the bench for much of the game, meaning that Coach Cal has more or less found his seven-man rotation.
Please don't be one of those people that says "Cincinnati showed us how to beat Kentucky." They didn't. They lost because they tried to out-Kentucky Kentucky. You can't beat the Wildcats playing their game. Defensively, they actually did a pretty good job, but if you don't have enough shooting or run enough offense to spread out their defense, you have no shot of winning. And Cincinnati, while they played well, was never truly a threat in this game.
Kentucky will advance to take on the winner of No. 4 Maryland and No. 5 West Virginia, which will be played tomorrow afternoon.