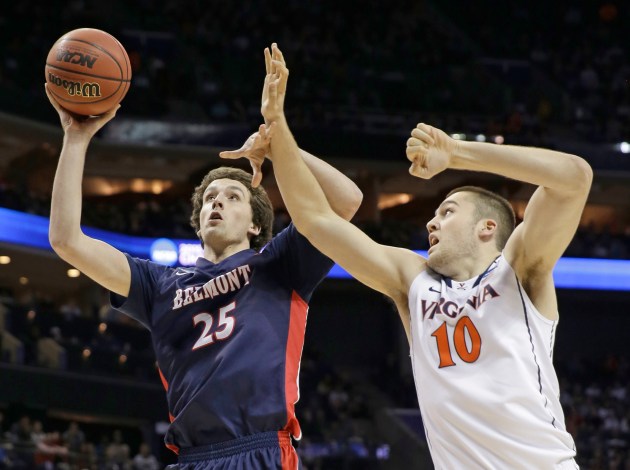 No. 2 seed Virginia made a late push in the second half to pull away from No. 15 seed Belmont for a 79-67 win in the East Region. The 'Hoos had a difficult time distancing themselves from the Ohio Valley Conference-champion Bruins, as a Craig Bradshaw 3-pointer pulled Belmont within two points at 62-60 with 4:36 left.
From there, Virginia (29-3) calmed down and closed out the game on 17-7 run, as they shot 21-for-25 from the free-throw line as junior guard Malcolm Brogdon led with 22 points. The Cavaliers also had 16 points from forward Anthony Gill, 15 points from forward Justin Anderson and 10 points from Darion Atkins on the afternoon as Virginia shot 45 percent (26-for-57) from the floor.
Anderson, an All-American candidate before going down with injury in February, played his best game since returning from injury. After going scoreless against Florida State and North Carolina in 26 minutes of action in the ACC Tournament, Anderson looked far more aggressive and assertive against Belmont, as he was 4-for-6 from the field and 6-for-7 from the charity stripe.
A healthy Anderson is critical for Virginia during the rest of the 2015 NCAA Tournament because they look like a serious Final Four threat with him near 100 percent.
Belmont (22-10) was led by a 10-for-19 shooting day from Bradshaw, as he finished with 25 points, but the high-scoring junior guard didn't have much help from his Bruin teammates. Guard Evan Bradds was the only other Belmont player to finish in double-figures with 10 points.
Virginia advances to face No. 7 seed Michigan State in the Round of 32. The Spartans advanced earlier on Friday after holding off No. 10 seed Georgia.