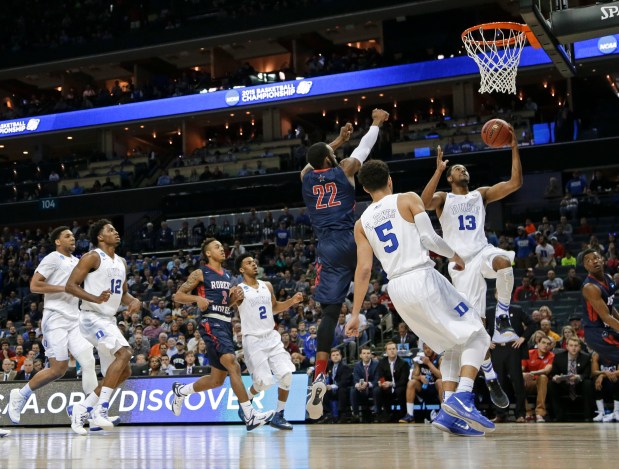 For awhile, it looked like No. 1 seed Duke was in for a fight with No. 16 seed Robert Morris. After star freshman center Jahlil Okafor missed an open reverse dunk for the Blue Devils, the Colonials went on a 10-0 run to cut Duke's lead to 54-44 with 12:22 left.
After that run, the Blue Devils woke up, took control and rolled to an 85-56 win in the South Regional. Senior guard Quinn Cook led Duke with 22 points while Okafor added 21 points on 9-for-11 shooting. Freshman guard Tyus Jones, senior center Marshall Plumlee and junior forward Amile Jefferson all chipped in 10 points each for the Blue Devils.
Duke's offense did a great job of moving the ball and finding the open man as the Blue Devils had 28 assists on 34 field goals on Friday night. Freshman wing Justise Winslow had a solid floor game with six points, seven assists and 11 rebounds while Jones also contributed seven assists.
Robert Morris did everything they could to stay with Duke but didn't have the bodies to run with the Blue Devils. Junior forward Rodney Pryor led the Colonials with 23 points while guard Marcquise Reed added 20 points.
The Blue Devils shot 63 percent (34-for-54) from the field and 47 percent (10-for-21) from 3-point range. Duke moves on to face the winner of the St. John's/San Diego State game in the Round of 32 on Sunday.