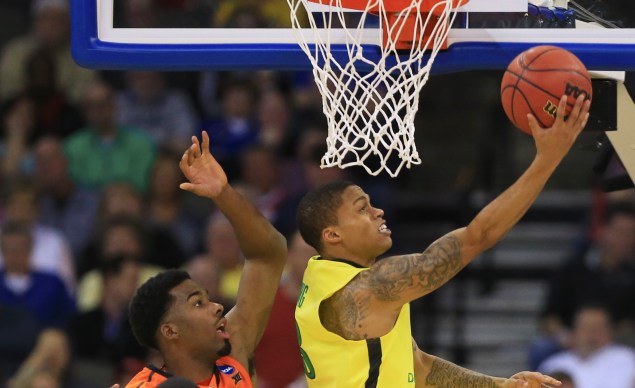 Joseph Young finished with 27 points and four assists while Elgin Cook and Dillon Brooks combined for 35 points, 9 boards and six assists as No. 8 Oregon advanced past No. 9 Oklahoma State in the opening round of the NCAA tournament, 79-73.
Young was the Pac-12 Player of the Year this season and is one of the nation's most dangerous scorers, and he proved it on Friday night. At one point, he went on a personal 15-3 run to close the first, netting 23 of his 25 in an eight minute stretch that spanned both halves. The surge started with Oregon down 36-28 and ended with the Ducks up 54-49, with Young capping it with this dunk.
From there. Elgin Cook and Dillon Brooks did the heavy lifting, scoring 14 of the final 25 Oregon points as the Ducks hung on to win.
In all likelihood, Oregon will advance to take on No. 1 Wisconsin in the Round of 32, a matchup where the Ducks certainly will need Young to continue his terrific play. The Badgers have one of the nation's best on-ball defenders in Josh Gasser, which, when combined with the fact that Wisconsin is, you know, awesome, it's going to take a near-perfect game for Oregon to pull the upset.