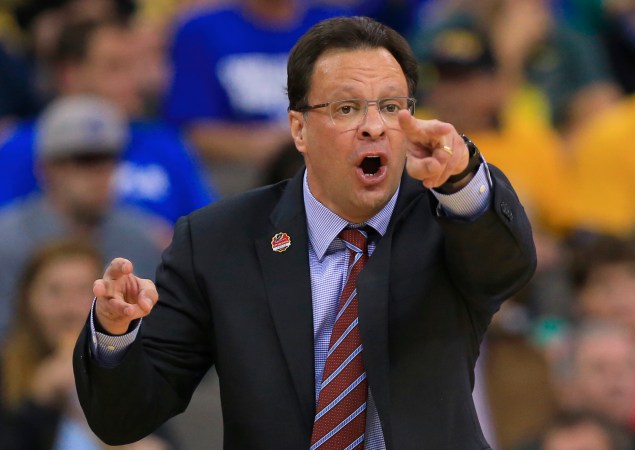 Indiana head coach Tom Crean has had a tumultuous few weeks, as he faces pressure from the Hoosier fan base to win big in March. After No. 10 seed Indiana lost to No. 7 seed Wichita State on Friday afternoon, Crean's frustrations reportedly boiled over.
According to multiple reports, Crean looked at referee Kipp Kissinger after the loss and said, "you suck."
Dirk Chatelain of Omaha.com first noted of the encounter on Twitter while Indianapolis Star columnist Gregg Doyel also mentioned Crean's outburst in his column from Friday's game.
Doyel wrote about Crean's actions in-depth. From his column:
That final phrase may seem like a homer thing to read in The Indianapolis Star, but both teams played at the same pace, in the same attack mode, with the same clawing defense. One team (Indiana) was called for nine more fouls, and the other team (Wichita State) was granted 14 more free throws. When this game was over Crean didn't walk immediately toward the Shockers' sideline. He walked toward one referee and told him, right in front of me, "You suck."
It should be noted that Kissinger is primarily a Big 12 and Missouri Valley Conference official. The Shockers were regular-season champions of the Valley this season. As noted by CBS Sports' Matt Norlander, Kissinger has been officiating college basketball games since 1997 and ranks 720th out of 817 officials in terms of fouls called this season, per BBState.com.
The 34-20 free-throw discrepancy is undoubtedly frustrating for Crean, but he can't show this kind of attitude towards a game official on college basketball's biggest stage. Doyel mentions that both Wichita State and Indiana played, "in the same attack mode" in his column but he neglected to mention that Indiana shot 22 3-pointers (of 59 field-goal attempts) while Wichita State attempted 13 3-pointers (of 61 field-goal attempts). The Hoosiers settled for more jumpers than the Shockers and more than 1/3 of their field-goal attempts came on a perimeter shot in which a shooting foul rarely occurs.
There are already plenty of Indiana fans who are upset with Crean's tenure at Indiana and this will only add fuel to that fire. It'll be interesting to see if anyone asks Crean — or Kissinger — about this exchange and what happens from here. For now, Wichita State is moving on to the Round of 32 — where they'll face in-state opponent Kansas — while Indiana is heading home after another early NCAA Tournament exit.
If you watched the game, what do you think? Was the officiating favoring Wichita State over Indiana? Is Tom Crean overreacting?