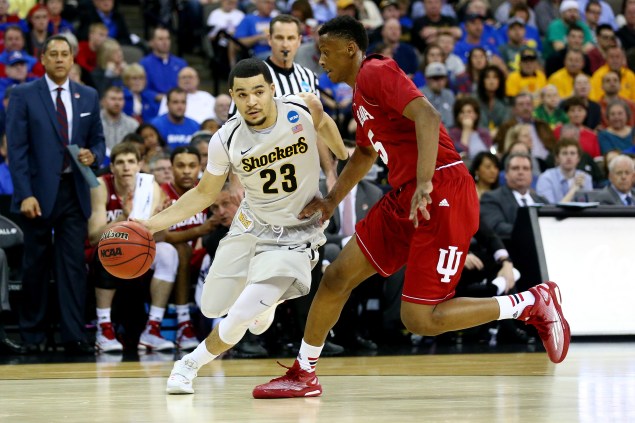 No. 7 Wichita State will get their shot at No. 2 Kansas.
The Shockers knocked off No. 10 Indiana 81-76 on Friday afternoon, using a 15-3 run in the second half to take a 65-57 lead that they would never look back from. The Hoosiers cut the lead to one with two minutes left after Yogi Ferrell and Colin Hartman hit back-to-back threes, but the Shockers were too much down the stretch.
Fred Van Vleet led the way for the Shockers, finishing with 27 points and four assists. He scored 19 of those 27 points in the first half, as Indiana came out of the gates on fire while Van Vleet's teammates struggled to get into a rhythm. They were overwhelmed on the offensive glass by the Hoosiers — which is saying something, Indiana is not a good rebounding team — and Ron Baker couldn't buy a bucket.
In fact, Baker played about as poorly as I've ever seen him play in the first 20 minutes. He finished the afternoon with 15 points, but he was just 3-for-13 from the floor and wasn't anything other than a decoy offensively for much of the second half. He was 2-for-9 from the floor with three turnovers in the first 12 minutes, but he played well defensively down the stretch and hit a couple of big free throws.
The biggest play of the game came from Tekele Cotton. With the Shockers up just 74-72 with under a minute left, Marshall called a timeout and drew up a beautiful set, one that resulted in a back-screen for Cotton, who received a pass from Darius Carter on the block and scored over James Blackmon.
HIGHLIGHT: Late-game layup propelled the Shockers to victory http://t.co/YDyTGInvDu

— NCAA March Madness (@marchmadness) March 20, 2015
Indiana wouldn't truly threaten again.
The Shockers will advance to take on Kansas in what will be the most intriguing game of the first weekend of the NCAA tournament. Long story short: Kansas and Wichita State are the two best basketball programs in the state, but they don't play each other. Wichita State will tell you it's because Kansas is scared. Kansas will tell you it's smart business; when they're pulling recruits out of the Wichita, they don't want to have the hometown school beat them.
There's more to the story as well. Former Kansas guard Connor Frankamp transferred out of the program in November. Where did he transfer to? Wichita State. Will the Jayhawks adjust their play calls or add anything else into their offense?
With all due respect to Indiana and New Mexico State fans, this is the matchup that we all wanted to see.