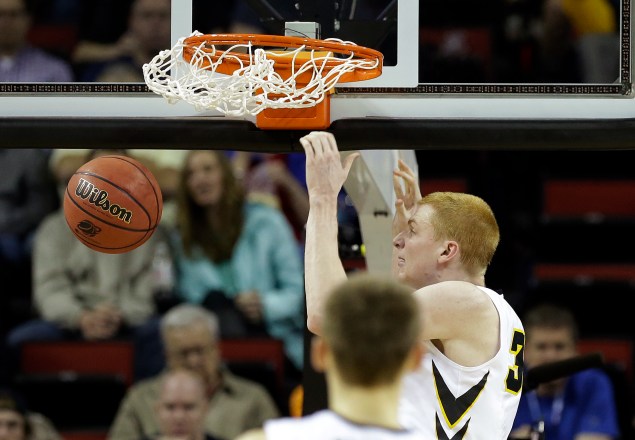 After the way that collapsed down the stretch of the 2013-2014 season, and after the way things looked headed midway through the Big Ten season — Iowa lost five of seven at one point, a stretch ended up losses to Northwestern and Minnesota — I'm not sure even the most optimistic Hawkeyes fan could have predicted that this group would be one of the hottest teams in the country during the NCAA tournament.
But here we are.
No. 7 Iowa mopped the floor with Atlantic 10 regular season champion No. 10 Davidson on Friday night, beating them 83-52 in a game that never really seemed to be in doubt. They've now won seven of their last eight games, including a run of six in a row to close out the regular season.
What has happened?
For starters, head coach Fran McCaffery has reminded his star Aaron White that he is, in fact, a star. White had 26 points and six boards, shooting 11-for-14 from the floor, in Friday night's win. It's the sixth straight game that White has gone for more than 20 points, something that hasn't been done by an Iowa player since 1984.
Mike Gesell, Jarrod Uthoff and Gabe Olaseni have also played well of late, but more than anything, the Hawkeyes finally seem to be playing with some confidence. And that, at the end of the day, may be the biggest difference. Look, there was never any question about the talent on this roster. McCaffery has quality pieces at his disposal. But inconsistency — particularly under pressure — has plagued this program in recent years. Consistency is about confidence, and confidence is a funny thing. It runs downhill, and when your star player is playing the best basketball of his life, quite often that results in the rest of that team playing better.
Whatever the case may be, a 31-point beatdown of the Atlantic 10 regular season champion is impressive, and if Iowa does end up facing No. 2 Gonzaga in the Round of 32, maybe we shouldn't be so quick as to give the Zags a free pass to the Sweet 16.