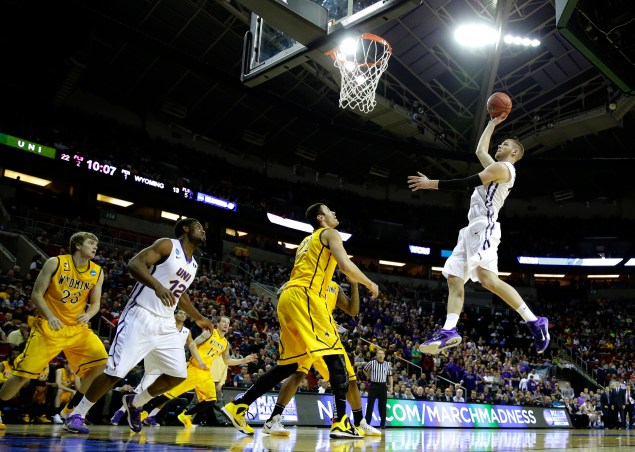 Paul Jesperson had 16 points and Seth Tuttle added 14 points (ten in the first half), nine boards, three assists and three steals as No. 5 Northern Iowa knocked off No. 12 Wyoming, 71-54.
The Panthers jumped out to a huge lead, taking a 35-24 lead into the break and pushing that to 21 early in the second half, but the Pokes weren't going to go without a fight. Wyoming star Larry Nance Jr. took over for a three-minute stretch, scoring the first 13 points of the half for Wyoming and 12 straight during an 18-4 run that cut the UNI lead to just seven.
But Jesperson his a big three and point guard Wes Washpun knocked down a couple of big pull-ups as the Panthers cut off the run and held on for the win.
Entering this game, the question was whether or not Tuttle, who had an all-american caliber season, would be able to be effective against Nance, who was the perfect matchup for him defensively. The answer? Yes. Very much so. Tuttle was dominant in the first half as the Panthers built a lead that eventually proved to be too much for Wyoming to overcome.
UNI will now advance to take on the winner of No. 4 Louisville and No. 13 UC Irvine, a matchup that they very well could end up winning. Northern Iowa is dangerous. They're very good defensively, playing a similar Pack-Line defense to the one employed by Virginia and Arizona. They have a stud in the middle in Tuttle and they surround him with a myriad of sharpshooters.
I would not be surprised to see them end up being favored over Louisville, should the Cardinals advance. That would potentially create a matchup with No. 1 seed Villanova in the Sweet 16, which would be one of the most intriguing matchups of that round.