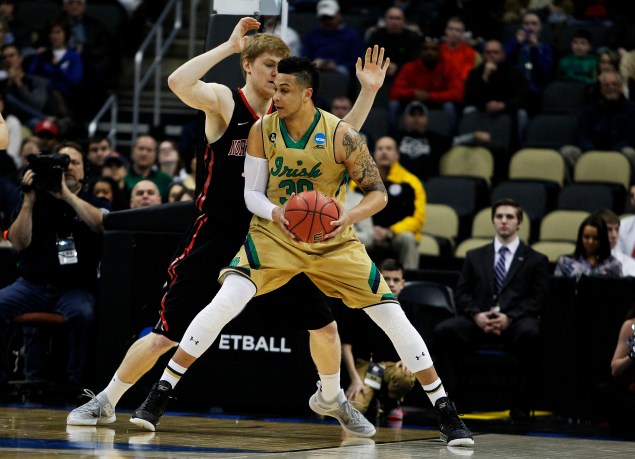 Zach Auguste finished with 25 points and five boards while Jerian Grant added 17 points and five assists as No. 3 Notre Dame knocked off No. 14 Northeastern, 69-65. It's wasn't just Auguste's numbers, however. He made two free throws with 1.9 seconds left to finally seal the win after getting a steal on Northeastern's final possession.
Notre Dame did everything they could to give this game away, giving up a number of offensive rebounds and easy buckets in the final three minutes. Northeastern used a 8-0 to cut a 67-57 lead to two with under a minute left, and after Pat Connaughton threw away an inbounds pass with 32.6 seconds on the clock, the Huskies had the ball with a chance to win.
Northeastern couldn't get a shot off, as Notre Dame's defense, of all things, made a huge play when they absolutely needed it.
The Irish will advance to play the winner of No. 6 Butler and No. 11 Texas.
The Fighting Irish used a surge midway through the second half to create some space between themselves and the Huskies, and while Northeastern was able to breakdown Notre Dame's defense enough to remain within striking distance, Bill Coen's club was never able to regain the lead.
Notre Dame made a concerted effort to get the ball into the paint. One of the nation's best three-point shooting teams, the Irish went just 2-for-6 from beyond the arc, instead force-feeding Auguste, both on post touches and as the roll man in ball-screen actions.
This game more or less played out as expected. Notre Dame doesn't not defend well enough to blow out teams out, and Northeastern is good enough that they were always going to remain within striking distance. In other words, I'm not surprised the Huskies kept it close. If you're going to take anything out of this game as an Irish fan, it's that the program is going to be in good hands next season when Jerian Grant and Connaughton graduate.
Demetrius Jackson was electric on Thursday afternoon. He finished with nine points and eight assists, which is impressive enough on its own before you see highlights like this:
HIGHLIGHT: Behind the back and between the legs! Notre Dame extends its lead. http://t.co/3EK7OZ8jhL

— NCAA March Madness (@marchmadness) March 19, 2015
Jackson is a complimentary piece right now. But next season he's going to take over Grant's role as the centerpiece of an offense that relies quite heavily on the play of their point guard.
And if Jackson proved anything today, it's that he'll be up to the challenge.