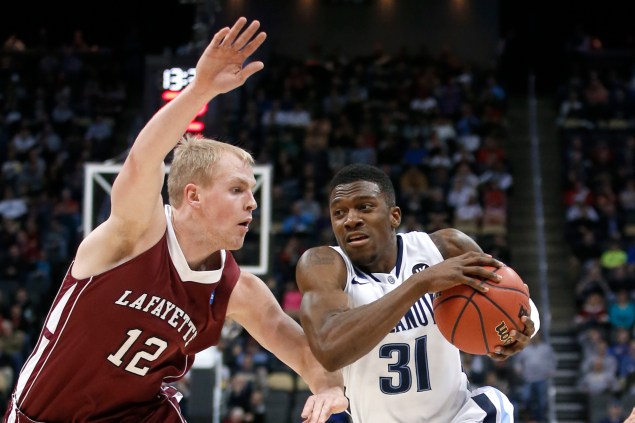 After winning the Big East regular season and tournament titles, No. 1 Villanova entered this week with hopes of building on their success with a deep run in the NCAA tournament. Jay Wright's team got things going Thursday night, and the top seed in the East Region had little trouble with No. 16 Lafayette in Pittsburgh.
Dylan Ennis led six Wildcats in double figures with 16 points as the Wildcats won by the final score of 93-52. As a team Villanova shot better than 63 percent from the field and 11-for-22 from beyond the arc, and they never allowed the Patriot League champions to develop the confidence needed to hang around.
Defensively Villanova limited Lafayette, a good three-point shooting team, to 4-for-18 from beyond the arc. The Leopards needed a spectacular night from deep to have any chance of hanging around, and Villanova made sure that didn't occur.
Dan Trist led the way for the Leopards, who won their conference tournament despite being the four-seed, with 18 points and six rebounds. The two schools share a connection to Fran O'Hanlon, as the Lafayette head coach is also a Villanova alum and a member of that school's athletic hall of fame.
Next up for Villanova is a much tougher test in either No. 8 NC State or No. 9 LSU. Both teams have multiple interior options, which could be an issue for the Wildcats given their lack of depth in the post. But balance on both ends of the floor have led to Villanova winning 33 games this season, and that will be the key for them moving forward.