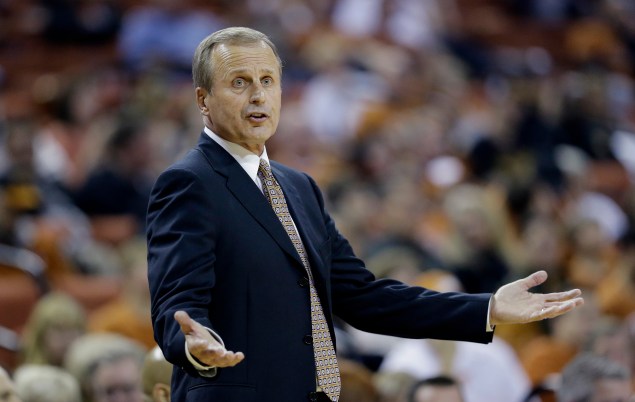 The fixation on March Madness for the general public often centers around players. Shabazz Napier helping lead UConn to a national championship last season often overshadowed Kevin Ollie doing such a tremendous job as a young head coach.
Coaches are often defined — both fairly and unfairly — by NCAA Tournament accomplishments. Coaches need to win games in March in order to keep jobs or ascend up the coaching ladder. The NCAA Tournament is when the spotlight of the sports world is fixated on college basketball, and as a coach, delivering results when people are actually taking notice is very important. Here's 10 coaches with the most on the line entering the 2015 NCAA Tournament.
1. John Calipari, Kentucky – The head coach facing the most pressure entering the NCAA Tournament is John Calipari and second place isn't even close. With Kentucky being viewed nationally as the overwhelming favorite to win the 2015 NCAA Tournament, Calipari faces the external pressure of not only living up to national expectations, but also coaching the first undefeated season since Indiana in 1976. If Kentucky wins the title, Calipari will be completely untouchable. He'll have gamed the one-and-done system to his advantage and had a record-setting year while doing it. None of Calipari's peers in Division I coaching can say they've had an undefeated national championship season.
2. Sean Miller, Arizona – The six-year head coach of Arizona has done a tremendous job rebuilding the program to national prominence, but it's a Final Four-or-bust proposition for the Wildcats this season. Arizona hasn't made a Final Four appearance since 2001 and the fanbase is starving for a return to the national semifinals after Miller has made two Elite Eights and a Sweet 16 appearance during his tenure. While Miller wouldn't have to worry about his job if Arizona didn't make it, some in the fanbase would continue to question whether he was the right guy for the job if he can't make it to the final weekend of the NCAA Tournament. Miller can quiet all of those doubters with a big run in 2015.
3. Rick Barnes, Texas -Without a run in the NCAA Tournament, Rick Barnes could be in trouble at Texas. Expectations were incredibly high in Austin this preseason and the Longhorns barely made the tournament as a No. 11 seed. With a new athletic director looking to make a splash, and donor money needed for a new basketball arena that Texas is looking to build, it could be Barnes who takes the fall as a product of bad timing.
4. Tom Crean, Indiana – Although a decent showing in the Big Ten Tournament last week quieted the critics a little bit, Indiana could still use a win or two to really get the heat off of Crean in Bloomington. No matter what Crean does, there is always going to be a segment of Indiana's fanbase that dislikes him because he doesn't do things like Bob Knight once did. There are also the rumors of Crean looking at other jobs. If Crean is looking to stay at Indiana, or move on to another job, winning a game or two this weekend would really help in that equation.
5. John Thompson III, Georgetown – Since making the Final Four in 2007, Georgetown has been eliminated by a double-digit seed in all five subsequent NCAA Tournament appearances. This year, the Hoyas are even getting called out by No. 13 seed Eastern Washington, as Eagles head coach Jim Hayford is guaranteeing a win. The little guy isn't scared of big, bad Georgetown anymore. If Georgetown loses to a double-digit seed for the sixth consecutive time, it could get ugly in D.C.
6. Mark Few, Gonzaga – The long-time Gonzaga head coach has won at least 23 games and made the NCAA Tournament for 16 consecutive seasons. He's also never made it past the Sweet 16. It's not like Few is facing pressure to save his job with a deep tournament run, but the Zags could really use at least an Elite 8 appearance this season to quiet some of the very vocal critics who say the program can't win against the best.
7. Ben Jacobsen, Northern Iowa – It's been a great season for the Panthers and now many believe Northern Iowa could make a run to the Sweet 16 or Elite Eight. Many also believe that Jacobsen is staying put in the Missouri Valley Conference regardless of tournament outcome. But if you look over Jacobsen's career with the Panthers, he's lost at least 13 games in six of nine seasons. He's only made the NCAA Tournament three times. The Valley is tough and if a great job comes calling after a potential Northern Iowa run, Jacobsen will have to listen.
8. Larry Brown, SMU – With Brown being 74 years old and SMU facing potential NCAA sanctions, this could be the Hall of Fame coach's final time in the NCAA Tournament. It's tough to speculate what will happen to the Mustangs in light of this season's academic scandal, but many around college basketball believe that Brown could get out of coaching sooner than later.
9. Brad Underwood, Stephen F. Austin -One of the rising stars in the coaching world, Underwood has more wins in his first two seasons as a head coach than any Division I coach in college basketball history. Stephen F. Austin already won a NCAA Tournament game last season in Underwood's first campaign and another win in the tournament would make Brad one of the hottest names in the coaching carousel.
10. Bobby Hurley, Buffalo -Much like Underwood, Hurley is a second-year head coach making a splash at an emerging program. Despite losing MAC Player of the Year Javon McCrea from last season, the Bulls still made the first NCAA Tournament appearance in school history. The former All-American point guard from Duke retooled the Buffalo roster and brought in some talented players on the recruiting trail. Now all that Hurley needs is a signature win and that could come this week.