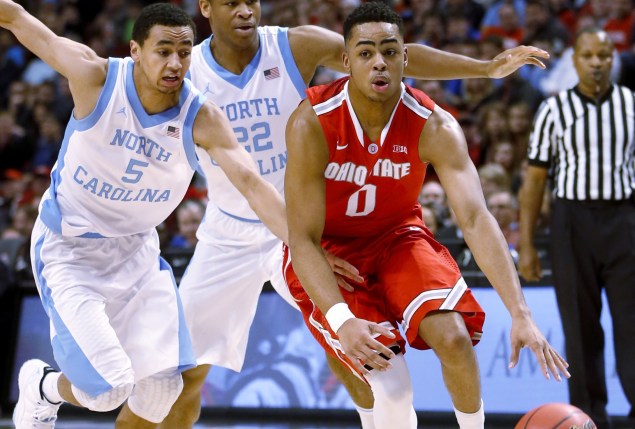 After Shabazz Napier helped lead No. 7 seed UConn to a national championship last year, guards are all the rage in the NCAA Tournament this year. "Who is the next Shabazz Napier?" is a question that has been frequently asked leading into the 2015 NCAA Tournament. We might never get a performance to match Napier's incredible run last March, but there are plenty of exciting guards playing this March, and the top four didn't play in the NCAA Tournament last season.
There are plenty of guards who could have been included on this list, (let us know in the comments section) but we're going to look at the players most vital to team success and a potential deep run in the NCAA Tournament.
REGIONAL PREVIEWS: East | South | Midwest | West
1. Jerian Grant (Notre Dame): Without Grant last season, who missed the second half of the season with academic issues, the Irish were a mediocre team. Now that the senior has returned, Notre Dame won the ACC conference tournament and enter as a very intriguing No. 3 seed. The 6-foot-5 Grant averaged 16.8 points, 6.6 assists and 3 rebounds per game. He also has the best dunk of the college basketball season.
2. D'Angelo Russell (Ohio State): Before we begin talking about the best backcourt NBA Draft prospect in the 2015 NCAA Tournament, I want you to watch some of Russell's ridiculous passes. Besides his breathtaking vision and passing ability (5.1 assists per game), the 6-foot-5 McDonald's All-American is averaging 19.3 points and 5.6 rebounds per game. He can hit shots from anywhere (41 percent 3-point). Watching Russell's unique style will be a lot of fun when he goes against VCU's "Havoc" in the Round of 64.
3. Kris Dunn (Providence): The 6-foot-3 Dunn has battled injury the last two seasons, but now the basketball world is seeing what made him a McDonald's All-American in 2012. Electric with the ball in his hands, Dunn is probably the most fun to watch after snaring a rebound and going coast-to-coast with his speed and open-floor ability. The turnovers will drive some crazy (4.1 per game) but those come in-part because Dunn is trying to make some highly difficult plays. Dunn averaged 15.8 points, 7.6 assists and 5.6 rebounds per game this season.
4. Delon Wright (Utah): One of the best in college hoops at working pick-and-rolls, the younger brother of NBA veteran Dorell Wright is having a fantastic senior season. The 6-foot-5 Wright averaged 14.9 points, 5.3 assists and 4.9 rebounds per game this season and, like Dunn, has the potential to make thrilling plays going coast-to-coast with the ball in his hands. Wright can also elevate in traffic and finish above the rim.
5. Buddy Hield (Oklahoma): Many view Oklahoma as a darkhorse Final Four pick and one of the nation's premier two-way guards is a big reason why. The 6-foot-4 junior averaged 17.5 points, 5.5 rebounds and 1.8 assists per game in winning Big 12 Player of the Year honors this season. Hield is also regarded as a clutch performer and had a game-winning tip against Kansas this season.
READ MORE: Ranking the field | Eight teams that can win | Perfect bracket pool
6. Melo Trimble (Maryland): Some have called the freshman McDonald's All-American underrated, but we at CBT admired Trimble's play enough to make him a third-team All-American this season. The 6-foot-2 freshman is one of the game's best closers thanks to his 86 percent free-throw shooting and he's also putting up 16.3 points, 3.6 rebounds and 3.1 assists per game for the resurgent Terps.
7. T.J. McConnell (Arizona): We hear the phrase "true point guard" thrown around quite a bit in the basketball world and the 6-foot-1 senior fits that bill. McConnell is the undisputed leader of the No. 2 seed Wildcats and averaged 9.8 points, 6.4 assists and 3.8 rebounds per game. The senior also is a pest on the defensive end, averaging 2.1 steals per game, and is the main setup guy for Arizona's talented roster.
8. Malcolm Brogdon (Virginia): When Justin Anderson went down with injury it looked like Virginia might be in trouble. Thanks to the elevated play of the 6-foot-5 Brogdon, the Cavaliers kept winning a lot of games. The junior first-team All-ACC selection led Virginia in scoring at 13.9 points per game and also had 3.9 rebounds and 2.5 assists per game. Brogdon also doesn't shy away from the spotlight. He's made buzzer beaters and shoots 87 percent from the free-throw line.
9. Marcus Paige (North Carolina): It wasn't the best regular season for the 6-foot-1 junior, but Paige has the potential to take the Tar Heels on a run here if he gets going. A third-team All-ACC selection this season, Paige 13.9 points, 4.6 assists and 2.9 rebounds per game. Paige has a propensity to make tough shots and opposing defenses always have to track his whereabouts closely.
10. Kevin Pangos (Gonzaga): The 6-foot-2 senior is actually averaging a career low 11.5 poins per game this season, but it's because he's doing such a tremendous job of setting up his teammates. Pangos averaged a career-high five assists per game as a senior and elevated his already stellar shooting splits (46% FG, 44% 3PT, 83% FT). He's the type of player who can run off multiple 3-pointers in short order.
Six More to Keep in Mind
Ryan Arcidiacono (Villanova)
Ron Baker (Wichita State)
Quinn Cook (Duke)
Darrun Hilliard (Villanova)
Monte' Morris (Iowa State)
Juwan Staten (West Virginia)