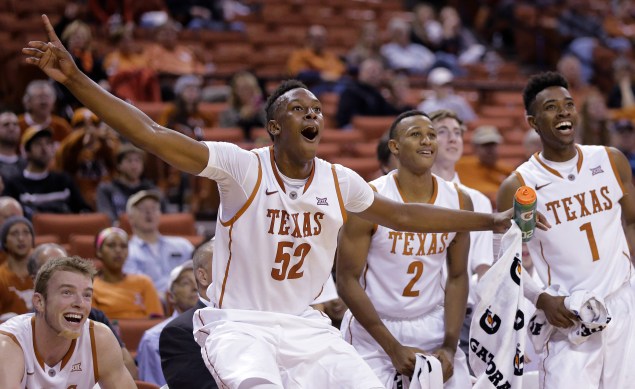 Here is one team from each region outside the top three seed lines that could make a surprising run to the 2015 Final Four:
No. 11 Texas (Midwest): It's going to take a lot for anyone to beat Kentucky in the Midwest, and frankly, I'm not sure that anyone in the region can actually knock off the Wildcats, including No. 2 seed Kansas and No. 3 seed Notre Dame. But if someone can, Texas might actually match up with John Calipari's club better than anyone else.
Strictly from a talent perspective, the Longhorns have no business being a No. 11 seed. It's one of the reasons that Rick Barnes' name pops up in any discussion you'll have about the coaching carousel this spring. And while this group disappointed for much of the 2014-2015 season, their path to the Elite 8 is actually fairly manageable: at worst, it's No. 6 Butler, No. 3 Notre Dame, and No. 7 Wichita State/No. 10 Indiana/No. 2 Kansas.
The run isn't as outlandish as it seems, either. Texas was starting to play better late in the year, beating Baylor and Kansas State to close the season before blowing a huge lead to Iowa State in the Big 12 tournament. If they do get to the Elite 8, they have the size up front to matchup with the Wildcats, as they did in a loss in Rupp Arena back in December, but they'll also have starting point guard Isaiah Taylor for this game.
No. 5 Utah (South): The biggest reason that I think Utah is a sleeper in the South is that I think that San Diego State can knock off Duke in the Round of 32. With Duke out of the way, the path for the Utes to get to the Final Four is that much easier.
The irony here is that I think Utah has been somewhat overrated this season, as they've pounded of less talented competition and looked good-but-not-great against teams like Arizona and Kansas. What I love about them, however, is that they do the three things well that you need to be able to do to win in March: They have a number of three-point shooters, they are really good defensively and they have a terrific point guard in Delon Wright, a guy that can completely dominate a game while score around 15 points.
No. 7 Michigan State (East): I have No. 2 Virginia in the Final Four in my bracket, but I think that the Cavaliers are at serious risk of getting picked off by Michigan State in the Round of 32. The Spartans have had a painfully up-and-down season, but anyone that saw their performance in the Big Ten title games against Wisconsin knows how good this group can be when they get it going. Travis Trice and Denzel Valentine are both liable to pop off for 25-30 points, and when Branden Dawson is dialed in, there aren't ten power forwards in the country that are better than him.
The other thing that makes the Spartans dangerous is their ability to score in transition. Michigan State is terrific at getting out and running the floor, especially now that Tum Tum Nairn is playing so many minutes at the point guard spot. Against Virginia, they'll not only have opportunities to shoot over the top of their defense, but they'll be able to beat it down the floor and score before that Pack-Line is set. And once you get past Virginia, the rest of the East Region is fairly open.
Oh.
And one other thing.
Tom Izzo.
No. 4 North Carolina (West): As difficult as it will be for a surprise team to play their way out of the Midwest, it might be even harder to get a Cinderella in the Final Four out of the West. That's what happens when the No. 1 seed is Wisconsin and the No. 2 is Arizona, the two teams that, for my money, are the two best teams in the country not named Kentucky.
If anyone can handle knocking off both the Badgers and the Wildcats, it's the Tar Heels. I think I'm higher on UNC than just about anyone in the country, as I think that teams that can beat you if different ways are incredibly dangerous. North Carolina's front line has actually been their strength this season, and the combo of Kennedy Meeks, Brice Johnson, Isaiah Hicks and Joel James can overwhelm smaller opponents, particularly on the offensive glass.
And then there's also Marcus Paige, and while he's had an off year, we all know what he is capable of when he gets it going. I think he'll be able to get it going in the tournament, as his struggles this year were two-fold: he wasn't getting any help offensively from the rest of North Carolina's perimeter, and he was spending too much time forced to play on the ball because the struggles of Joel Berry and Nate Britt. Well, Berry, Justin Jackson and J.P. Tokoto are playing some really good basketball these days, and it's paying off. If Tokoto isn't settling for jumpers and Berry and Jackson are hitting their perimeter shots, North Carolina is dangerous.