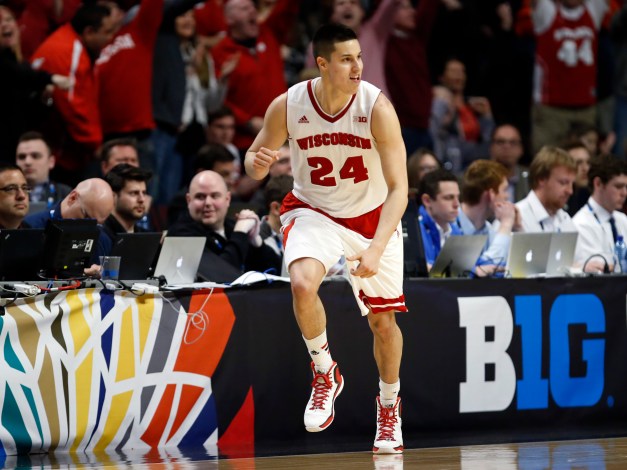 While star players tend to get the majority of the chatter in the days leading into the NCAA tournament, and rightfully so as their productivity is the reason why, the task of winning a championship takes a collective effort. With that being the case, at some point in a team's run to a national title they'll need an player (or more) from the "supporting cast" to step forward. Below are ten players who have the ability to step forward into the spotlight.
REGIONAL PREVIEWS: East | South | Midwest | West
1. Bronson Koenig (Wisconsin): Koenig's seamless transition from reserve to starter after senior point guard Traevon Jackson went down with a broken foot helped the Badgers maintain their grip on the Big Ten regular season title. And he was also a key factor in their run to the Big Ten tournament title this past weekend. At this point it would be unfair to label Koenig "unheralded," as he's shown himself capable of stepping into a starring role for Wisconsin.
2. Gabe York (Arizona): The Wildcats have three players averaging at least 10.9 points per game and three more averaging between 9.1 and 9.8 ppg. One of those three is York, who is averaging 9.1 points per game and is the team's best three-point shooter (56 made three-pointers, 38.9 percent). In his sixth man role York will be a key player for Arizona, as they'll need him to knock down the shots that can spread out opposing defenses.
3. Josh Hart (Villanova): Villanova has multiple players worthy of this distinction, but the pick here is Hart as he's coming off of a very good weekend in New York. Hart shot 21-for-29 from the field in three wins at the Big East tournament, becoming the first reserve to win tournament Most Outstanding Player honors. And given the way he's played throughout the season, Hart's capable of having a similar impact in the NCAA tournament.
4. Byron Wesley (Gonzaga): Wesley has plenty of college experience, as he began his career at USC, but this is his first NCAA tournament appearance. And given his ability to provide scoring on the wing (10.8 ppg), Wesley certainly has the ability to step forward as a primary scoring option should the Bulldogs need him to do so.
5. Trey Lyles (Kentucky): Picking a Kentucky player here is tough because they have a nine player rotation that has proved extremely difficult to stop. Lyles gives Kentucky size and offensive skill at the three when used there, and his ability to score will come in handy at some point in the tournament.
READ MORE: Ranking the field | Eight teams that can win | Perfect bracket pool
6. Abdel Nader (Iowa State): Nader's averaging just 5.8 points per game this season, but on multiple occasions he's stepped forward the Cyclones. His most recent outing came in Iowa State's win over Kansas in the Big 12 tournament title game, as he scored 13 points in 25 minutes of action.
7. Nate Buss (Northern Iowa): Seth Tuttle is the headliner for a team that can go ten deep, and of the players capable of producing is senior forward Nate Buss. Averaging 7.4 ppg, Buss averaged 15.7 points per game at Arch Madness and was named to the all-tournament team.
8. Brandon Taylor (Utah): With Delon Wright being the team's leader, it may be easy for some to overlook Taylor. That would not be a good idea, as he's averaging 10.7 points per game and is Utah's best perimeter shooter. Earlier this season the junior had a stretch of six consecutive double-digit scoring outings, and he scored 24 point in the Runnin' Utes' Pac-12 tournament loss to Oregon.
9. Darion Atkins (Virginia): Atkins was named ACC Defensive Player of the Year, and he's averaging 7.5 points and 5.7 rebounds per game. Atkins scored just 11 points in two games at the ACC tournament, but he is capable of providing more. And with Justin Anderson still working his way back into form, the Cavaliers will need Atkins to do just that.
10. Amile Jefferson (Duke): Freshmen Tyus Jones, Jahlil Okafor and Justise Winslow and senior guard Quinn Cook receive most of the attention and rightfully so. But Jefferson is a player capable of helping the Blue Devils in areas other than scoring. A solid defender, Jefferson's greatest value will come in that area as well as on the glass should Duke run into a team with interior depth.