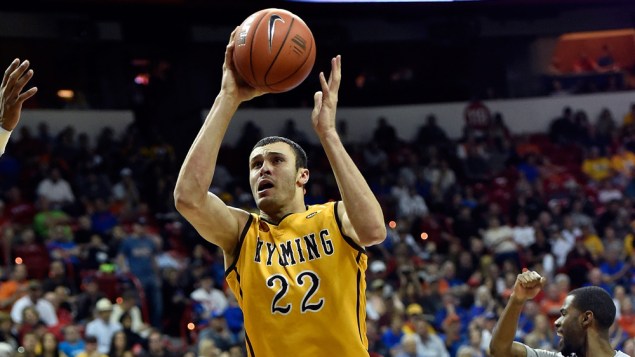 REGIONAL PREVIEWS: East | South | Midwest | West
WHO CAN MAKE THE SWEET 16?
1. No. 12 Wyoming: The Pokes are a tough team to trust, but I think they are actually a bit better than their seed. A few of their bad losses came while star big man Larry Nance Jr. was out battling mono or right when he got back into the lineup. They looked like a team that could win the conference before he got sick, and they backed that up with their conference tournament win. More than anything, however, I like Wyoming's matchups. Nance is one of the best front court defenders in the country, and to get to the Sweet 16, the Pokes will likely have to go through two teams that rely heavily on a pair of big men: Northern Iowa's Seth Tuttle and Louisville's Montrezl Harrell. Tuttle is Frank Kaminsky 2.0 with his ability to pass out of the post and beat slower big men off the dribble, and we all know how good Harrell can be. Take those two away, and Wyoming has a shot.
2. No. 13 Eastern Washington: The Eagles have become the trendy pick land an opening round upset for three reasons: They have the nation's leading scorer, they won at Indiana earlier this year, and they play Georgetown, whose reputation proceeds them. Casual Hoya, a terrific Georgetown blog, ran a solid breakdown of why, if it happens, this is still an upset — and they're right — I do think the Eagles are dangerous. For starters, they can really light it up from deep, starting with Tyler Harvey. They run in transition, they spread the floor and they make it difficult to matchup with them, especially for slow-footed big men like Josh Smith. The tournament is all about matchups, and EWU matches up well with Georgetown. If they can get past the Hoyas, they'll have a shot to get to the Sweet 16 because …
3. No. 12 Stephen F. Austin: … the Lumberjacks could very well knock off Utah. I like this team. They're not exactly VCU, but they play a similar style defensively, gambling to try and force turnovers, which lets them get easy baskets in transition. And they're coming off of a win over those Rams in last year's NCAA tournament. Where they can be beaten is in the paint, as SFA doesn't have much size inside, but Utah's bigs aren't apt to overpower opponents on the block. Josh Smith, they are not.
4. No. 12 Buffalo: Anyone that watched Buffalo make the trek to Lexington to play Kentucky earlier this season knows how good the Bulls can be when they play well. They have a couple of dynamic guards in their back court in Lamonte Bearden and Shannon Evans, and Justin Moss is as good of a four as you'll find at the mid-major level. The key to beating West Virginia is avoiding turnovers against their press. Bearden and Evans can struggle a bit in that regard, which would make me hesitant to pick them, but without Juwan Staten at full strength — he's battling a knee injury — the Mountaineers can be beaten. If Buffalo gets past WVU, they should have a favorable matchup in the Round of 32. Buffalo can beat Valpo. And Maryland? They've made an art form out of winning close games, but will those pressure-packed jumpers and free throws go down when the weight of the NCAA tournament is on their shoulders?
MORE: All-Americans | Player of the Year | Coach of the Year | Freshman of the Year
BUT WHO CAN'T?
1. No. 13 Valparaiso: Valpo can beat Maryland. Let me just get that out of the way right now. They're a very, very good team defensively in the half court, one that is going to give Maryland's back court of Dez Wells and Melo Trimble issues. There are times where the Terp offense essentially boils down to allowing those two guards to try and beat their defenders one-on-one, and that will not be an easy thing to do against the Crusaders. If they can bet past Maryland, however, I hate their matchup against West Virginia, who, assuming Juwan State actually is healthy, should be Buffalo. Valpo's point guard situation is in flux due to injuries, and that is a nightmare scenario when playing against a team that thrives on forcing turnovers.
2. No. 13 Harvard: For two straight seasons, the Crimson have won a game in the NCAA tournament, a streak that ends this season when they face North Carolina. For starters, Wesley Saunders, Harvard's star guard, will have to deal with one of the ACC's best defenders in J.P. Tokoto. The other problem? Harvard's big front line won't have quite the same advantage against the Tar Heels bid bodies.
3. No. 14 Georgia State: The Panthers are a trendy upset pick, and I can understand why. I love Georgia State's back court. R.J. Hunter, Ryan Harrow and Kevin Ware can matchup with just about any back court in the country, at any level. The problem? Hunter's had an off year shooting the ball and Harrow is battling a hamstring, which is part of the reason that they only scored 38 points in their Sun Belt title game win. The other problem? The Panthers don't have much size, which is a problem when facing Baylor and the nation's best offensive rebounding team.