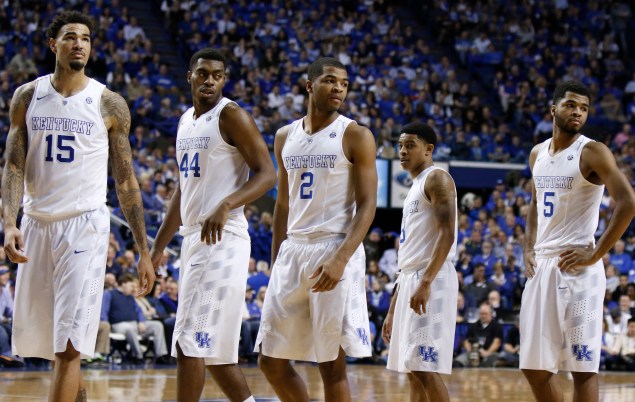 While the NCAA tournament selection committee released its official seed list, we've decided to rank the teams in the field from one to 68 as we saw fit. While there's little debating the fact that Kentucky is the top team in the field and Hampton, the lone participant with a losing record (16-17), is 68th, there are a number of changes that can be made in between.
Below are the power rankings of the 68 teams in the field, with a brief statement on each team.
INSTANT ANALYSIS: East | West | South | Midwest
1. Kentucky: The Wildcats enter the tournament as the clear favorites to win it all.
2. Arizona: Winners of 11 straight (nine by double digits), Arizona's playing its best basketball of the season.
3. Wisconsin: Led by Frank Kaminsky, the Big Ten champions have received even better play from guard Bronson Koenig of late.
4. Duke: Jahlil Okafor, Quinn Cook and Tyus Jones are as good of a three-headed attack as you'll find in the field.
5. Villanova: Jay Wright's Big East champions have lost just two games all season long, and they're built to make a deep run.
6. Virginia: The top two-seed on the committee's list, Virginia is one of the nation's best defensive teams.
7. Iowa State: Fred Hoiberg's Cyclones won another Big 12 tournament title, and they're one of the most entertaining teams in the field.
8. Gonzaga: Mark Few's team has depth, skill and experience. Will that result in their first Final Four appearance?
9. Kansas: The Jayhawks are to be respected, but Perry Ellis' health and Cliff Alexander's absence are issues they'll have to navigate.
10. Notre Dame: Winners of their first ACC title, the Fighting Irish are led by one of the nation's best in Jerian Grant.
11. Oklahoma: Big 12 Player of the Year Buddy Hield leads the way for a team that's actually ranked fifth in adjusted defensive efficiency per kenpom.com.
12. Baylor: Scott Drew's team is back in the NCAA tournament after going to the Sweet 16 last year, and in Rico Gathers Sr. they have one of the nation's best rebounders.
13. Maryland: Melo Trimble's been a huge addition for the Terrapins, but the leadership of Dez Wells and the improvement of Jake Layman have been important as well.
14. North Carolina: After having some issues with consistency during ACC play the Tar Heels are playing well heading into the NCAA tournament.
15. Utah: Larry Krystkowiak's work in Salt Lake City results in an NCAA tournament berth, and if you like versatile guards you'll love Delon Wright.
16. West Virginia: "Press Virginia" has Bob Huggins back in the NCAA tournament, but will Juwan Staten be rusty after missing time due to injury?
17. Arkansas: The Razorbacks were the SEC's second-best team, with SEC Player of the Year Bobby Portis and the high-flying Michael Qualls leading Mike Anderson's deep rotation.
18. Northern Iowa: Forward Seth Tuttle's a national Player of the Year candidate, but he has plenty of help as Ben Jacobson has a 10-man rotation.
19. Louisville: Rick Pitino's worked some magic in past postseason appearances, but the offense has been a struggle for the Cardinals this season.
20. SMU: Larry Brown has the Mustangs back in the tournament for the first time since 1993, and they've got the pieces needed to make some noise.
PRINTABLE BRACKET: Click here
21. Georgetown: The Hoyas haven't had the best track record in recent NCAA appearances, and D'Vauntes Smith-Rivera and company will look to avoid a similar fate.
22. Wichita State: One year after entering the tournament undefeated the Shockers are back, and in all honesty they may be underrated.
23. Providence: The tandem of Kris Dunn and LaDontae Henton have been exceptional for most of this season, and they're capable of carrying the Friars to the second weekend.
24. Michigan State: Tom Izzo's teams have made a habit of making runs deep into the NCAA tournament, and he's got a senior class that hopes to avoid leaving East Lansing without a Final Four appearance.
25. Butler: Beginning the year as the interim head coach (the tag's since been removed), Chris Holtmann's managed to lead the Bulldogs back to the NCAA tournament.
26. VCU: Treveon Graham looked healthier this weekend as the Rams won the A-10 tournament, and that's a good thing for a group looking to account for the loss of Briante Weber.
27. Xavier: The Musketeers are coming off of a run to the Big East tournament final, and they're an unselfish group with multiple scoring options.
28. Oregon: Pac-12 Player of the Year Joseph Young has led the way, and freshmen Jordan Bell and Dillon Brooks have been important additions.
29. Iowa: Aaron White and Jarrod Uthoff are the best scoring options for Fran McCaffery's Hawkeyes.
30. NC State: The Wolfpack have depth at every position with the exception of point guard, which makes the play of Cat Barber important for this team's hopes this weekend.
31. San Diego State: The offense has been a struggle at times this season, but the Aztecs are good enough defensively to win games even when shots aren't falling.
32. Cincinnati: Larry Davis has done a very good job as the acting head coach, and he's got a point guard in Troy Caupain who's only going to get better in the future.
33. Oklahoma State: Le'Bryan Nash has quietly had a solid senior season, but they need to get Phil Forte III going again from three.
34. Purdue: Matt Painter's young Boilermakers have improved over the course of the season, with big man A.J. Hammons taking important steps forward in the post.
35. LSU: The Tigers have the talent needed to pull off some big wins, but they've also had lapses in focus that have led to some perplexing losses.
36. Ohio State: D'Angelo Russell is talented enough to put the team on his back, but the Buckeyes will need production from their seniors as well.
37. Davidson: The Wildcats won the Atlantic 10 regular season title thanks to their having one of the nation's best offenses.
38. St. John's: The Red Storm will be without the suspended Chris Obekpa, but in D'Angelo Harrison they have a guard capable of scoring from anywhere on the court.
39. Georgia: The Bulldogs have managed to reach the tournament despite having to deal with a number of injuries.
40. Dayton: They only go seven deep and don't have a player taller that 6-foot-6, but Archie Miller's team has refused to use that lack of depth/size as a crutch.
READ MORE: All of NBCSports.com's NCAA tournament coverage
41. Texas: The Longhorns played a lot of games against quality competition but didn't win many of them. Will the switch flip on for Rick Barnes' team?
42. Indiana: The Hoosiers wound up getting into the field comfortably, and their guards are good enough to cause an opponent fits.
43. BYU: Tyler Haws is the scorer and Kyle Collinsworth is the versatile guard who's tallied an NCAA record six triple-doubles this season.
44. Ole Miss: Andy Kennedy's Rebels are back in the tournament after missing out last season, and they'll need improved play from Jarvis Summers to hang around for a bit.
45. Boise State: Led by Derrick Marks the Broncos won their first Mountain West regular season title this year.
46. Wofford: Mike Young's Terriers reached the tournament last season, and led by guard Karl Cochran they're better equipped to win in the tournament.
47. Buffalo: Bobby Hurley experienced a lot of success in the NCAA tournament as a player, and now he's led the Bulls to their first-ever appearance.
48. UCLA: The Bruins were a highly controversial choice but they're here, and if Tony Parker is productive inside they'll have a shot at winning.
49. Stephen F. Austin: The Lumberjacks eliminated VCU last March, and they'll be a trendy pick to pull off another upset this time around.
50. Wyoming: The Cowboys don't play particularly fast and they've has some issues with turnovers, but Josh Adams and Larry Nance Jr. are entertaining players to watch.
51. Valparaiso: Bryce Drew's Crusaders, led by sophomore forward Alec Peters, are a serious threat to spring an upset this week.
52. Eastern Washington: Tyler Harvey's one of the nation's best scorers, but it should be noted that this team has four players averaging double figures.
53. UC Irvine: The Anteaters have the tallest player in the field in 7-foot-6 Mamadou Ndiaye, and they're good enough defensively to cause some trouble.
54. Harvard: Despite enduring struggles on offense at different points in the season the Crimson are back for a fourth consecutive year.
55. Georgia State: Don't be fooled by Sunday's Sun Belt title game, R.J. Hunter and company can put points on the board
56. New Mexico State: The Aggies have made the last four NCAA tournaments, and given their talent the committee likely under-seeded them.
57. Northeastern: Bill Coen's program, currently led by Scott Eatherton and Quincy Ford, is making its first NCAA tournament appearance since 1991.
58. Albany: Will Brown's Great Danes are one of the best stories in the field, and they're making their consecutive trip to the tournament.
59. UAB: The Blazers are another good story, as Jerod Haase's team has given joy to a fan base that could use it given developments within the athletic department in recent months.
60. Belmont: The Bruins are back for the second time in three years, and Rick Byrd's team has little trouble putting points on the board.
61. Texas Southern: The Tigers won't be afraid to compete, and they won games at Michigan State and Kansas State this season.
62. North Dakota State: Lawrence Alexander and company return for another NCAA tournament, but they don't have the front court pieces like they did a year ago (Taylor Braun and Marshall Bjorklund).
63. Coastal Carolina: Senior guards Warren Gillis and Josh Cameron lead the way for a team with four double-digit scorers.
64. Lafayette: The Leopards grabbed the Patriot League auto bid despite being the four-seed in that tournament, and guard Nick Lindner was outstanding during that three-game run.
65. North Florida: Led by Dallas Moore and Beau Beech, the Ospreys are making their first-ever NCAA tournament appearance.
66. Manhattan: The Jaspers aren't as well-positioned to pull an upset as they were last season, but they are better positioned to pick up a win since they'll take on Hampton in Dayton.
67. Robert Morris: Andy Toole's Colonials have knocked on the door in recent years, and this time they managed to get into the tournament.
68. Hampton: Edward Joyner Jr.'s team had its issues in conference play, but they got hot at the right time.