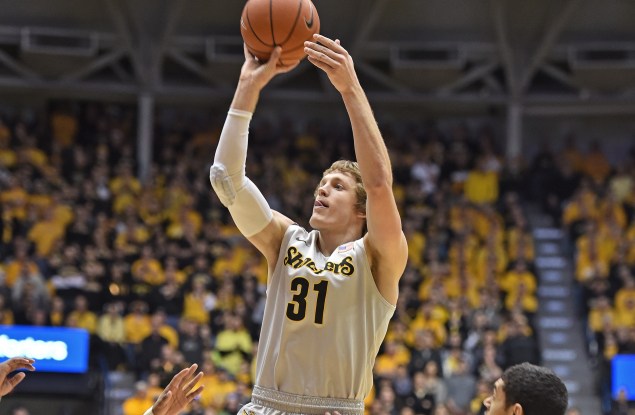 Here are eight games that the casual fan should be rooting for, because they are just too good not to be played.
MORE REGIONAL PREVIEWS: East | South | Midwest | West
No. 7 Wichita State vs. No. 2 Kansas: This matchup would be so perfect. Wichita State and Kansas are the two best programs in the state of Kansas (sorry, EMAW), but they don't play each other because there's no real reason for the Jayhawks to do it; the downside totally outweighs the upside, and while I get the frustrations for Shocker fans — and, frankly, college basketball fans — it's good business for Bill Self. But it does create so much intrigue when there's the possibility of terrific matchups like this with everything on the line. The Shockers need to take care of business against Indiana, and Kansas has no cakewalk against New Mexico State, but if it does happen? Buckle up.
No. 8 San Diego State vs. No. 1 Duke: This is the one spot where I think a No. 1 seed is truly at risk during the first weekend of the Big Dance, and that's mainly because I think the Aztecs matchup very well with Duke. They do the things defensively you need to do in order to beat the Blue Devils; namely, they are excellent when it comes to big-to-big double teams, and they know how to defend the three-point line. That said, SDSU can't score, and Duke can put up points in a hurry. SDSU would need to catch Duke on the right day to make it happen, but the matchups make it something to keep an eye on. Who doesn't love blue bloods getting threatened early in the tourney?
No. 7 Michigan State vs. No. 2 Virginia: There are two reasons why this game would be so enticing:
1. Michigan State knocked Virginia out of the tournament in the Sweet 16 last season when the 'Hoos were a No. 1 seed, and you can be assured that Virginia would love to get a bit of revenge on the Fighting Tom Izzos.
2. The Spartans matchup well with Virginia. They're aggressive in transition, meaning they can score before Virginia can set their Pack-Line defense, and they are a lethal three-point shooting team when they get it going.
No. 4 North Carolina vs. No. 1 Wisconsin: This has the makings of being the best Sweet 16 game if it were to happen. I think that UNC is a bigger threat than they are being made out to be, but they got a tough draw winding up in the same bracket as Wisconsin and Arizona. How will UNC's big men deal with guarding Wisconsin's bigs on the perimeter?
READ MORE: Ranking the field | Eight teams that can win | Perfect bracket pool
No. 3 Iowa State vs. No. 2 Gonzaga: This game could end up being just as much fun as UNC-Wisconsin. Gonzaga is a team that pounds the ball inside to their massive front line. Iowa State is undersized, but no one in the country is better at exploiting mismatches against bigger front lines than Fred Hoiberg. Who on Gonzaga guards Georges Niang?
No. 5 Arkansas vs. No. 4 North Carolina: You like uptempo basketball? Then you want to see Roy Williams play against 40 Minutes of Hell. Trust me on that.
No. 11 Boise State vs. No. 6 Providence: If Boise State can get past Dayton in the play-in game, it would set up a matchup between two of the best lead guards in the tournament: Derrick Marks and Kris Dunn.
No. 11 BYU vs. No. 3 Baylor: If this game were to happen, I think the Cougars would have a real shot of getting to the Sweet 16. They can run-and-gun with the best of them, and with the shooters they have surrounding Kyle Collinsworth, it will be tough for Baylor's zone to slow them down. That said, the Bears could very well end up getting every single rebound in that game.