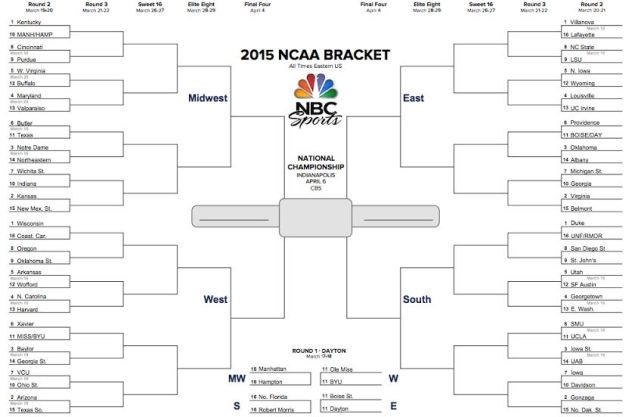 MORE REGIONAL PREVIEWS: East | South | Midwest | West
Here we go! For the next few weeks there will be no sleep until we get four teams to Indianapolis. But first we need to fill out our bracket, and I'm here to help.
So here's a dummy's guide to filling out an NCAA tournament bracket from me, a certified dummy:
1. Start out by printing several brackets. Grab some pencils, not pens, and let's get going. And let's stick with one bracket while we're at it. Things tend to get messy with multiples. Where's the fun in rooting for both teams because you picked them in different brackets?
2. We're not seeing a No. 16 seed upset a No. 1 seed. Moving on.
3. First Four: Let's go ahead and advance Dayton into the Round of 64. Flyers are playing at home, where they are 16-0 this season. Sorry, Boise State.
4. Additionally, have one of those No. 11 seeds from the First Four get past the first weekend. La Salle, Tennessee both played in the First Four and ended up reaching the Sweet 16. Let's not forget about VCU in 2011, too.
5. Pick a No. 12 seeds over No. 5 seeds. I actually encourage it picking multiple. Last year, I had no No. 5 seeds making it out of the Round of 64, and I would have been perfect if NC State had hit some free throws. Wofford and Stephen F. Austin will and should be trendy upset picks.
READ MORE: All of NBCSports.com's NCAA tournament coverage
6. Georgetown is facing a double-digit seed again, and a good one at that in Eastern Washington. So, if you're looking for a No. 13 over No. 4, there's that.
7. And when it comes to upset picks trust your gut. Don't be like me last year and start writing M-E-R on a line only to cross it off and replace it with Duke.
8. The No. 8 vs. No. 9 seeds and even No. 7 vs. No. 10 seeds can always be frustrating to pick. Unless you have a really good feel in those matchups go through the rest of the Round of 64 first.
9. But since we're talking about No. 7 seeds, have Wichita State advance past Indiana and No. 2 Kansas to get by New Mexico State. Maybe if we all pick this game, it will come true. We need to see this game!
And since we're on the subject of No. 7 seeds, this is a good time to remind the nation to always trust Tom Izzo.
10. Find a sleeper, but don't put your bracket to rest early because of it. Like you, I'd also like to see Northeastern, Wofford, Eastern Washington and Valparaiso in the Sweet 16, but "I'd like to be pimps from Oakland, or cowboys from Arizona, but it's not Halloween. Grow up, Peter Pan!"
READ MORE: All of NBCSports.com's NCAA tournament coverage
11. As you continue through your bracket, remember: they are high seeds for a reason. Yes, a No. 7 seed and No. 8 seed met for the national title last year. But only three Final Fours have not included a No. 1 seed. Although, two of those instances happened in the last 10 years (2006 and 2011).
Moreover, UConn was the lowest seed to win the national title in nearly 30 years, and only a handful to cut down the nets during that span were lower than a No. 3 seed.
12. But be creative. Don't go with a Kentucky, Villanova, Duke, Wisconsin Final Four. Only once have all No. 1 seeds advanced to the Final Four (2008).
13. Don't justify bouncing top seeds early because of previous shortcomings. You think Gonzaga and/or Villanova can make the Final Four? That's because both of them can.
14. Feel free to start your bracket by writing "Kentucky" where it says "National Champion"