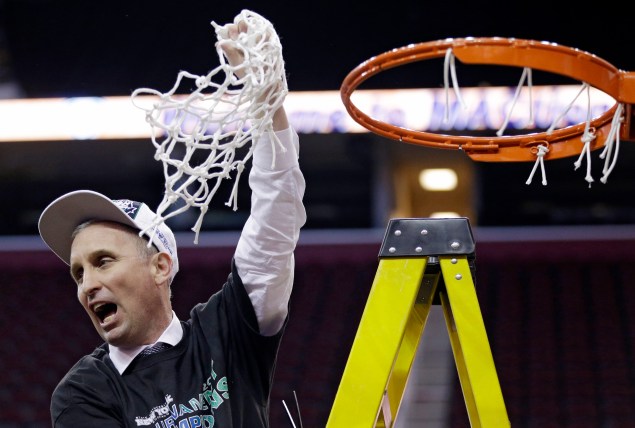 The process of pegging which teams are most at risk of being upset is one that occurs every year, and for those who like to "compete" in such endeavors the ability to accurately pick those upsets can be the difference between bragging rights in their office and looking to avoid the water cooler for a few days. Here's a look at some of the games that could yield surprising results in the first four days of the NCAA tournament, beginning with the always popular 12 vs. 5 games.
MORE REGIONAL PREVIEWS: East | South | Midwest | West
Ranking the "12 vs. 5" Games by Upset Probability:
1. Buffalo over West Virginia: The Mountaineers have been able to use their full-court pressure to generate offense for most of this season, and that will be critical if they're to play deep into the tournament. But Bobby Hurley's team turns the ball over on just 16.5 percent of its possessions per kenpom.com, and if the Bulls post a similar number they'll have a good shot at the upset.
2. Wofford over Arkansas: Wofford's back in the NCAA tournament after reaching the field as a 15-seed last season, and this group led by point guard Karl Cochran is better equipped to win a game. Mike Young's team has done a solid job of taking care of the basketball and controlling the defensive glass, which are two keys when playing the Razorbacks. But they don't have much size, and that could be an issue given the presence of Bobby Portis.
3. Stephen F. Austin over Utah: This is Utah's first NCAA tournament appearance since 2009, so for the players this will be a new experience. The same can't be said of the Lumberjacks, who beat VCU in last year's tournament. The question here is whether or not SFA can slow down Utah's Delon Wright, who's one of the best players in the country.
4. Wyoming over Northern Iowa: Wyoming plays a deliberate pace, and that may be a kind description since they're ranked 344th in adjusted tempo per kenpom.com. The problem for Wyoming is that they're facing a very efficient team (on both ends of the floor) in Northern Iowa. The individual battle of Larry Nance Jr. and Seth Tuttle will be entertaining, but UNI can go ten deep while the Cowboys have no such luxury.
The Upset Everyone Will Pick: No. 13 Eastern Washington over No. 4 Georgetown
In each of the Hoyas' last five NCAA tournament appearances they've been eliminated by a double-digit seed, beginning with ten-seed Davidson in 2008. That's one reason why this will be a popular pick. The other: Eastern Washington ranks among the best offensive teams in the country, with sharpshooting guard Tyler Harvey averaging just over 23 points per game and three other players averaging double figures. And this game will be played in Portland, so the Hoyas will travel much further than their opposition.
Another possibility that will receive attention: No. 13 Valparaiso over No. 4 Maryland
Mark Turgeon's team has put together a very good year, winning 27 games and finishing second in the Big Ten with Melo Trimble, Dez Wells and Jake Layman leading the way. But they have what could be a difficult matchup given the Crusaders' front court talent. Bryce Drew's team rebounds more than 35 percent of its missed shots on the season, with Alec Peters, Vashil Fernandez and Jubril Adekoya being solid offensive rebounders. Add in the fact that the 6-foot-9 Peters can score both inside and out, and an upset is possible here.
READ MORE: All of NBCSports.com's NCAA tournament coverage
First Four winner most likely to win a second game: No. 11 BYU/Ole Miss over No. 6 Xavier
The winner of the First Four game between the Cougars and Rebels will be at a disadvantage from a fatigue standpoint, as they'll have played a game while the Musketeers sat back and watched. But sometimes having a game under your belt can work to a team's advantage, as was the case for Tennessee last year and VCU in 2011. Both teams have offensive players who can give Xavier fits, with BYU boasting the tandem of Tyler Haws and Kyle Collinsworth, and Ole Miss being led by guard Stefan Moody.
The "Upset" Based Upon Vegas Odds: No. 6 Butler over No. 11 Texas
Despite being a major disappointment this season Texas (a slim favorite over Butler in the sports books) has been pegged by many as a team that could "flip the switch" in the NCAA tournament. The raw talent is most certainly there, but is the chemistry? That's where Texas could get in trouble against Chris Holtmann's Bulldogs, who have been a pleasant surprise due in large part to the return of Roosevelt Jones (missed all of 2013-14 due to injury).
The Extreme Longshot: No. 15 New Mexico State over No. 2 Kansas
Marvin Menzies' Aggies were hurt seeding-wise by two factors: the committee seemingly overlooking the fact that guard Daniel Mullings and center Tshilidzi Nephawe missed 12 games apiece during the season, and their winning a conference (WAC) that is incredibly weak. But they've got the ability to make things difficult on the Jayhawks, with Mullings and Nephawe being joined by forwards Remi Barry and Pascal Siakam as the team's major contributors. Add in Kansas' front court issues (Perry Ellis' knee and Cliff Alexander being in NCAA limbo), and this could be a game to keep an eye on.