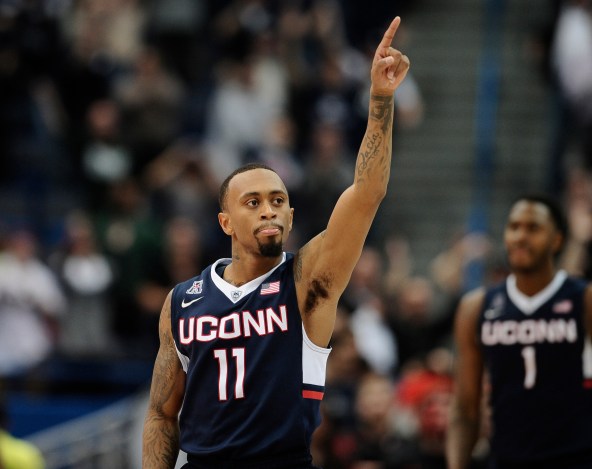 GAME OF THE DAY: Connecticut at No. 20 SMU, 3:15 p.m.
While the four other conference tournament title games feature both teams getting safely in the field — or a known one-bid league like the Sun Belt — UConn still has a chance to be a major spoiler for the 2015 NCAA Tournament. The defending champions need to win one more home game to get into the Big Dance and every bubble team in the country became Larry Brown and SMU's biggest fan this morning. Do the Huskies have enough gas in the tank to complete an epic run? The Huskies beat SMU at home, 81-73 on March 1.
FIVE THINGS TO WATCH FOR:
1.  No. 1 Kentucky will try to finish the regular season at a perfect 34-0 as they face No. 21 Arkansas for the SEC Tournament title. The Wildcats cruised to an 84-67 win over the Razorbacks at home on Feb. 28. We already know about Kentucky and who they are. How does Arkansas respond in this second meeting?
2. In the Atlantic 10 Tournament title game we have VCU, playing its best basketball since Briante Weber went down, facing a Dayton team with only six scholarship players. Both of these teams are safely in the field, and Dayton won the first meeting on the road, 59-55, on Feb. 28.
3. Should be a fun on in the Sun Belt Tournament title game as the top two teams in the league, Georgia Southern and Georgia State, do battle. The Panthers fell just short of making it in last season and they're a potentially dangerous mid-major team with players like Ryan Harrow and R.J. Hunter on the roster. But Georgia Southern split the regular-season series with Georgia State and won't go down without a fight. Jelani Hewitt is a solid go-to scorer and the Eagles are balanced after his scoring contributions.
4. Wisconsin looks to lock up the final No. 1 seed as they face Michigan State for the Big Ten Tournament title. The Badgers played an incredibly impressive second half in a win over Purdue on Saturday and look like they want to close out the season strong. The Spartans deserve a lot of credit for not rolling over after a slow start against Maryland and is it any surprise that a Tom Izzo team is peaking in March?
5. There are only five games on the docket for Sunday, but bubble drama will be felt by many. Some of the programs sweating on Selection Sunday include Indiana, UCLA, Temple, Ole Miss, LSU, Miami and Old Dominion (to name a few). Does the committee show love to Murray State after the #RacersDeserveABid Twitter campaign? We'll find out soon enough.