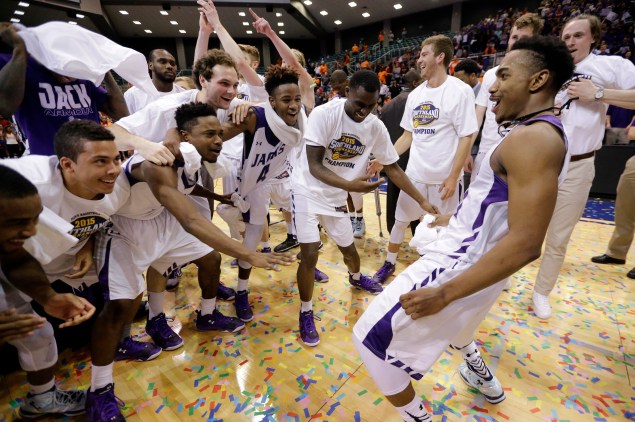 Conference: Southland
Coach: Brad Underwood
Record: 29-4 (17-1)
Ratings and Rankings:
– Kenpom: 41
– RPI (per NCAA.com): 40
– AP/USA Today: Not ranked
Seeding: Given their RPI, the Lumberjacks are probably looking at a No. 12 or 13 seed.
Names you need to know: Thomas Walkup (15.4 ppg, 6.3 rpg, 3.6 apg), Jacob Parker (14.2 ppg, 5.5 rpg)
Stats you need to know: Stephen F. Austin does two things very, very well on the offensive end of the floor: They shoot 38.3 percent from beyond the arc as a team, and they grab 38.2 percent of the available offensive rebounds. That's how you end up with the nation's 23rd most efficient offense while turning the ball over more than 20 percent of the time.
Tendencies: The Lumberjacks are aggressive defensively, forcing the fifth-most turnovers in the country. They gamble a lot — and foul a lot, too — but their style of defense allows them to get a lot of easy looks in transition.
Big wins, bad losses: Buffalo has a terrific RPI, but they don't actually have many great wins. South Dakota State and a sweep of Akron are their only top 100 wins.
How'd they get here?: Stephen F. Austin rolled their way through the Southland Conference once again. They went 17-1 in the regular season and steamrolled everyone — again — in the tournament. The Jacks have one loss since November ended.
Outlook: SFA is a difficult team to prepare for. They are aggressive defensively, pressuring in the half court and trying to force turnovers by risking picking up fouls. They also are a team that can really shoot it from deep with big men that can play out on the perimeter. It's going to take a beneficial matchup for them to pull an upset — they don't have the kind of size to matchup with, say, North Carolina or Oklahoma — but they are certainly good enough to land a win or two.
How do I know you?: VCU fans are going to be quite familiar with SFA. While their roster looks different than it did a season ago, the results haven't been all that different from the team that knocked off the Rams in overtime in the opening round of last season's NCAA tournament.