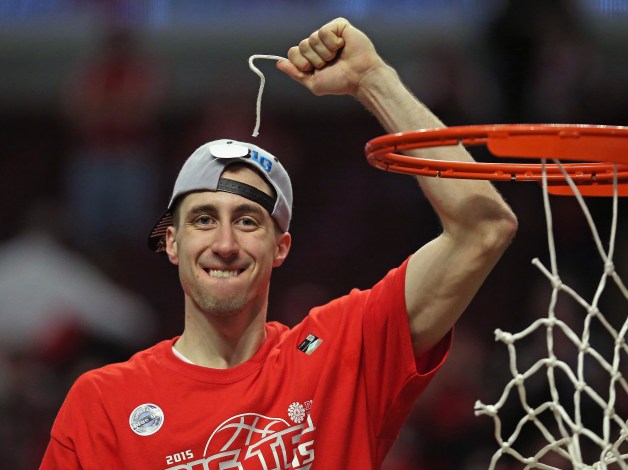 INSTANT ANALYSIS: East | West | South | Midwest
Wisconsin's comeback win over Michigan State in the Big Ten title game proved to be just what the Badgers needed to get to the one line, as they're going to be the one-seed in the West region. Wisconsin's path to a possible second consecutive Final Four begins in Omaha, where they'll play Coastal Carolina with Oregon and Oklahoma State matching up in the 8/9 game.
READ MORE: All of NBCSports.com's NCAA tournament coverage
Oregon's loss to Arizona not withstanding, the Ducks are playing solid basketball at this point in the year with Pac-12 Player of the Year Joseph Young leading the way. And the Cowboys will counter with senior forward Le'Bryan Nash and junior guard Phil Forte III. Something to keep in mind here is that Oregon head coach Dana Altman previously served as head coach at Creighton, and that could get the Ducks some extra support in Omaha.
The two seed in the West is Arizona, which has won 11 straight games and is playing its best basketball of the season. Sean Miller's Wildcats open up in Portland, where they'll take on a Texas Southern team that won at Michigan State this season. Also in Portland are seven-seed VCU, Atlantic 10 tournament champions, and ten-seed Ohio State. The Buckeyes have D'Angelo Russell, but their resume didn't have much that jumped off of the page outside of a home win over Maryland.
Also in Wisconsin's half of the bracket are four-seed North Carolina and five-seed Arkansas, and both teams will open with games against programs that have plenty of NCAA tournament experience. The Razorbacks drew a Wofford team that won 28 games this season, and North Carolina will face a team in Harvard that is making its fourth consecutive NCAA tournament appearance.
Joining Arizona in the bottom half of the bracket is three-seed Baylor, which will open up with Sun Belt champion Georgia State. And in the 6/11 matchup Xavier, which reached the Big East tournament final, will play either BYU or Ole Miss. Both teams were considered to be on the bubble this week, and they'll meet in Dayton for the right to move into the main field.
Wisconsin and Arizona met in last year's West Regional Final, and all that separates them from a rematch is three wins apiece. But it won't be easy.