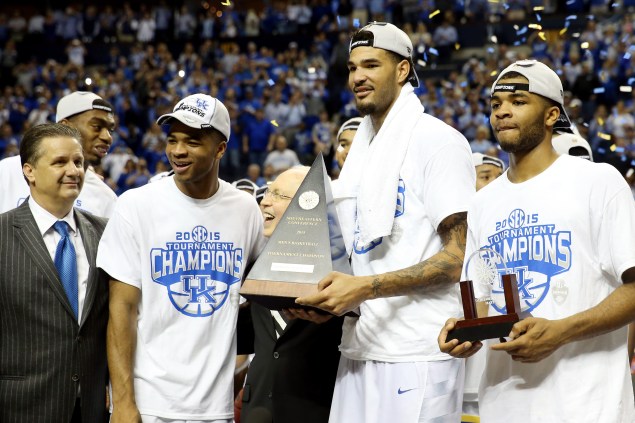 INSTANT ANALYSIS: East | West | South | Midwest
In the least surprising decision in the history of the NCAA tournament, Kentucky was given the No. 1 seed in the Midwest region. Their first two games will be played in Louisville, with the regional taking place in Cleveland, Ohio.
Kentucky does have a potentially intriguing matchup in their first game, as UK grad Steve Masiello — a Rick Pitino protege — is the head coach at Manhattan, who is playing in the play-in game.
READ MORE: All of NBCSports.com's NCAA tournament coverage
The Kansas Jayhawks were given a No. 2 seed in the Midwest, sending them out to Omaha for the first two rounds. Kansas has a sneaky-tough matchup in their first game as they square off with a good New Mexico State team that played much of the season without two of their best players. Will Kansas be healthy — or have Cliff Alexander? — by the time the tournament starts?
ACC tournament champions Notre Dame earned themselves the No. 3 seed, playing Northeastern in the opening round of the tournament. The Irish have a potential offense, and while they have a ways to go to get there, it will be thrilling to see them take on the much, much bigger Kentucky Wildcats for the right to get to the Final Four.
The No. 4 seed in the Midwest in Maryland, who will get Valparaiso in the opening round. No. 5 seed West Virginia will be a trendy upset pick, as their back court is still dealing with health issues and they get a tough Buffalo team in the opening round. Remember, the Bulls, who are coached by Bobby Hurley, gave Kentucky all that they could handle in Lexington back in November.
The most intriguing matchup of the opening round will be between No. 7 seed Wichita State and No. 10 seed Indiana. The Hoosiers were waiting with baited breath to hear if they would be on the right side of the bubble, and it appears that they were in comfortably. The Shockers were undefeated entering the NCAA tournament last season.
Rounding out the Midwest, Butler was given the No. 6 seed, and they will face Texas in the opening round. The Longhorns were a top ten team earlier in the season, but they collapsed during Big 12 play.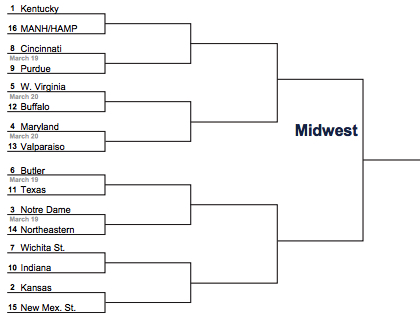 Follow @robdauster