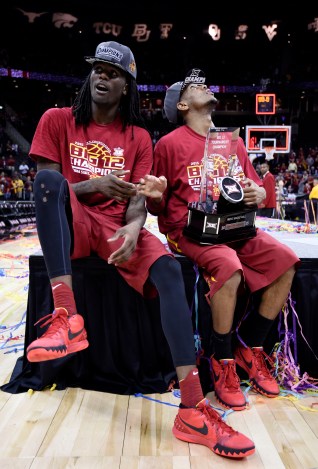 Saturday night No. 13 Iowa State won its second consecutive Big 12 tournament title, beating No. 9 Kansas 70-66, but for the second time in three games the Cyclones needed a second-half surge to earn the victory.
Thursday night, Iowa State turned in one of its poorer halves of the season in their quarterfinal matchup against Texas. The Cyclones struggled with ball and player movement on the offensive end of the floor for much of the first half, with a late run making the halftime deficit a more manageable nine points.
Of course the Cyclones managed to come back, winning by two on a Monté Morris jumper in the final seconds, but Fred Hoiberg's team was "playing with fire" in falling behind by as much as they did. Iowa State had the same problem in the first half against the Jayhawks, as they were far too stagnant offensively and the lack of ball and player movement had a significant impact on their productivity.
The Cyclones shot 10-for-29 from the field (1-for-11 3PT), and they trailed by 14 despite scoring 16 points in the paint. That turned around in the second half, as Iowa State shot 16-for-31 from the field and scored 31 points in the paint. Given the number of shooters they have on the floor, there are times when Iowa State falls in love with the perimeter shot and essentially bails out the defense.
That didn't occur in the second half Saturday, and the result was Iowa State being able to take advantage of a Kansas front court that is without Cliff Alexander and despite his playing Perry Ellis doesn't look to be 100 percent either. Morris (11 points, six assists) and Niang (19 points, five rebounds) combined to score 20 points in the second half, and players such as Jameel McKay (11 points, eight points), Abdel Nader (13 points) and Bryce Dejean-Jones (seven points) stepped forward as well.
Add in the fact that they were able to limit the Jayhawks to 26.3 percent shooting, and the reasons for Iowa State's comeback aren't difficult to pinpoint.
There's no denying that Iowa State can be a team capable of making a run to the Final Four, and that appeared to be the case last season before Niang broke his foot in their NCAA tournament opener. But their "ceiling" will be determined by how consistent this group is in its approach. When Iowa State is disciplined offensively and uses proper spacing to attack defenses, they are incredibly tough to stop. And when that doesn't occur, Iowa State essentially defends itself with the opposition needing to do little more than remain in front of them.
Iowa State's offensive approach in the second half of Saturday's game resulted in their winning another Big 12 tournament title. And they'll need to stick to the principles that make them so difficult to slow down for longer stretches if they're to play deep into the NCAA tournament. They're certainly capable; the only question is whether or not they choose to do so.