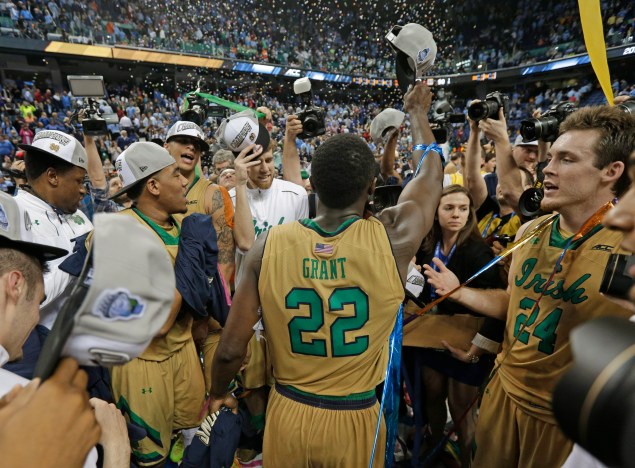 Notre Dame used a 22-2 run midway through the second half to turn a 64-56 deficit into a 78-66 lead as they knocked off North Carolina, 90-82, to win the ACC tournament title.
The Irish were led by Jerian Grant, who finished with 24 points and 10 assists, while Pat Connaughton added 20 points and Zach Auguste chipped in with 16 points and 13 boards.
The Tar Heels were seemingly in complete control of this one, having used a 14-2 run to open the second half, a surge that eventually turned into a double-figure lead. But just when it felt like North Carolina was getting ready to put the finishing touches on their win, the turnovers kicked in. The run for the Irish coincided with a six possession stretch where the Heels had five turnovers and a missed layup.
The shame of it is that North Carolina had, over the course of the last 70 minutes of basketball, played as well as they had all season long. Their front line was overpowering Notre Dame. Joel Berry was a scoring threat at the point, allowing Marcus Paige to move to his more natural position off the ball. Justin Jackson had his worst game in about a month, but J.P. Tokoto continued to prove why he's such a versatile threat.
They looked like a final four threat … until the collapse.
As far as Notre Dame is concerned, it was nice to see Auguste play well against a very good front line. He had been up and down since his one game suspension earlier this season, and his minutes had been cut as Bonzie Colson started to play well. The Irish have no size. At all. They need Auguste to be playing a confident brand of basketball in March, and there's no better way to head into the NCAA tournament than this.
Notre Dame has a reputation of being a team that cannot win big games in March. This was a big game, but it's one that most people will forget about if they cannot continue this success in the NCAA tournament.