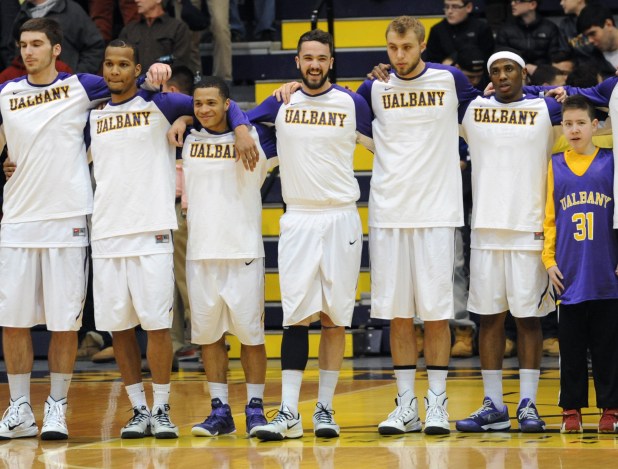 Conference: America East
Coach: Will Brown
Record: 24-8, 15-1 America East
Rankings and ratings:
– Kenpom: 128
– RPI: 116
– AP/USA Today: Not ranked
Seeding: Albany is projected as a No. 15 seed in our latest bracket.
Names you need to know: Sam Rowley (14.0 ppg, 7.7 rpg), Peter Hooley (13.8 ppg, 3.0 rpg, 2.4 apg), Evan Singletary (13.1 ppg, 3.5 rpg, 2.8 apg)
Stats you need to know: Albany does two things really, really well: they're 12th nationally in defensive rebounding percentage, and they're 25th nationally in defensive free throw rate. They're not going to beat themselves.
Tendencies: Albany is about what you would expect from a mid-major conference champion. They like to control tempo, they have skilled but undersized big men, they're fundamentally sound but not all that athletic, they can hit threes.
Big wins, bad losses: The Great Danes have one win over a team ranked in the KenPom top 100 — Yale — and lost to both UNLV and Providence. But since the calendar turned, Albany has lost just one game.
How'd they get here: Albany came from seven down in the final two minutes to beat Stony Brook in the America East title game. They were also the outright America East champs.
Outlook: Albany is going to have their work cut out for them when they get into the NCAA tournament. They've probably done enough to play their way out of the the play-in games, but they are still at risk of being a No. 16 seed. Either way, pulling off an upset over a No. 1 or a No. 2 seed will not be an easy thing for them to do.
How do I know you?: The Great Danes have made the NCAA tournament each of the past three seasons, although their only win came in last year's First Four.