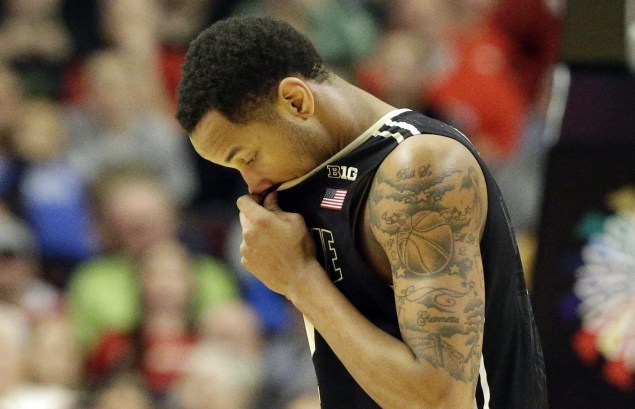 (This post will be updated throughout the day.)
READ MORE: Today's Bracketology | Who are the four No. 1 seeds?
WINNERS
LOSERS
Tulsa: Tulsa is in trouble. They have an RPI of 45. They have just two top 50 wins — both against Temple — and an ugly loss against Oral Roberts, to say nothing of the loss they suffered to a Division II team that doesn't get factored into the RPI. They have just five top 100 wins, and all of them came in conference play. The Golden Hurricane probably needed to win the automatic bid to feel comfortable. They certainly needed to beat UConn and get a shot at SMU. Now? I think they're out.
Georgia: Someone is going to have to explain to me why Georgia is comfortably in the tournament in most bracket projections, because I just don't see it. As of today, the Bulldogs have zero top 50 wins. ZERO. They're 11-9 against the top 100, but their best win is over an Ole Miss team that might not end up going to the NCAA tournament. They also have two sub-100 losses. So, again, why is this team considered comfortably in?
Purdue: The Boilermakers had a lead at the half against Wisconsin before watching the Badgers blitz them with a 41-16 run in the second half. At this point, Purdue is probably safe, considering that teams like BYU, Ole Miss, Temple and LSU are projected to be in the tournament right now. That said, there are some red flags on their resume. They have a weak non-conference strength of schedule, and those home losses to North Florida and Gardner-Webb are never going to look good. That RPI of 54 isn't going to help, either. That said, I think they're in.
Davidson: Like Purdue, the Wildcats are going to be in for a stressful couple of days as they wait to hear their NCAA tournament fate. And like Purdue, the biggest red flag on Davidson's resume is their non-conference schedule. It ranks 242nd nationally. The good news? The Wildcats won the Atlantic 10 regular season title, they're 9-5 against the top 100, they have wins over VCU and Dayton, and their two sub-100 losses came without Jack Gibbs on the floor. I think they're in.
Temple: This is getting repetitive: the Owls lost to SMU, a loss that isn't going to hurt their resume but will leave them without the kind of profile that will make Selection Sunday relaxing. The Owls played a strong schedule — and a good non-conference schedule — but they are just 2-8 against the top 50. They have eight top 100 wins, but just two of them are against tournament teams, the same number of sub-100 losses they have on their resume. That's not all that impressive, but you know what is? Their 25-point win over Kansas. Temple has also been much better when they have everyone healthy, which is going to get factored into the discussion as well. Temple is going to be right there on the cut-line on Selection Sunday, but Wyoming's win might end up being their death knell.
BID THIEVES
Wyoming: The Pokes are dancing! Wyoming won the Mountain West's automatic bid, beating San Diego State in the title game. They are the first bid thief in 2015, meaning that all the teams on the bubble are not going to be happy about this result.
UConn: The Huskies won a thriller over Tulsa, meaning that they will play No. 20 SMU in the XL Center in Hartford for the right to go to the NCAA tournament. SMU is getting in regardless of what happens. UConn? They're not. Bid thief alert!
Auburn: The best big man for the Tigers was suspended before the game even started — no one ever said Cinmeon Bowers was smart — and, as you can imagine, Auburn got obliterated by Kentucky.
Rhode Island: The Rams put up a fight, but they ended up losing to Dayton by four, which relegates URI to the NIT and potentially saves an at-large bid. Dayton is going dancing regardless.