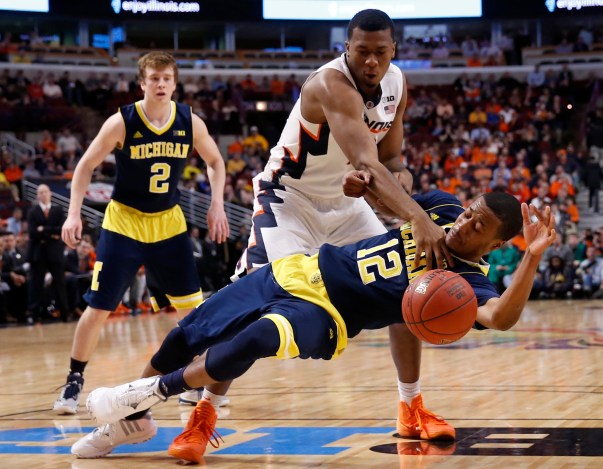 GAME OF THE NIGHT South Carolina 60, Ole Miss 58
It's tough to describe the last 10 seconds of this game since both teams screwed up so badly by fouling 3-point shooters. In the end, Ole Miss was the last team to screw up by fouling Gamecocks guard Tyrone Johnson, so now the Rebels have to wait and see how the rest of the week unfolds before Selection Sunday. Oh, and Ole Miss might have sent Marshall Henderson into a permanent state of shock.
IMPORTANT OUTCOMES
1. Michigan 73, Illinois 55
Wave goodbye to the Illini's NCAA Tournament hopes after barely showing up on Thursday afternoon in an ugly loss at the Big Ten Tournament. Illinois had terrible body language and minimal effort for a team fighting for its postseason life as the Illinois guards couldn't buy a bucket. Aubrey Dawkins had 18 points to lead the Wolverines, who move on to face No. 1 seed Wisconsin in the Big Ten quarterfinals.
2. Auburn 66, Texas A&M 59
Texas A&M will also likely find themselves in the NIT as they collapsed after a 10-point halftime lead to lose to Auburn. K.T. Harrell led the Tigers with 25 points as the Aggies have now lost three straight games and four of its last five games. Selection Sunday won't be a fun wait for Billy Kennedy's team. Really nice stretch for Bruce Pearl's club to start the SEC Tournament as this marks the first time they've won two straight SEC games all season.
3. No. 13 Iowa State 69, Texas 67
The Cyclones won on a buzzer-beater from Monte Morris and now the Longhorns will have to wait and see how the rest of the week unfolds before Selection Sunday. Morris finished with 24 points, five steals and three assists while Georges Niang added 22 points and six assists.
STARRED
1. Eastern Washington's Tyler Harvey
The sophomore assassin dropped in 42 points in the Eagles' Big Sky Tournament win over Idaho. The smooth lefty was 8-for-12 from 3-point range and 13-for-20 from the field.
2. The Hamilton Brothers: Isaac (UCLA) and Daniel (UConn)
With Kevon Looney only playing 10 minutes on Thursday, Isaac Hamilton stepped up his scoring production in a big way, going for 36 points in a Pac 12 Tournament win over USC. The guard was 13-for-17 from the field and 7-for-9 from 3-point range and also added four assists on the day.
Not to be outdone, younger brother Daniel Hamilton had 20 points to lead UConn to a win over South Florida in the American Tournament. Daniel was 6-for-8 from the field and 4-for-5 from 3-point range.
3. Northwestern State's Zeek Woodley
The nation's second-leading scorer had 34 points and nine rebounds in a Southland Tournament win over McNeese State. Woodley was 14-for-17 from the field and 3-for-5 from 3-point range.
STRUGGLED
1. Illinois guards
Ahmad Starks, Rayvonte Rice, Malcolm Hill and Kendrick Nunn combined to shoot 11-for-41 from the field. The quartet was also 1-for-13 from 3-point range.
2. St. John's D'Angelo Harrison
The senior guard was only 3-for-15 from the field and was limited to seven points in a loss to Providence. Harrison also had three turnovers on the day.
OTHER TOP 25 RESULTS
Six players finished in double figures for No. 2 Duke as they cruised past N.C. State in the ACC Tournament. Quinn Cook was the leader with 15 points.
No. 3 Virginia was in a battle for a little bit in the second half before putting down Florida State in the ACC quarterfinals. Justin Anderson made his return and Malcolm Brogdon scored all 10 of his points in the game's final 9 minutes.
No. 4 Villanova raced past Marquette for an easy win in the Big East quarterfinals as Josh Hart had 20 points and five 3-pointers.
No. 5 Arizona got past Cal in the Pac 12 Tournament as Stanley Johnson had 19 points and seven rebounds. Rondae Hollis-Jefferson also chipped in 10 points and did this.
No. 9 Kansas escaped with a win over TCU as Kelly Oubre had 25 points and was 15-for-19 from the free-throw line.
In a battle of top-25 teams in the Big 12 Tournament, No. 16 Baylor got the best of No. 18 West Virginia as Royce O'Neale led with 16 points. The Mountaineers were once again playing without senior guard Juwan Staten.
In the ACC, No. 19 North Carolina bested No. 14 Louisville as Brice Johnson had 22 points and seven rebounds.
In the Mountain West Tournament, No. 25 Boise State got past Air Force as Nick Duncan had 23 points.
Xavier held off No. 22 Butler for an overtime win in the Big East Tournament as Dee Davis, Myles Davis and Matt Stainbrook all had 13 points each. The win should put the Musketeers safely in the field of 68.
It was close late but No. 23 Georgetown outlasted Butler to win in the Big East Tournament. D'Vauntes Smith-Rivera had 25 points on 7-for-13 shooting from the field.
NOTABLES
Huge win for Indiana over Northwestern as they keep their NCAA Tournament bubble from bursting. James Blackmon Jr. had 25 points, seven assists and six rebounds to lead the Hoosiers.
Joseph Young had 30 points to carry Oregon past Colorado in the Pac 12 Tournament quarterfinals.
Ohio State held off Minnesota as D'Angelo Russell had 23 points, five rebounds and four assists. Shannon Scott also had a career-high 21 points for the Buckeyes.
Penn State continued its winning ways in the Big Ten Tournament with a win over Iowa. D.J. Newbill had 18 points to pace the Nittany Lions.
San Diego State earned a close win over UNLV as Aqeel Quinn had 21 points and five rebounds.
Double-doubles from LaDontae Henton (20 points, 12 rebounds), Kris Dunn (17 points and 11 assists) and Ben Bentil (14 points, 13 rebounds) pushed Providence past St. John's in the Big East quarterfinals.
Florida got past Alabama in the SEC Tournament as Dorian Finney-Smith had 23 points and 11 rebounds in the victory.
Five double-figure scorers propelled UTEP past FIU in the Conference USA quarterfinals. Julian Washburn led the way with 19 points.
VCU defeated Fordham in the A-10 Tournament as Treveon Graham had 22 points and nine rebounds.
Wyoming picked up a Mountain West quarterfinal win over Utah State as Josh Adams led with 19 points and six assists.
Tennessee knocked off Vanderbilt in the SEC Tournament as Josh Richardson had 22 points and six rebounds.
George Washington used a balanced effort to get past Duquesne as Kevin Larsen had 10 points and 15 rebounds in the win.