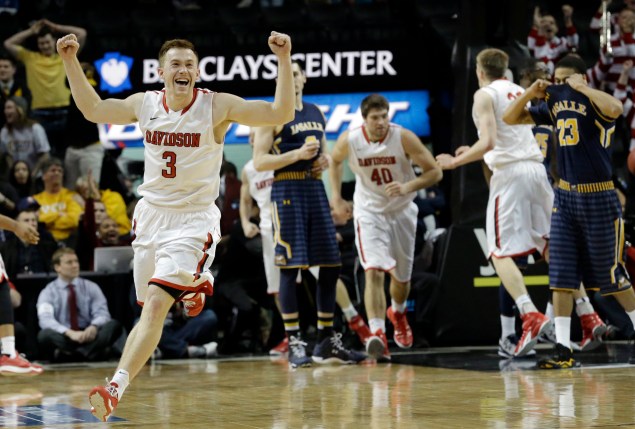 (This post will be updated throughout the day.)
READ MORE: Thursday's Bubble Banter | Friday's Bracketology
WINNERS
Davidson: I still think that the Wildcats are closer to the bubble's cut-line than a lot of folks are implying at this point, but that doesn't change the fact that today's buzzer-beating win over La Salle should just about lock up their bid. Here's why: Davidson would have a ways to go to drop to the wrong side of the bubble, but thanks to the bloodbath that was Thursday's action for bubble teams, there aren't enough teams close enough to actually threaten the Wildcats with an NIT trip. Think about it like this: Using our latest bracket, we can assume that the Wildcats are, at worst, the sixth-to-last team in the bracket. That means they'd need at least six teams to jump them in order to lose their bid. A loss to either Richmond or VCU won't hurt all that much, and of the teams behind them, only Indiana, Tulsa, UCLA, Richmond and Rhode Island have yet to get knocked out of their league tournaments. They're safe.
Temple: The Owls did what they needed to do against Memphis, getting a win and advancing to face SMU in the American semifinals. Temple is probably on the right side of the bubble as of today, and while today's win does help, it certainly doesn't lock them into a bid. Beating SMU would. A loss on Saturday wouldn't be a killer, but it would make Selection Sunday quite stressful.
Tulsa: The Golden Hurricane got past Houston, which would have been the loss that kept them out of the NCAA tournament. As it stands, Frank Haith is probably on the wrong side of the bubble. I'm not convinced that Tulsa can get in without winning the automatic bid given the way the American bracket shook out; beating Cincinnati or UConn in the semifinals is not the kind of win that drastically changes a profile.
Purdue: The Boilermakers likely locked up their bid on Friday by beating Penn State. With two horrid non-conference home losses on their resume and an ugly non-conference strength of schedule, Purdue could not afford another "bad" loss. They were on the right side of the bubble entering the day, and losing to Wisconsin in the semifinals tomorrow won't change that.
LOSERS
LSU: LSU just couldn't make it easy, could they? The Tigers lost (choked?) to Auburn in a thriller in the SEC tournament quarterfinals, and it's a loss that I'm not sure the Tigers can afford. At the very least, they are going to be one of the most intriguing bubble discussions on Sunday. Let's lay it out for you: LSU has 13 top 100 wins, but only three of those wins are against the top 50. They won at Arkansas and at West Virginia, which are two very impressive road victories, but they also lost to five (!!!) teams ranked outside the top 100 of the RPI, two of whom are ranked outside the top 200. The only reason they don't have six sub-100 losses is that Tennessee is still, as of today, ranked in the top 100. Their non-conference schedule strength is 186th, and as we saw with SMU last season, that's a major factor for the committee. It's going to be a long, long 48 hours for Johnny Jones and company. They're going to be rooting very strongly against everyone else on the bubble for the rest of the weekend.
Indiana: The Hoosiers lost to Maryland on Friday night in the Big Ten quarterfinals, meaning that they are going to end up being one of the most discussed bubble teams out there. Personally, I think they're in, and I think that most bracket projections will say as much. They were in entering the day, and they lost to a top ten team where they had a shot to take the lead in the final two minutes. The issue would be whether or not the bubble teams behind them win the games they need to move past them in the pecking order, and for the most part, bubble teams have not had a good week (ahem, looking at you, LSU). They need teams like Tulsa, UConn and UCLA to lose. My guess: they're in on Selection Sunday, but it's going to be a long couple of days.
UCLA: The Bruins badly needed to land a win over No. 5 Arizona in the semifinals of the Pac-12 tournament on Friday night, and they came up short. That means that UCLA will have to wait it out until Selection Sunday, and for my money, they're going to end up being on the wrong side of the bubble. They have wins over Oregon and Utah, which are nice, but they have three sub-100 losses, they're just 5-10 against the top 100 and their only two road wins are at Stanford and at Arizona State. Compare that to LSU, who has 13 top 100 wins and three top 50 wins.
Boise State: The Broncos lost to Wyoming on Friday, which is far from a crushing loss. The Pokes are ranked 90th in the RPI, but their numbers are skewed by a couple of losses that they took while their star, Larry Nance Jr., was battling mono. The problem is that Boise State has just three top 50 wins — all top 30, including a win at San Diego State — and three sub-100 losses. They did win the Mountain West regular season title, but their non-conference schedule strength is 176th and they have just one other top 100 win. The complicating factor? This team actually got markedly better when Anthony Drmic made the decision to sit out the season in mid-December. Boise State is in a tough spot, and while they got helped out by the fact that seemingly every team behind them in the bubble pecking order lost, there's still a good chance that they don't end up hearing their name called. At this point, I think they're out.
Colorado State: The Rams might be in some trouble after losing to San Diego State in the MWC semifinals. They have just two top 50 wins (Boise State and San Diego State) and they are just 5-5 against the top 100 with an ugly loss at New Mexico. That said, Larry Eustachy is a master of working the RPI, which is why the Rams currently are No. 25 in that ranking. If I had to guess, they're probably looking at a play-in game.
Richmond: The Spiders wouldn't have been a lock even if they had beaten the Rams on Friday, but they ended losing a thriller in the A-10 quarterfinals, which likely relegates them to the NIT.
STILL TO PLAY
Colorado State vs. San Diego State, 11:30 p.m.