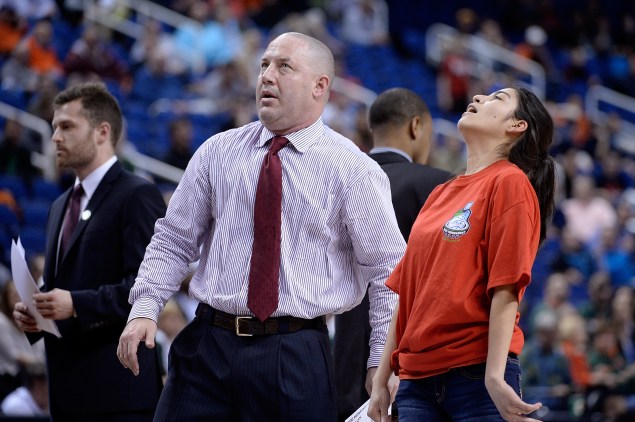 Last night, during a timeout in the second half of Virginia Tech's loss to Miami in the ACC tournament, there was a free throw shooting contest held with two contestants competing for a few hundred bucks.
One of the shooters ended up right next to Virginia Tech's huddle, and Buzz Williams, Tech's head coach, spent the first half of the timeout coaching the girl up, trying to help her win that money.
Check it out:
Did I mention that this was a one-point game at the time?
Buzz was asked about it after the game, and he took that opportunity to take a shot at the reporters in attendance.
"I want to have fun," Williams said. "You guys think I sweat and I don't have fun – I'm having the time of my life. It's just you guys, as nerds, think is fun, isn't what everyone else thinks is fun. You guys can send out a tweet, talking about a blog, that's not fun.
"That gives you entitlement, because you can send out a tweet or a blog. There's nothing I'm going to say in the huddle that they haven't heard me say. It's just saying the same stuff, over and over."
I laughed.