Similar to last season UC Irvine was the preseason pick to win the Big West. But unlike last season, it wasn't the Anteaters who managed to win the title. Instead UC Davis, led by senior guard Corey Hawkins, won the title outright on the strength of the conference's most efficient offense in league games. Jim Les' Aggies won't lack for challengers either, as UC Irvine and UCSB both have the pieces needed to win the tournament. Last season Cal Poly won the tournament as a seven-seed, which should serve as evidence that anything can happen in Anaheim.
READ MORE: NBC Sports' latest Bracketology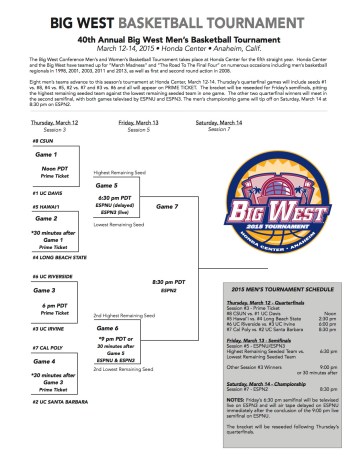 MORE: NBCSports.com's 2015 Conference Tournament Previews
When: March 12-14
Where: Honda Center, Anaheim
Final: March 14, 11:30 p.m. (ESPN2)
Favorite: UC Davis
The Aggies have Corey Hawkins, who leads the team in points, rebounds, assists and steals, and fellow senior Josh Ritchart is averaging 11.9 points per game. The keys for UC Davis this week are simple: other step up alongside Hawkins, as they've done at various points in conference play, and they do a better job when it comes to rebounding and taking care of the basketball. UC Davis allowed opponents to rebound 33.1 percent of their misses, and they also turn the ball over on 21.1 percent of their possessions.
And if they lose?: UCSB
Bob Williams' Gauchos were without senior center Alan Williams for a significant portion of conference play, and when he returned the team hit its stride. They've won five straight and eight of their last nine games, and in the five-game win streak are triumphs over both UC Davis and UC Irvine (the same week, in fact). In addition to Williams the Gauchos have junior guard Michael Bryson, who's averaging 14.1 points per game, and in total there are four players averaging at least ten points per game.
Sleepers:
UC Irvine: Hard to call the Anteaters a sleeper given their recent success in the conference, as they're a team capable of making up for last season's disappointing finish. Will Davis II and 7-foot-6 center Mamadou Ndiaye are their lone double-digit scorers, but guards Alex Young and Luke Nelson aren't far off. Russell Turner's team is solid defensively, and that should help their chances this week.
Long Beach State: The 49ers have an interesting quarterfinal matchup with Hawaii, as the teams split the regular season series with neither game being all that close. The good news for the 49ers: they tested themselves with a tough non-conference schedule, and they have a four-time All-Big West point guard in Mike Caffey.
Player of the Year: Corey Hawkins, UC Davis
As noted above Hawkins led the Aggies in scoring, rebounding, assists and steals, and he was incredibly effective despite being the player all opponents aim to neutralize. Averaging 20.6 points, 5.1 rebounds and 3.5 assists per game, Hawkins is shooting 49.8 percent from the field and 49.7 percent from beyond the arc.
Coach of the Year: Jim Les, UC Davis
Picked to finish fifth, UC Davis won the league by three games and was by a considerable margin the Big West's most efficient offensive team. Les is the clear choice for Big West Coach of the Year.
First Team All-Big West:
Hawkins
Mike Caffey, Long Beach State: Caffey's been named All-Big West in each of his four seasons at The Beach, and as a senior he's averaging 15.9 points, 3.9 rebounds and 3.7 assists per game.
Will Davis II, UC Irvine: With Mamadou Ndiaye playing just 11 games for health reasons, Davis (12.7 ppg, 6.5 rpg) kept the Anteaters afloat in the front court for most of the season.
Taylor Johns, UC Riverside: Averaging 16.3 points and 8.1 rebounds per game, Johns is third in the conference in scoring and second in rebounding.
Alan Williams, UCSB: Williams is the only player in the conference averaging a double-double, with 16.8 points and 11.9 rebounds per game.
CBT Prediction: Now at full strength, look for UCSB to win the Big West tournament crown.