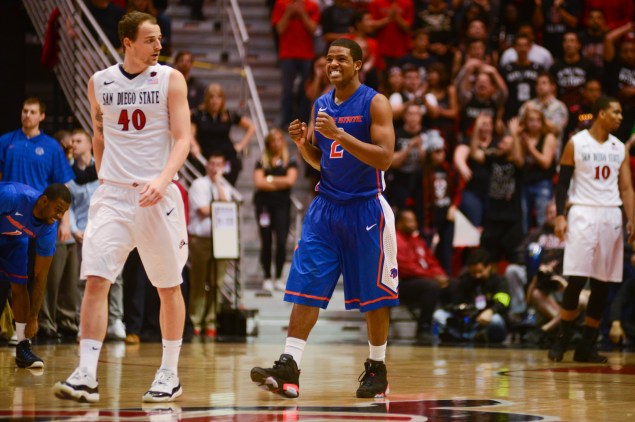 Back in October the general consensus was that the Mountain West possessed a clear favorite in San Diego State and a host of teams capable of challenging the Aztecs. Well, Steve Fisher's team did make good on the preseason predictions that they would win the league, but they won't be the top seed in Las Vegas.
That honor goes to Leon Rice's Boise State Broncos, who enter the conference tournament having won 14 of their last 15 games and they also swept the season series with San Diego State. Led by senior guard Derrick Marks, this has been a season of firsts for the Boise State program. Not only is this their first conference title as a member of the Mountain West, but they also picked up first-ever road wins at New Mexico, UNLV and San Diego State.
As for who can challenge the top two seeds this week, Colorado State and Wyoming will be heard from with Larry Eustachy's Rams looking to strengthen their NCAA tournament resume. Colorado State's an older team, and in recnet years the transfer market has yielded quality players such as J.J. Avila, Daniel Bejarano and Stanton Kidd. As for Larry Shyatt's Cowboys, they're a tough defensive team led by one of the league's most respected (and best) players in Larry Nance Jr. and Josh Adams is no slouch either.
There's also Utah State, which will look to cap the coaching career of Stew Morrill with a deep tournament run, and Fresno State when it comes to teams capable of wreaking havoc. New Mexico has won the last three Mountain West tournaments, but an injury-plagued 2014-15 season is unlikely to yield a fourth consecutive title.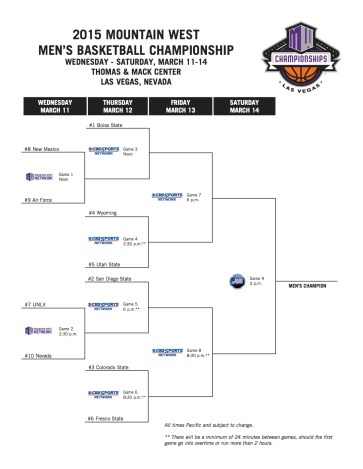 When: March 11-14
Where: Thomas & Mack Center, Las Vegas
Final: March 14, 6:00 p.m. (CBS)
Favorite: Boise State
This is Boise State's fourth year in the Mountain West and it's been an incredible one to this point. The Broncos entered league play struggling with injuries, and they dropped their first four Mountain West games (which included trips to Colorado State and Wyoming) as a result. But then guys returned to full strength, Derrick Marks played at an elite level and James Webb III emerged as one of the Mountain West's best forwards. The end result: a share of the Mountain West title, and that's without the injured Anthony Drmic (medical redshirt). They've earned the label of favorite, especially with that sweep of San Diego State.
And if they lose?: San Diego State
Given San Diego State's run of success under Steve Fisher, one could make an argument that they should be the favorites in Las Vegas. J.J. O'Brien has emerged as this team's most important player, as he's a "Swiss army knife" who does a variety of things for the Aztecs on both ends of the floor. San Diego State is an excellent defensive team, with multiple athletic defenders on the perimeter and a talented shot-blocker in Skylar Spencer manning the middle. The question marks are on offense, as the Aztecs have issues shooting the basketball. If players such as Aqeel Quinn, Matt Shrigley and Dwayne Polee II can knock down shots, the chances of a run through Las Vegas increase a great deal.
Other Contenders:
Colorado State: The Rams entered conference play undefeated and finished just a game behind Boise State and San Diego State. J.J. Avila has been one of the Mountain West's best, and players such as Daniel Bejarano, John Gillon and Stanton Kidd have also been productive. The key for Colorado State this week: don't settle for challenged perimeter shots too often. That gets them in trouble on occasion.
Wyoming: Bouts with mono for Larry Nance Jr. and Alan Herndon essentially eliminated the Cowboys from the Mountain West race in mid-February, but Wyoming is back to full strength and capable of winning this event. Wyoming has plenty of experience, and this includes the likes of guards Josh Adams, Riley Grabau and Charles Hankerson Jr. This is a very good defensive team, but they'll need to be better offensively if they're to win the tournament.
Sleeper: Utah State
The Aggies were able to put together a six-game win streak before dropping games to Wyoming and Colorado State last week. Utah State has the conference's best freshman in forward David Collette, and forward Jalen Moore averaged just over 15 points per game. Add in the fact this is Stew Morrill's final conference tournament, and the Aggies may be able to surprise some people.
Deeper Sleeper: Fresno State
With the bottom four seeds being what they are (UNLV and New Mexico were both hit hard by injuries, and Air Force and Nevada also have issues), go with the six-seeded Bulldogs here. Marvelle Harris does it all for Fresno State, leading the team in points, rebounds and assists, and he's the kind of player who can get hot and carry a team. Players such as Paul Watson, Julien Lewis and Cezar Guerrero are capable of at the very least supplementing Harris' efforts.
Mountain West Player of the Year: Derrick Marks, Boise State
Marks was outstanding this season for the Broncos, averaging 19.6 points, 3.6 rebounds and 3.0 assists per game while shooting 50.6 percent from the field and 46.0 percent from three. His averages increased across the board, and Marks did so while playing in a far more efficient manner than he did as a junior with Anthony Drmic available.
Mountain West Coach of the Year: Leon Rice, Boise State
When Boise State started conference play 0-4, a Mountain West title seemed far-fetched. Then Rice's Broncos returned to full strength and they got rolling, winning 14 of their last 15 games.
First Team All-Mountain West:
Marks
Larry Nance Jr., Wyoming: Nance averaged 16.1 points, 7.4 rebounds and 2.4 assists per game, and his impact was most noticeable when he was sidelined with mononucleosis in mid-February.
J.J. Avila, Colorado State: Avila (16.9 ppg, 7.5 rpg, 2.9 apg, 2.0 spg) led the Rams in scoring, rebounding and steals as a senior.
Christian Wood, UNLV: Wood may be the conference's best pro prospect, and he averaged 15.2 points and 10.1 rebounds per contest.
Marvelle Harris, Fresno State: Harris (16.8 ppg, 5.1 rpg, 3.8 apg, 2.1 spg) led the Bulldogs in scoring, rebounding, assists and steals.
Second Team All-Mountain West:
J.J. O'Brien, San Diego State
James Webb III, Boise State
A.J. West, Nevada
Daniel Bejarano, Colorado State
Jalen Moore, Utah State
Defining moment of the season: Boise State's win at San Diego State
While the Broncos also picked up their first-ever wins at New Mexico and UNLV, neither of those teams factored into the Mountain West race. Their 76-65 win at Viejas February 24 was the most impressive of the bunch, and if gave Boise State the inside track to the top seed in the Mountain West tournament.
CBT Prediction: San Diego State avenges two losses to Boise State with a win in the title game.