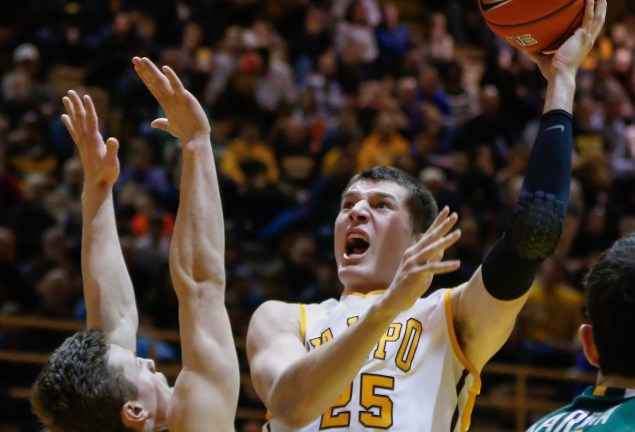 Conference: Horizon
Coach: Bryce Drew
Record: 28-5, 13-3 Horizon
Rankings and ratings:
– Kenpom: 70
– RPI: 61
– AP/USA Today: Not ranked
Seeding: Valpo was a No. 12 seed in our latest bracket.
Names you need to know: Alec Peters (17.0 ppg, 6.8 rpg), Delanie Walker (11.1 ppg, 4.6 rpg), Tevonn Walker (10.5 ppg, 3.4 rpg)
Stats you need to know: The Crusaders are 47th nationally in defensive efficiency, largely because they rank in the top 40 of defensive effective field goal percentage and defensive rebounding percentage. In simpler terms, they're really good at making you miss shots and then rebounding those misses.
Tendencies: Offensively, Valpo likes to run their stuff through Alec Peters, a 6-foot-9 sophomore that shoots 48.0 percent from three. His ability to spread the floor creates lanes for drivers — they have a handful of quality guards — and offensive rebounders. Defensively, Valpo is one of the best at the mid-major level. They don't force a crazy amount of turnovers, but they are fundamentally sound, can give different looks and have some shot blockers around the rim.
Big wins, bad losses: Valpo's best win of the season came against Murray State back in December, although they also went 2-1 in three games against Green Bay. The only high-major opponent they played was Missouri, who beat the Crusaders by 15.
How'd they get here: Valpo won a dual-championship in the Horizon, taking home the conference regular season title as well as the tournament title.
Outlook: The Crusaders have a chance to win a game in the Big Dance. As always, it's going to depend on the matchup, but their record — and the fact that there were some good teams in the Horizon — is going to result in a pretty favorable seed. Outside of the teams on the top two seed lines, everyone is beatable this season. The Crusaders can absolutely knock off the likes of, say, Wichita State, Louisville or Utah.
How do I know you?: You should recognize the name of their head coach. Not only is he the brother of Baylor head coach Scott Drew and the son of coaching legend Homer Drew, but he also did this: