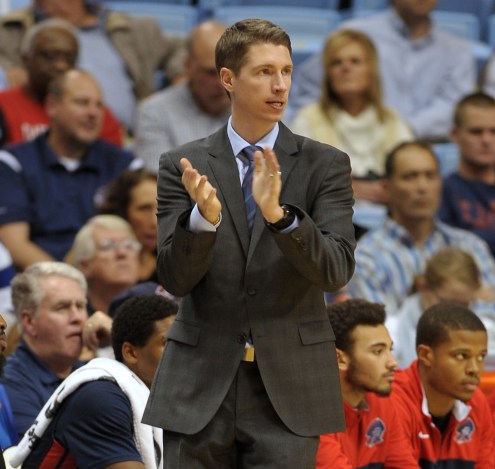 Conference: Northeast
Coach: Andrew Toole
Record: 19-14 (12-6)
Rankings and ratings:
– Kenpom: 183
– RPI (per NCAA.com): 184
– AP/USA Today: Not ranked
Seeding: In our most recent bracket regular season champion St. Francis-Brooklyn was projected as a 16 seed headed to Dayton, and that's the likely spot for the Colonials as well.
Names you need to know: Rodney Pryor (15.2 ppg, 4.8 rpg), Marcquise Reed (14.9 ppg, 2.6 rpg), Lucky Jones (14.4 ppg, 6.0 rpg), Kavon Stewart (4.5 apg)
Stats you need to know: The Colonials aren't a prolific offensive team but they do shoot the three-pointer well, as they entered Tuesday shooting 37.7 percent from beyond the arc. Percentage-wise Reed, the NEC's best freshman, is the best perimeter shooter at 43.1 percent, but Pryor leads the team in made threes (72) and Jones is second with 56 made three-pointers. As for a concerning number with an eye towards possible NCAA tournament matchups, it would be 64.8. That's their defensive rebounding percentage, a figure that ranked ninth in the ten-team NEC.
Tendencies: Andrew Toole's zone defense made quite the difference for the Colonials in conference play, as they ranked second in the NEC in field goal percentage defense (42.5 percent in all games) and fourth in three-point percentage defense (33.5 percent). And this isn't your rec center-caliber zone either, as Robert Morris is active enough to rank 14th nationally in steals per game (8.4) entering Tuesday NEC final.
Big wins, bad losses: In non-conference play the Colonials took swings at power conference opponents, most notably North Carolina and Georgetown, but they were unable to get any major wins. Their two best wins came against St. Francis-Brooklyn, with both of those wins coming on the Terriers' home court. As for losses that don't help the resume, Robert Morris lost at home to Youngstown State December 2 and was swept by LIU-Brooklyn.
How'd they get here: As the two-seed in the NEC tournament the Colonials took care of business in the first two rounds, eliminating Wagner and Bryant. That resulted in a game at St. Francis-Brooklyn for the automatic bid, which they won 66-63 with Pryor leading five Colonials in double figures with 17 points. And the Colonials are on a hot streak right now, as they've now won six straight heading into the NCAA tournament.
Outlook: Their chances of winning a game in the NCAA tournament depend upon where the committee sends them. If they're a 16 headed to Dayton, Robert Morris can pick up a win and the extra financial unit for their conference that would come with that achievement. If they're sent into the main bracket immediately, no 16-seed has ever beaten a 1-seed so a win there would be highly unlikely.
How do I know you?: Robert Morris' last NCAA tournament appearance came in 2010, when they scared two-seed Villanova before losing 73-70 in overtime. But most fans will recall the school from their 59-57 win over Kentucky in the first round of the 2013 Postseason NIT. The two teams have played once since then, with Kentucky winning 87-49 early last season. A matchup between those two programs would certainly draw attention.