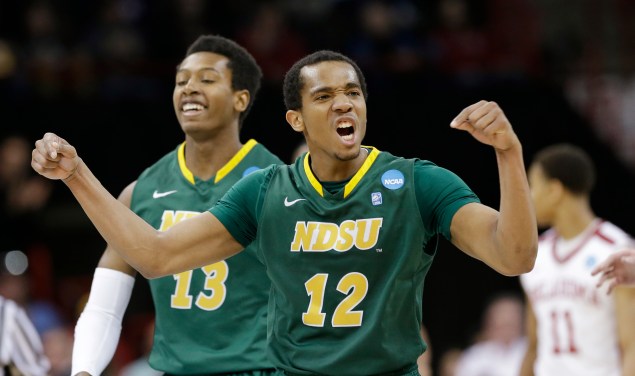 Conference: Summit League
Coach: Dave Richman
Record: 23-9 (12-4)
Ratings and rankings:
– Kenpom: 158
– RPI (per NCAA.com): 108
– AP/USA Today: Not ranked
Seeding: In our latest bracket top seed South Dakota State was seen as a 15-seed, but North Dakota State could land on the 16 line.
Names you need to know: Lawrence Alexander (18.6 ppg, 4.6 rpg), A.J. Jacobson (11.9 ppg, 4.1 rpg), Kory Brown (8.4 ppg, 4.8 rpg), Carlin Dupree (7.2 ppg, 4.6 rpg, 2.7 apg)
Stats you need to know: The Bison shoot 38.1 percent from three and they've scored nearly 32 percent of their points by way of the three-point shot entering Tuesday's game. What will also help the Bison in the NCAA tournament is the fact that they're one of the best defensive rebounding teams in the country. NDSU ranks third nationally in defensive rebounding percentage (77.1 percent), and they accomplish this by committee with seven players averaging between 3.7 and 5.4 rebounds per game. The tallest player of those seven: 6-foot-8 Chris Kading (4.0 rpg).
Tendencies: With Marshall Bjorklund and Taylor Braun gone from last season's team, it's understandable that the Bison don't convert inside of the arc as well as they did in 2013-14. After shooting 55.4 percent from two last season (ranking sixth nationally), North Dakota State are making just over 45 percent of those looks this season. That's why they've relied so much on the perimeter shot, with Alexander (94), Jacobson (52) and Paul Miller (34) being the leaders in three-pointers made. Defensively, the Bison play man the majority of the time.
Big wins, bad losses: Their best non-conference win came at home against Akron. Outside of that there isn't a whole lot to sell when it comes to getting off of the 16-line. The Bison have two wins over South Dakota State, but their losses include Southern Miss, South Dakota and Oral Roberts.
How'd they get here: North Dakota State won the Summit League tournament as the two-seed, beating Denver, Oral Roberts and South Dakota State. The Bison limited the Pioneers and Golden Eagles below 60 points, and in their win over ORU they avenged a 16-point loss in the regular season finale for both.
Outlook: Not as good as it was a season ago. With Braun and Bjorklund inside the Bison had two talented front court prospects who could give opponents fits. They don't have that kind of interior productivity, but they do have a stud in Alexander (Summit League POY) who can get hot from anywhere on the court. But given the likely seed, that's unlikely to yield a result as memorable as last year's.
How do I know you?: You saw them beat Oklahoma in last year's NCAA tournament as a 12-seed, and in that game Alexander scored 28 points on 10-for-15 shooting from the field. The head coach of that team, Saul Phillips, is now at Ohio and the head coach of their first NCAA team (2009) was Nebraska head coach Tim Miles.