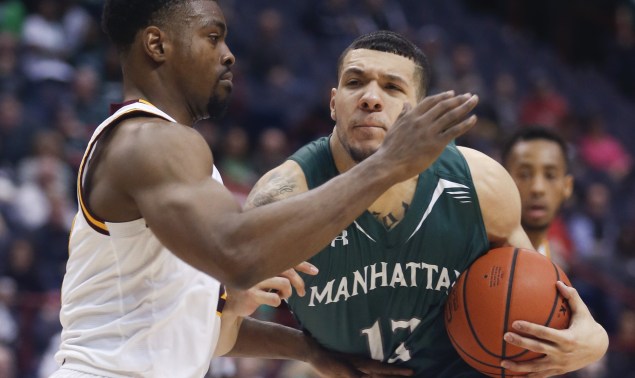 Conference: MAAC
Coach: Steve Masiello
Record: 20-13, 13-7 MAAC
Rankings and ratings:
– Kenpom: 152
– RPI: 185
– AP/USA Today: Not ranked
Seeding: Iona was projected as a No. 12 or 13 seed in our latest bracket, but Manhattan did not have near the profile of the Gaels. They're likely looking at a No. 15 seed.
Names you need to know: Emmy Andujar (16.5 ppg, 7.5 rpg, 3.5 apg, 2.1 spg), Ashton Pankey (13.3 ppg, 6.5 rpg), Shane Richards (13.1 ppg)
Stats you need to know: Manhattan is eighth nationally is defensive turnover percentage, forcing opponents to cough up the rock on nearly a quarter of their possessions. They're 29th nationally in pace, top 25 in steals and among the nation's worst in free throw rate. They play an uptempo, aggressive and gambling style of defense.
Tendencies: Masiello is a disciple of Rick Pitino, and you can see it in the way that his teams play. They use that same 2-2-1 press and can employ different man and zone looks. They thrive in transition and manage to play an entertaining and ugly style at the same time.
Big wins, bad losses: Manhattan's win over Iona in the MAAC title game was easily their best win of the season. A loss at Pittsburgh was the only other top 100 KenPom team that Manhattan played.
How'd they get here: The Jaspers were the No. 3 seed in the MAAC tournament, and won the automatic bid by beating their arch rival Iona in the title game. Iona had won the two regular season meetings between the two.
Outlook: Manhattan has been in the NCAA tournament before. They made the dance last season, and while they lost a number of key pieces off of that roster, there is still plenty of talent and experience here. The problem? They're likely going to end up having to play against one of the top eight teams in the country, and while the Jaspers might be able to upset, say, a No. 4 seed, they're not picking off the likes of Wisconsin or Arizona or Kansas.
How do I know you?: Manhattan reached the NCAA tournament last season, which prompted South Florida to hire Masiello. But, as it turned out, Masiello hadn't actually graduated from Kentucky, like he said he did on his resume, and he had to return to Manhattan with his tail between his legs. Now that he's won the automatic bid again, don't be surprised to see him get another big job.