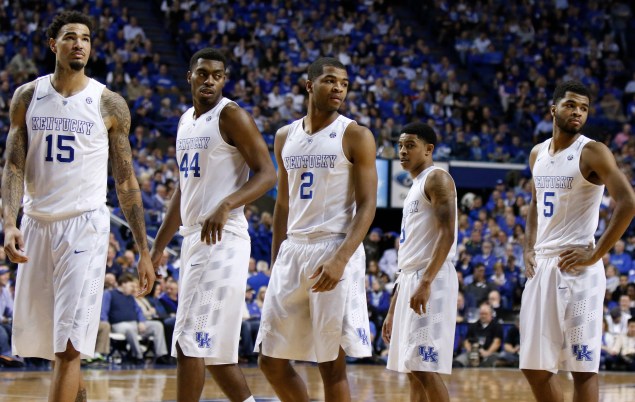 1. Kentucky (31-0, LW: No. 1): The Wildcats did it. They finished the regular season a perfect 31-0. I'm not sure anyone is disagreeing with this ranking.
2. Virginia (28-2, LW: No. 2): Virginia lost at Louisville on Saturday. On a last-second jumper. From Mangok Mathiang. Not exactly a sign that this team is crumbling. The bigger concern? They're still waiting for Justin Anderson to return to health. After nearly completing his recovery from a fractured finger, Anderson underwent an appendectomy last week. Will he be healthy for the NCAA tournament?
3. Wisconsin (28-3, LW: No. 3): The Badgers finished their regular season without a hiccup, pounding No. 23 Ohio State in Columbus on Sunday. Like Virginia, the Badgers are still waiting on a starter — Trae Jackson — to get healthy. Unlike Virginia, his replacement — Bronson Koenig — has been terrific in a starting role.
4. Duke (28-3, LW: No. 4): The Blue Devils are tough to peg for me. They've got such glaring problems that they are impossible to ignore. But … they've won at Virginia, at Wisconsin, at Louisville, at North Carolina and at St. John's. They have the nation's most dominant low-post scorer in Jahlil Okafor. They have a point guard (Tyus Jones) that is channelling his inner-Bobby Hurley. And they have a pair of wings (Quinn Cook and Justise Winslow) that can take over a game in the drop of a hat.
5. Villanova (29-2, LW: No. 5): The outright Big East champs for the second straight season, a span where Virginia has only lost seven total games. My concern with them: Who have they beaten this season? Their best win is … VCU? Rolling through the Big East, winning that league by four games, is truly impressive, but it will be interesting to see what happens when the Wildcats square off against one of the other elite teams.
6. Arizona (28-3, LW: No. 6): The Wildcats are cruising now. After beating Utah in Utah last Saturday, they pounded both Cal and Stanford at home to close out the regular season. This is the right time for Sean Miller's team to peak.
7. Gonzaga (30-2, LW: No. 7): Will this be the year that the Zags end up making it past the Sweet 16? They haven't been playing like it of late. The most recent was Saturday's game against San Francisco, when they trailed by seven at halftime.
8. Kansas (24-7, LW: No. 8): The Jayhawks are hemorrhaging players right now. Perry Ellis sprained his knee against West Virginia. Brannen Greene was suspended for the Oklahoma game. Cliff Alexander is still sitting out, reportedly due to the NCAA looking into a loan that his mother took out. And they still won the outright Big 12 title. Not bad.
9. Maryland (26-5, LW: No. 9): Maryland won at Nebraska by three on Sunday night, yet another nail-biter for a team that has already chewed their fingers down to the cuticles. Maryland is 11-0 in games decided by six points or less, the kind of stat that makes a team ranked 31st in KenPom and 60th in offensive efficiency a top ten team. Are the Terps lucky, or do they "know how to win"?
10. Notre Dame (26-5, LW: No. 12): The Irish hop back up into the top ten, which is impressive when you consider the issues this team has defensively. They have been playing 6-foot-6 Bonzie Colson at center for the last month!
11. Baylor (23-8, LW: No. 10)
12. Northern Iowa (30-3, LW: No. 14)
13. Oklahoma (21-9, LW: No. 16)
14. Iowa State (22-8, LW: No. 17)
15. West Virginia (23-8, LW: No. 18)
16. North Carolina (21-10, LW: No. 15)
17. Utah (23-7, LW: No. 11)
18. Wichita State (28-4, LW: No. 13)
19. SMU (25-6, LW: No. 19)
20. Louisville (24-7, LW: No. 23)
21. Boise State (24-7, LW: NO. 25)
22. Butler (22-9, LW: No. 21)
23. St. John's (21-10, LW: No. 24)
24. Arkansas (24-7, LW: No. 20)
25. Davidson (23-6, LW: UR)
Dropped Out: No. 22 Ohio State