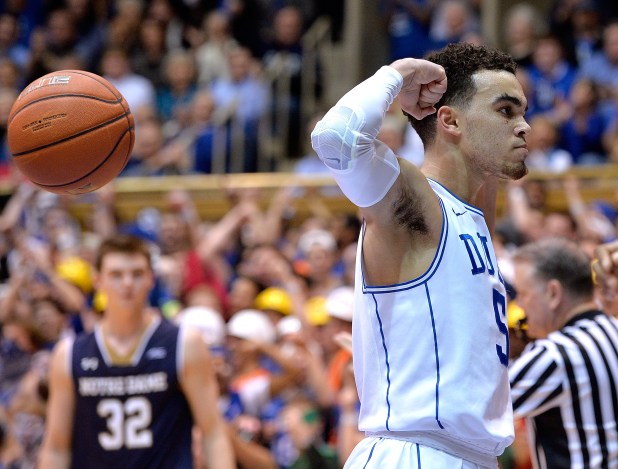 The ACC turned into one of the best conferences in college basketball this season, as five different teams have held top ten rankings during the season. As it stands, two of the top five seeds have a real chance to finish the month in the Final Four, while three more could very well find themselves in the second weekend of the Big Dance.
READ MORE: NBC Sports' latest Bracketology
Duke and Virginia look like they'll end up being No. 1 seeds by the time that the brackets are released on Selection Sunday, although that's far from a given at this point. Louisville, North Carolina, Notre Dame and N.C. State are all playing for seeding at this point, while Miami and, potentially, Pitt have a chance to earn an at-large bid by the time it's all said and done.
MORE: NBCSports.com's 2015 Conference Tournament Previews
When: March 10-14
Where: Greensboro, N.C.
Final: March 14, 8:30 p.m.
Favorite: Virginia
The Cavaliers rolled through the ACC, winning their second straight outright league title while playing for nearly a month without Justin Anderson, their all-american caliber wing. There's no guarantee that Anderson will be back in the lineup this week, however, but even if he's not, UVA has still proven to be the best defensive team in the country.
And if they lose?: Duke
There isn't a team in the country who has as many players that can completely take over a game as the Blue Devils. We all know about Jahlil Okafor, but Tyus Jones was the star in both wins over North Carolina, Quinn Cook was the hero in their blowout win against Notre Dame and Justise Winslow can be nearly unstoppable when he's allowed to get out in transition. Duke has depth and defensive issues, but when their offense is clicking, they can beat anyone.
Other Contenders
North Carolina: We all know how good Marcus Paige can be when he's playing well, and while he's dealt with some nagging injuries this season, he was at his best in the season-ending loss to Duke. With Paige and a front line that can be overpowering, the Tar Heels are a dangerous team this month.
Notre Dame: The Irish have the ACC's most dangerous offensive attack, as Jerian Grant's all-american season has made the Irish a nightmare to defend. They can struggle to get stops, but with Bonzie Colson emerging as a legitimate backup to Zach Auguste, Notre Dame can beat anyone.
Sleeper: Louisville
I know that they are playing without Chris Jones, but the Cardinals are coming off of a win over Virginia on Saturday. Montrezl Harrell and Terry Rozier are a terrific 1-2 punch, and when Wayne Blackshear, Quentin Snider and company are hitting their threes, this team is dangerous.
Deeper Sleeper: N.C. State
The Wolfpack have been annoyingly inconsistent this season, but they have beaten Duke, North Carolina, Louisville and Syracuse — all four coached by Hall of Famers – this season.
ACC Player of the Year: Jahlil Okafor, Duke
There is a ton of talent in the ACC this season, but Okafor is the easy pick for Player of the Year. No one else in the league is as unstoppable as he is, and while he does have some issues — his free throw shooting and defense, for example — I don't think there is any question who the best player was.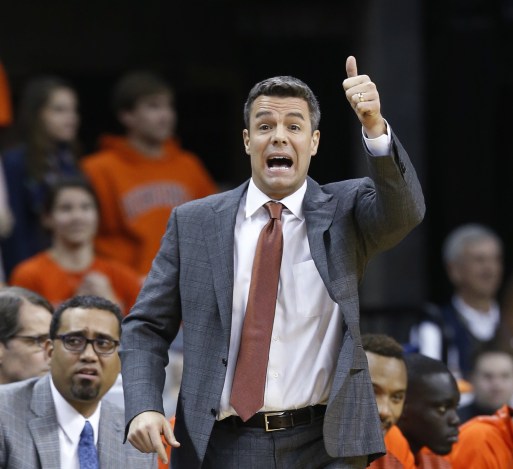 ACC Coach of the Year: Tony Bennett, Virginia
Virginia doesn't have a consensus top 50 recruit on their roster and Justin Anderson is their only potential NBA Draft pick. Yet the Cavs only lost twice this season — once on a flurry of threes from Duke, once on a jumper from Mangok Mathiang of all people — despite playing without Anderson for more than a month. The only reason he's not the National Coach of the Year is a man by the name of John Calipari.
First-Team All-ACC:
Okafor
Jerian Grant, Notre Dame: If anyone had an argument to be slotted above Okafor, it's Grant, who was the engine driving Notre Dame's offense this season. He's better at making his teammates better than anyone in the country.
Rakeem Christmas, Syracuse: The Orange won't be playing in the ACC tournament, but that doesn't mean that Christmas wasn't terrific this season. He's the nation's most improved player.
Montrezl Harrell, Louisville: Harrell isn't the most talented big man in the league, but he's the hardest worker, the best athlete and arguably the best defender.
Malcolm Brogdon, Virginia: Anderson was Virginia's best player this season, but Brogdon was terrific in ACC play, particularly once Anderson went down with his hand injury.
Second Team All-ACC:
Justin Anderson, Virginia
Terry Rozier, Louisville
Olivier Hanlan, Boston College
Quinn Cook, Duke
Marcus Paige, North Carolina
Defining moment of the season: Duke's comeback at Virginia
CBT Prediction: Duke upsets Virginia in an epic, two-overtime title game.