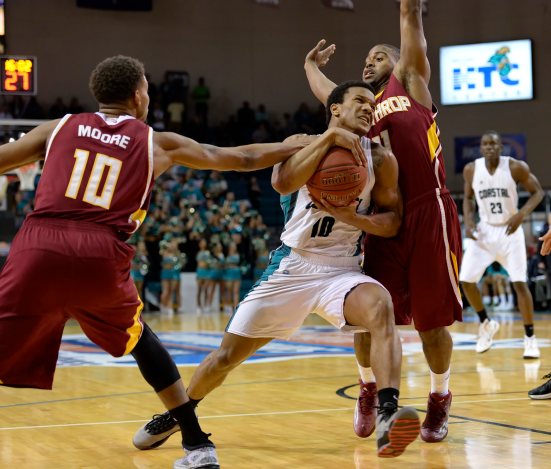 Conference: Big South
Coach: Cliff Ellis
Record: 24-9 (12-6 Big South)
Rankings and ratings:
– Kenpom: 149
– RPI: 139
– AP/USA Today: Not ranked
Seeding: 16
Names you need to know: Senior guard Josh Cameron (12.9 ppg in only 21.4 mpg), senior guard Warren Gillis (12.8 ppg, 3.2 apg, 3.1 rpg), sophomore guard Elijah Wilson (10.8 ppg, 3.5 rpg), junior forward Badou Diagne (9.5 ppg, 7.5 rpg)
Stats you need to know: Despite a roster that isn't particularly big inside, Coastal Carolina is outrebounding opponents by 13 rebounds per game. Although the Chanticleers only shot 35 percent from 3-point range on the season, all five starters are capable of hitting the trey ball and must be accounted for.
Tendencies: Coastal Carolina is a balanced, guard-driven team that will rely on the experience of four returning starters. With five players averaging between 9.5 and 12.9 points per game, the Chanticleers will spread the wealth and look for good shots using multiple isolation threats and all five starters can hit the 3-pointer. Defensively, Coastal Carolina won't alter a lot of shots or get in the passing lanes for steals, but they play steady positional defense.
Big wins, bad losses: The Chanticleers had respectable road losses to UCLA (by 13) and Ole Miss (by three) and defeated Auburn on the road to highlight the non-conference slate. In conference play, Coastal Carolina went 3-1 against the Big South's top two teams (Charleston Southern, High Point) but had a puzzling double-digit league loss to 10-22 Presbyterian on Feb. 26.
How'd they get here: Things went haywire quickly in the Big South Tournament when top two seeds Charleston Southern and High Point both lost in the first round. That left No. 3 seed Coastal Carolina with a golden opportunity and they capitilized. The Chanticleers beat No. 6 seed UNC Asheville, 74-57, before ousting No. 7 seed Gardner-Webb, 73-70. In the title game, Coastal Carolina beat No. 5 seed Winthrop, 81-70.
Outlook: Returning four starters from last season's No. 16 seed that gave Virginia a scare, Coastal Carolina won't be intimidated playing against the big boys in the Big Dance. They'll likely bow out in the Round of 64, but it wouldn't surprise anyone if they kept things close.
How do I know you?: Coastal Carolina valiantly battled Virginia in the NCAA Tournament last season as the Chanticleers led the No. 1 seed Cavaliers, 35-30, at the half before finally relinquishing the lead for good with about 9 minutes left. Virginia came back to win, but it was one of the closest 1-16 matchups in recent memory. Coastal Carolina has also been a steady postseason presence the last five seasons. With their second consecutive NCAA Tournament appearance in 2014-15, the Chanticleers have played in the postseason in four out of five seasons.