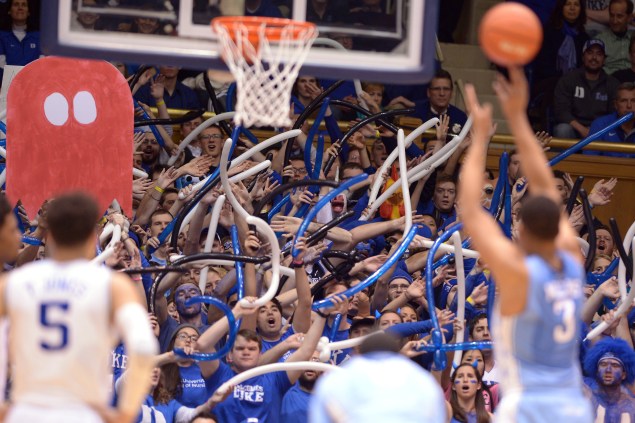 GAME OF THE DAY: No. 3 Duke at No. 19 North Carolina, 9:00 p.m.
From Rob Dauster's Weekend Preview:
The first time these two teams got together this season, it was an instant classic. The Blue Devils jumped out to a huge lead in Cameron, only to see the Tar Heels not only erase that lead, but take a ten point lead of their own in the final six minutes. Duke responded, forcing overtime and eventually winning the best game of the season, 92-90. Carolina on the road will be a good test for Duke, as the Tar Heels are monsters on the offensive glass. That's one of Duke's weaknesses this season. One thing that will be interesting to watch is how Duke defends Marcus Paige. Will they face-guard him again?
UPSET ALERT: Stanford at No. 5 Arizona, Sat. 4:00 p.m.
This is a similar situation to what we saw at Gonzaga last week. Stanford is playing for their tournament lives. Arizona? They clinched the outright Pac-12 title on Thursday, their only motivation on Saturday being to better their profile for a No. 1 seed. Throw in the fact that it's Senior Night, and the setting couldn't be better for the Cardinal to pull off an upset.
FIVE THINGS TO WATCH FOR:
1. Saturday means we get our first NCAA Tournament automatic bid of the year with the conclusion of the Ohio Valley Conference Tournament. Conference unbeaten Murray State is the heavy favorite against Belmont, but the Racers received a scare from Morehead State on Friday night.
2. No. 21 Butler travels to No. 24 Providence to see who is second-best in the Big East. Butler is back to full strength with Andrew Chrabacsz back. If you haven't seen Kris Dunn play, tune in.
3. No. 9 Kansas at No. 15 Oklahoma would have had a lot more intrigue if Kansas had lost to West Virginia. As it stands, the outright league title has been clinched and Kansas will be without Perry Ellis and Cliff Alexander.

4. No. 2 Virginia traveling to No. 16 Louisville is the Cardinals' last chance in the regular season to prove that they can still beat one of the nation's best teams. The Cavaliers are still without star wing Justin Anderson.
5. Bubble games to track on Saturday:
Syracuse at N.C. State, 12:00 p.m.
Miami at Virginia Tech, 12:00 p.m.
Northwestern at Iowa, 12:00 p.m.
Michigan State at Indiana, 12:00 p.m.
Oklahoma State at No. 20 West Virginia, 2:00 p.m.
UConn at Temple, 2:00 p.m.
Alabama at Texas A&M, 2:00 p.m.
LSU at No. 18 Arkansas, 2:00 p.m.
Xavier at Creighton, 2:00 p.m.
Stanford at No. 5 Arizona, 4:00 p.m.
Georgia at Auburn, 4:00 p.m.
Illinois at Purdue, 4:30 p.m.
Davidson at Duquesne, 7:00 p.m.
Fresno State at Boise State, 8:00 p.m.
Colorado State at Utah State, 9:00 p.m.
Vanderbilt at Ole Miss, 9:00 p.m.
PROGRAMMING NOTE: There will be two games on NBCSN and streaming on Live Extra on Saturday:
UMass at George Washington, 3:30 p.m.
George Mason at VCU, 5:30 p.m
THE REST OF THE TOP 25
Florida at No. 1 Kentucky, 2:00 p.m.
St. John's at No. 4 Villanova, 2:00 p.m.
San Francisco at No. 7 Gonzaga, 9:00 p.m.
Illinois State vs No. 8 Wichita State 2:35 p.m.
Loyola at No. 11 Northern Iowa, 5:05 p.m.
Clemson at No. 12 Notre Dame, 4:00 p.m.
No. 13 Utah at Washington, 4:30 p.m.
No. 17 Iowa State at TCU, 8:30 p.m.