LeVelle Moton has turned North Carolina Central into the MEAC's best program. He's 46-2 in the last three seasons in league play, and he led the Eagles to a perfect conference season. They're the clear favorite to make another run to the NCAA tournament, but one thing about March that we all know to be true: favorites don't always make it.
READ MORE: NBC Sports' latest Bracketology | The updated top 25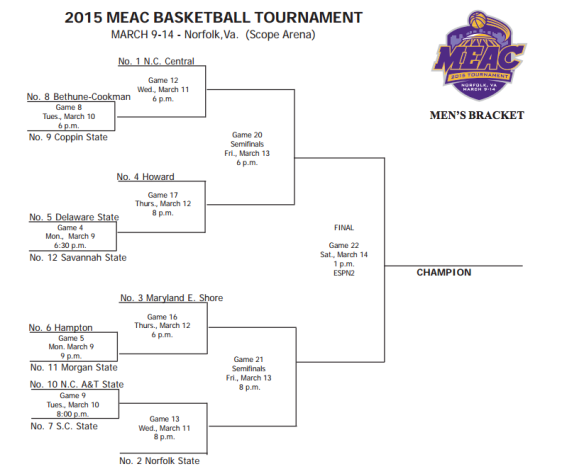 When: March 9-14
Where: Norfolk, VA
Final: March 14, 1:00 p.m. (ESPN2)
READ MORE: NBCSports.com's 2015 Conference Tournament Previews
Favorite: North Carolina Central
The Eagles once again rolled through the MEAC season, finishing the year 16-0 and winning the regular season title by four games. NC Central has not lost a conference games since January of 2014, their first league last season. That's 34 straight, if you're counting at home. Yeah, I'd say they're the favorite.
And if they lose?: Norfolk State
The Spartans last made the NCAA tournament in 2012, when they knocked off No. 2 seed Missouri in the opening round. The Spartans may not be as good as that team — Kyle O'Quinn played in the NBA after leaving school — but this group can make a run through the conference tournament.
Sleepers:
Delaware State: No league in the conference has as much explosive talent as the Hornets. Case in point: Thursday night. Kendall Gray had 33 points and 30 boards and Amere May became the first player to go for 40 twice this season. All in the same game!
Maryland-Eastern Shore: UMES won their last four games of the regular season and five of their last six, entering the MEAC tournament as the hottest team in the conference not named NC Central.
Player of the Year: Kendall Gray, Delaware State
Gray finished the season as the nation's leading rebounder, averaged 12.4 points, 12.4 boards and 2.8 blocks while posting 17 double-doubles on the year.
Coach of the Year: LeVelle Moton, North Carolina Central
Moton has turned NC Central into a powerhouse in the MEAC. Not only did they roll through a 16-0 regular season in league play, they've now won 34 straight games against conference opponents and are 46-2 in MEAC play in his tenure. That's good, right?
All-MEAC Team:
Gray
Nimrod Hilliard, North Carolina Central – Hilliard is the playmaker and the leader on the conference's best team.
Jordan Parks, North Carolina Central – Parks finished his senior season as the leading scorer and rebounder for the Eagles.
Amere May, Delaware State – May is the most explosive scorer in the conference, averaging 20.9 points and twice going off for 40 in a game.
Jeffery Short, Norfolk State – Short finished the season averaging 19.3 points, helping the Spartans to a second place finish in the league.
CBT PREDICTION: North Carolina Central reaches their second straight NCAA tournament.