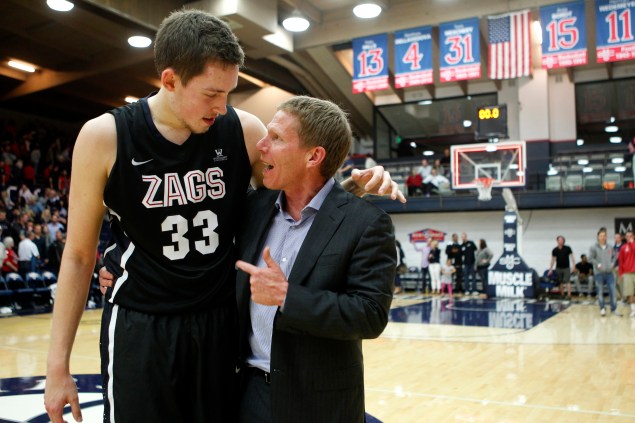 For the 14th time in the last 15 seasons No. 7 Gonzaga won the West Coast Conference regular season title, winning 17 straight before falling to BYU in the regular season finale for both. And that result may have changed the tenor of this year's WCC tournament, with the Cougars now in possession of the marquee victory their NCAA tournament resume lacked. Mark Few's Bulldogs, led by senior guard Kevin Pangos, don't lack for options on the perimeter or in the post and they could be a threat to reach the Final Four for the first time in school history.
While those talents make Gonzaga the favorites in Las Vegas, it also makes them an attractive target for the rest of the WCC. BYU and Saint Mary's finished tied for second, and both teams have all-conference caliber options. The Cougars are led by guards Tyler Haws and Kyle Collinsworth, and Saint Mary's has senior forward Brad Waldow to call upon in the post. But even with the talent that both teams have, this will not be a three-team tournament.
READ MORE: NBC Sports' latest Bracketology
Pepperdine, led by junior forward Stacy Davis, once again exceeded preseason expectations under head coach Marty Wilson. The Waves won ten conference games, and while teams such as San Diego, Portland and Santa Clara all finished below .500 they have the ability to pull off a surprise or two in Las Vegas. That could make things tricky for the teams expected to get to Monday's semifinals, but is it enough to provide a surprise champion?
That won't be the expectation, with the most important question for the WCC being how many NCAA tournament bids will the conference receive. With Gonzaga being the only lock to hear its name called Selection Sunday the best way to remove any doubt is to win the automatic bid. And that should make for a fun five days at Orleans Arena.
MORE: NBCSports.com's 2015 Conference Tournament Previews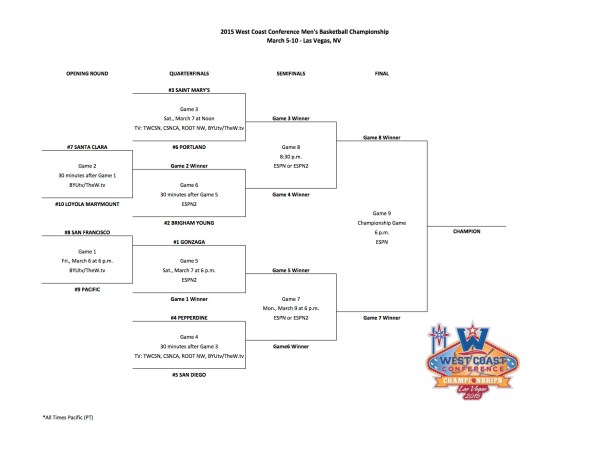 When: March 5-10 (no games Sunday, March 8)
Where: Orleans Arena, Las Vegas
Final: March 10, 9:00 p.m. (ESPN)
Favorite: Gonzaga
The Bulldogs are the clear favorites in Las Vegas thanks to their dominance throughout WCC play. In addition to Pangos and Wiltjer, Mark Few can call upon a host of experienced options including WCC Defensive Player of the Year Gary Bell Jr., wing Byron Wesley and bigs Przemek Karnowski and Domantas Sabonis. And with players such as Kyle Dranginis and Eric McClellan serving as reserves, the Bulldogs have depth as well. Skilled offensively and solid defensively, Gonzaga can use this weekend as a springboard into the NCAA tournament.
And if they lose?: BYU
The Cougars have little trouble putting points on the board, as they averaged 81.1 points per game and shot 46.4 percent from the field in conference games. Haws and Collinsworth lead the way for BYU, with Chase Fischer and Anson Winder both averaging at least 13 points per contest as well. BYU arrives in Las Vegas having won six straight games, and a key during the stretch has been senior guard Skyler Halford. Scoring 8.7 points per game on the season, Halford is averaging 14.8 ppg during this current win streak. If that continues, and BYU can string together stops on the other end, they're a threat to win the tournament.
Other Contenders
Saint Mary's: Brad Waldow leads the way for Randy Bennett's team, and they're experienced on the perimeter thanks to the presence of players such as seniors Aaron Bright and Kerry Carter. The Gaels ranked second in the WCC in both field goal and three-point percentage in league games, and they were tops in the WCC in defensive rebounding percentage. If Garrett Jackson can build on his final two games of the regular season (19.5 ppg, 4.0 rpg), that would undoubtedly help the Gaels.
Pepperdine: Marty Wilson's Waves won ten conference games thanks in large part to their defense, as they were second in the WCC in field goal percentage defense and first in three-point percentage defense. Forwards Stacy Davis and Jett Raines lead the way offensively, and guards Jeremy Major and freshman Shawn Olden are solid as well. The key for Pepperdine: rebounding, as they ranked ninth in the WCC in defensive rebounding percentage in conference games (65.9%).
Sleeper: San Francisco
Unlike the Pilots, Rex Walters' team enters the tournament having won four of its last five games. Of course three of those wins came against teams seeded seventh (Santa Clara), ninth (Pacific) and tenth (Loyola Marymount), with Pepperdine being the other. Kruize Pinkins and Mark Tollefsen lead the way for a team that has three players averaging between 12.3 and 14.2 points per game.
Deeper Sleeper: San Diego
The Toreros are the five-seed, but they've struggled mightily on the offensive end in conference games (last in field goal percentage, eighth in three-point percentage). The good news is that they have an experienced backcourt of Christopher Anderson and Johnny Dee, with the latter having the ability to get rolling from deep. But if they're to make a run, players such as Duda Sanadze and Thomas Jacobs will need to step forward in the scoring department with Jito Kok serving as the defensive anchor in the post.
WCC Player of the Year: F Kyle Wiltjer, Gonzaga
Teammate Kevin Pangos was the conference's pick for Player of the Year and that's certainly understandable given his role on the team. But Wiltjer's debut season for Gonzaga was an excellent one, as he averaged 16.5 points and 5.7 rebounds per game while shooting 53 percent from the field and 44.9 percent from beyond the arc.
WCC Coach of the Year: Mark Few, Gonzaga
Sure the expectation was that Gonzaga would win the conference. But that doesn't mean Few should be prohibited from receiving this honor. The Bulldogs went 29-2 overall and 17-1 in WCC play, with 14 of those conference wins being by ten points or more.
First-Team All-WCC:
Wiltjer
G Kevin Pangos, Gonzaga: Pangos averaged 11.6 points and 5.0 assists per game for the champions, playing an average of nearly 33 minutes per contest.
G Tyler Haws, BYU: One of the best shooters in the country, BYU's all-time leading scorer averaged 22 points per game and shot 47 percent from the field.
G Kyle Collinsworth, BYU: An argument can be made that Collinsworth is the most versatile player in college basketball, as he tallied an NCAA-record five triple-doubles this season.
F Brad Waldow, Saint Mary's: Waldow averaged 19.1 points and 9.0 rebounds per game, shooting better than 56 percent from the field.
Second Team All-WCC:
G Jared Brownridge, Santa Clara
G Johnny Dee, San Diego
G Kerry Carter, Saint Mary's
F Stacy Davis, Pepperdine
C Przemek Karnowski, Gonzaga
Defining moment of conference play: BYU's win at Gonzaga (February 28)
While the Bulldogs have been part of the one-seed conversation for most of the season, the same wasn't the case for a BYU team that's had to navigate multiple injuries throughout the season. And while they had the benefit of a solid non-conference schedule, Dave Rose's team had yet to pick up a "signature" victory. That changed in Spokane on the last day of February, and that win could be what gets BYU an at-large bid should they need it.
CBT Prediction: Gonzaga wins its third straight WCC tournament title, beating Saint Mary's in the title game.