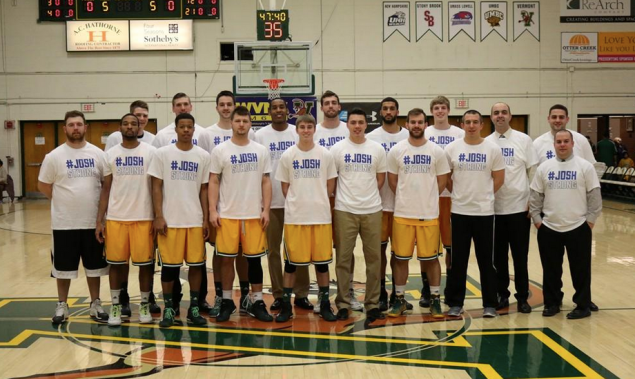 The Vermont coaching staff has dealt with a tremendously difficult situation this season, as one of the Class of 2015 prospects that the Catamounts signed to a Letter of Intent has been in a coma since being involved in a serious accident last month.
His name is Josh Speidel, and he's a 6-foot-7 forward that Vermont picked out of Indiana over a number of mid-major programs. Speidel was averaging 25.6 points and 9.3 boards when, on Feb. 1st, he was involved in a serious two-car accident. Another car slammed into his driver's side door, and he had to be cut out of the vehicle. He's spent the majority of the last month in critical-but-stable condition as he fights to recover from a traumatic brain injury.
Throughout the state of Indiana, high school teams are wearing and selling #JoshStrong shirts to help support the Speidel family — emotionally and financially — during this time, and last night, Vermont got in the act as well. In their opening game for the America East tournament on Wednesday night, the Cats all wore #JoshStrong warmup t-shirts with Josh's number 32 on the back.
"It was our turn to show love," Vermont assistant Kyle Cieplicki told NBCSports.com in a text message. He reached out to the people distributing the shirts back in Indiana and had them sent a batch up to Burlington.
Vermont won on Wednesday, meaning they will be taking on Stony Brook in the semifinals this weekend.
The shirts will be there as well.
"We will keep wearing them," Cieplicki said.