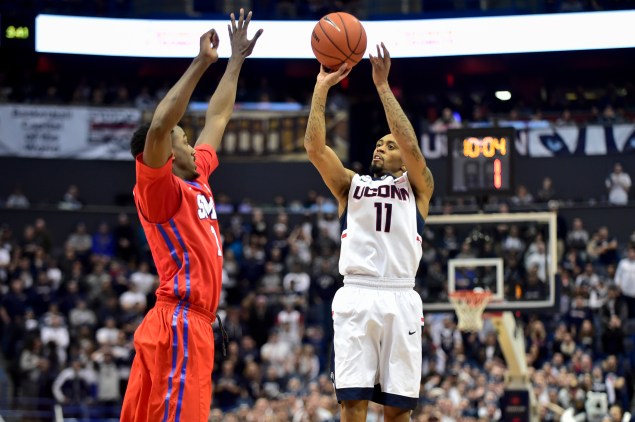 This season is a bit weird in that there are only two "mid-major" conferences that will be sending at-large teams to the tournament. That limits some of the potential bid thieves from the smaller leagues, but here is a list of teams that are completely out of the bubble picture with the ability to make a surprise run to their conference tournament title and win an automatic bid:
UConn: I mean, this one is obvious, right? The Huskies, coming off of a national title run, have been one of the country's most disappointing teams this season. But Ryan Boatright is one of the nation's most talented guards and capable of carrying UConn the way Kemba Walker and Shabazz Napier have done before him. Throw in the fact that Rodney Purvis and Daniel Hamilton seem to finally be hitting their stride, and that Amida Brimah is still swatting away everything at the rim, and Kevin Ollie's club has the talent to beat anyone in the American. Ask SMU. They lost to UConn on Sunday.
Illinois State: The Redbirds have been beaten up for much of the season, but they're now healthy and enter Arch Madness having won four straight games. They're 11-3 against the Valley teams not named Wichita State or Northern Iowa, and three of their four losses to the top two teams in the league were by single digits.
Wyoming: The Cowboys were playing like the best team in the Mountain West midway through league play when Larry Nance Jr., a conference Player of the Year candidate, got mono and missed a few weeks. The Pokes have lost four of their last six since Nance went out, but when he was healthy, they swept Colorado State and beat Boise State in the only matchup between the two teams. At full strength, they can take home the title. But will they — meaning Nance — ever be at full strength this month?
Richmond: The Spiders have been inconsistent this season, but they do have some terrific wins on their resume. To name a few: they swept arch rival VCU and beat George Washington in D.C. You won't find a team with a more difficult back court to guard than Richmond, who boast a pair of sub-6-foot speed demons in Kendall Anthony and Shawn'Dre Jones. On the nights those two are playing well and Richmond's threes are dropping, they can beat anyone. And with the Atlantic 10 being wide-open this year, don't be surprised to see the Spiders make a run.
Kansas State: The Wildcats are in a similar boat as UConn. They certainly have the talent to be an NCAA tournament team, but outside factors — and the inability of Marcus Foster to consistently stay out of trouble — means that they are just 15-15 on the season heading into their finale against Texas. But this group has seven top 50 wins on the season, which includes upsets of both Kansas and Iowa State last week. If they show up ready to play, Kansas State absolutely can earn the automatic bid from the Big 12. And if not, losing in the title game might give them enough quality wins to actually earn an at-large bid. Be nervous, bubble teams.
THREE MORE TO KEEP AN EYE ON
St. Mary's: Gonzaga is clearly the best team in the WCC, and with BYU streaking, the Cougars look like a tournament team as of today. But don't sleep on the Gaels, who had a dominant low-post presence in Brad Waldow and surround him with a slew of shooters and high-major transfers.
Evansville: Evansville has one of the Valley's best scorer on the roster in D.J. Balentine and they're the only team in the conference that actually owns a win over Northern Iowa or Wichita State; they beat the Panthers at home in the conference opener.
UNLV: The Rebels have been inconsistent all season long and after still waiting to see if Rashad Vaughn will be back for the MWC tournament. So the odds are long. But consider this: the Rebels are more talented than anyone else in the conference, they beat Arizona in Vegas earlier this season and the MWC tournament will be played in … Vegas.