"Can anyone actually beat Kentucky?"
Ever since the Wildcats jumped out to a 24-0 lead on UCLA on that December weekend in Chicago, that's the question that I've been asked more than any other. It doesn't matter if I'm doing a radio show in Omaha, a TV spot for CSN's Washington affiliate or simply happen to mention what I do for a living to someone at a bar.
And the answer is yes. Upsets do happen. These are college kids, after all. Ole Miss lost to Charleston Southern before taking Kentucky to overtime in Rupp. Georgia and LSU, who have lost a combined five games to the dregs of the SEC, both held significant leads on Kentucky late in the second half. Hell, Columbia gave the Wildcats a scare.
But, I'd argue, Kentucky, for whatever reason, either didn't play well or didn't show up ready to play in all four of those games.
When Kentucky shows up focused, when they're playing well under the bright lights of the NCAA tournament with a 40-0 season within their reach, are there any teams that can actually beat the Wildcats?
These six can:
VIRGINIA
The way I see it, there are three things an opponent has to do to be able to beat the Wildcats:
1. Avoid getting dominated in the paint: The Wildcats can be downright overwhelming on the offensive glass, with their best offense oftentimes being a missed shot. And that's to say nothing of Karl Towns, who has turned into their go-to guy in crunch time. Over the course of the last month, when they really need a bucket, John Calipari has been force-feeding him the ball on the block.
2. Force them to shoot over the top of the defense: The weakness for this Kentucky team offensively is that they don't have a myriad of great shooters. You want them settling for jumpers.
3. Score early or late in the shot clock: Kentucky's half-court defense is tremendous. If you can't beat them down the floor for quick, easy buckets in transition, you need to have the patience to run your sets until you get an open look.
No team in the country can do all three of these things as effectively as a healthy Virginia team can.
For starters, they are fourth nationally in defensive rebounding percentage, a stat that determines how many of the available offensive rebounds an opponent gets. Virginia gives up offensive boards just 24.0 percent of the time. By comparison, Kentucky grabs 40.4 percent of the available offensive rebounds. The Wildcats have enough size and athleticism that they will get to the offensive glass against anyone, but there isn't a team in the country that is more disciplined when it comes to boxing out than the Cavaliers, whose front line includes 7-foot Mike Tobey, 6-foot-8 Anthony Gill, 6-foot-8 Darion Atkins and 6-foot-6 Justin Anderson at the three.
The talk earlier this season was that the Wildcats were on pace to finish the season with the best defense in the 13 years that KenPom.com, an advanced analytics website that uses per-possession efficiency to determine just how good a team is, has been in existence. That is no longer the case, as Virginia has actually surpassed Kentucky in defensive efficiency.
Virginia runs the Pack-Line, a man-to-man containment defense that involves tremendous ball-pressure inviting dribble penetration into help defenders. I've gone in depth on the Pack-Line before, but essentially, it's a defense designed to force offenses into contested, drive-and-kick jumpers, which is precisely what any team wants Kentucky to do. Virginia is also notorious for only sending two players to the offensive glass, which will limit the chances Kentucky has for leak-outs and easy buckets in transition.
The other part of the Pack-Line that behooves Virginia's matchup with Kentucky is that they completely take away any post threat with big-to-big doubles on the catch. Here's what I mean. Look at where Darion Atkins (red circle), who is guarding Amile Jefferson here, is as Tyus Jones starts to deliver an entry pass: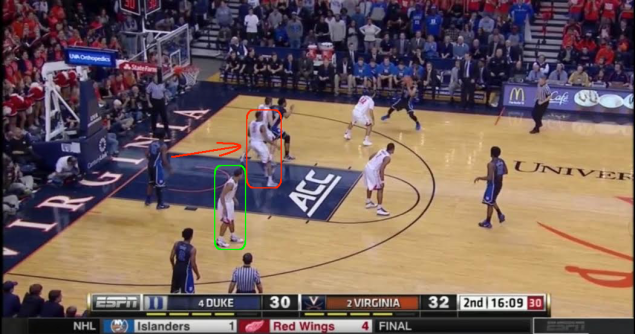 Then look at where Atkins and Malcolm Brogdon (green circle), who takes away the pass to Jefferson, are when Okafor makes the catch in the post: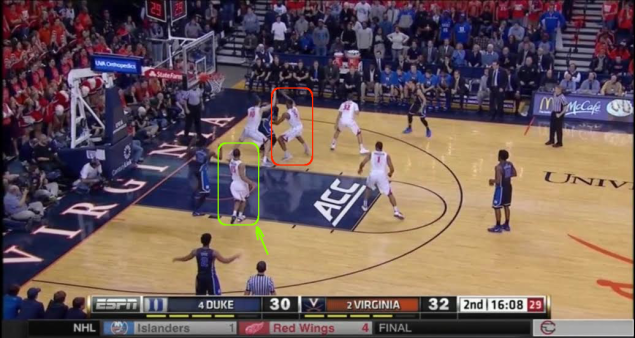 Here's the play at real speed:
Virginia is the best team in the country at moving defensively while the ball is in the air. They can take away Towns' post-ups.
Offensively, Virginia has had their issues of late, but when Anderson was healthy, they were a top ten team in offensive efficiency. It remains to be seen whether or not he will still be one of the country's most dangerous spot-up shooters when he returns, which is critical if the Cavs do square-off with the Wildcats. Virginia runs good offense — they can break down Kentucky's defense with set plays and rarely settle for bad shots early in a possession — but Anderson's shooting ability will help to spread the floor and open up space in the paint for drivers, cutters and post-ups.
The final score may not even make it into the 50s, but assuming Justin Anderson is healthy, no team in the country is better prepared to knock off the Wildcats than Virginia.
WISCONSIN
Like Virginia, the Badgers are one of the nation's best defensive rebounding teams, allowing opponents to grab offensive rebounds just 23.2 percent of the time. They have the size along their front line to matchup with Kentucky — Frank Kaminsky is every bit of seven feet, while fellow starters Sam Dekker and Nigel Hayes are 6-foot-9 and 6-foot-8, respectively — and while they don't have the depth that Kentucky has up front, they play at a pace that limits how tired their guys will get and are the nation's best when it comes to defending without fouling.
Wisconsin is nowhere near as good defensively as Virginia is, but Kentucky doesn't have the personnel to exploit their biggest weakness on that end. Where Wisconsin gets into trouble is with athletic wings that can slash to the rim and dynamic, play-making point guards, the latter of which is a bigger issue as long as Trae Jackson is still recovering from his broken foot. Neither Nigel Hayes nor Sam Dekker are particularly quick laterally, and when an opponent has a small forward that can put the ball on the floor and get to the rim — like, for example, Maryland's Dez Wells — the Badgers are vulnerable.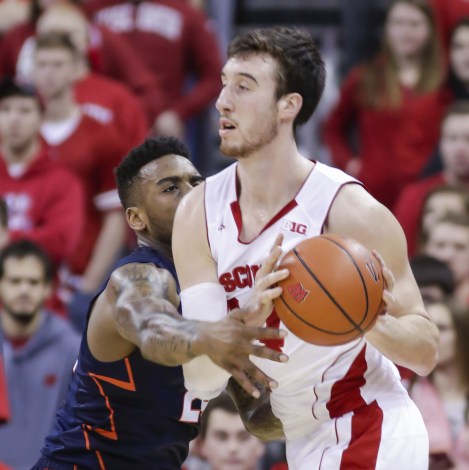 Kentucky doesn't have anyone like that. When the Wildcats play Trey Lyles at the three it actually plays into Wisconsin's hands from a matchup perspective, while Devin Booker and Aaron Harrison are shooters more than they are drivers.
And, like Virginia, Wisconsin often eschews chasing offensive rebounds, preferring to get back on defense, prevent easy transition points and defend in the half court.
All of that helps the Badgers, but the real reason that they are going to be able give Kentucky a fight if they square off is Wisconsin's ability to invert their offense.
Bo Ryan's club is the nation's most efficient offensive team, and up until a few weeks ago, they were actually on pace to set a KenPom-era record in that stat. Everything more or less runs through Kaminsky, who is National Player of the Year and having one of the best statistical seasons in recent memory. He leads the Badgers in scoring, rebounding, assists, steals and blocks, posting the numbers he does despite playing in an offense that averages the sixth-fewest possessions per game in the country.
Kaminsky does much of his damage in the post, but he's such a fluid player for his size that he can step out and drill threes or put the ball on the floor and get to the rim, scoring or dishing to an open teammate. He's not the only Wisconsin big capable of doing this, either. Dekker can as well. Hayes is shooting 37.0 percent from three. Duje Dukan, the first big off the bench, has had a tough year, but he's a guy that capable of hitting two or three threes in a row if he gets into a rhythm.
And it's the ability of those big guys to step out on the perimeter that allows Wisconsin to do some different things offensively. I've already gone in depth on how they invert their offense, meaning they use their bigs on the perimeter and allow their smaller players to penetrate and post up, isolating mismatches in a way similar to Fred Hoiberg at Iowa State, but it's that frontline versatility that will allow the Badgers to get good shots.
Even against a defense as stingy as Kentucky's.
And if there is anything you should know about Wisconsin by now, they have no problem using all 35 seconds of the shot clock to ensure that they get a good look at the rim. Take a look at this possession. Not only does Kaminsky run off of a pair of back-screens, but he passes out of a double team, which leads to a ball-reversal and a post-up for Hayes, who finds Kaminsky wide-open at the top of the key:
That's tough for anyone to defend.
DUKE
Despite having some serious defensive issues, the Blue Devils have nonetheless managed to put together a season worthy of a No. 1 seed. They've won at Wisconsin, at Virginia and at Louisville, are 27-3 on the season and will be a trendy pick to make a run to the Final Four thanks to the presence of Jahlil Okafor.
Okafor will likely have a difficult time should he be matched up with Kentucky. He's not in great physical condition at this point in his career, an issue that would likely come to the forefront as the Wildcats rotate through their trio of seven-footers and force Okafor to work his tail off on the defensive end of the floor.
Duke has had two main issues defensively this season. For starters, they struggle defending guards that can create off the dribble, either in isolations or ball-screen situations — something we went over in detail here. Kentucky doesn't really have that personnel, which is a good thing for Duke. What they do have, however, is a front line that can overpower anyone, let alone a team that has been susceptible on the offensive glass this season.
The good news for Duke? They are the most explosive offensive team in the country. They were completely dominated by Virginia on the road, but found a way to score on 14 of the final 15 possessions, scoring 35 points in less that ten minutes against the nation's best defense. When you can score in transition and shoot the three the way that Duke can, you're rarely out of a game.
ARIZONA
I don't love a matchup between with Kentucky for Arizona. Defensively, they should be fine. Sean Miller runs the Pack-Line defense like Tony Bennett at Virginia, and while his guys aren't quite as good as the Cavs, they are still a top five team on that end of the floor. They're not going to be physically overwhelmed by Kentucky, not with the amount of size and athleticism they have up and down their roster.
No, my concern with the Wildcats is on the offensive end of the floor. They can go through massive scoring droughts, and while the recent emergence of Kaleb Tarczewski as a real low-post option offensively is a good thing, I'm just not sure Arizona is good enough to consistently break down Kentucky's defense. Rondae Hollis-Jefferson can be defended as a non-shooter. Stanley Johnson has had issues finishing at the rim all season, issues that will be magnified against Kentucky's massive front line. Gabe York has been dangerous of late, but he is a defensive liability, as is Elliot Pitts.
As we went over in the Player of the Year Power Rankings this week, T.J. McConnell has been terrific in the pick-and-roll this season, but the ability of Willie Cauley-Stein — and, to a lesser extent, Karl Towns and Marcus Lee — to defend perimeter players limits the effectiveness of ball-screen actions against Kentucky.
Watch this possession from Tuesday night:
Kentucky switched five ball-screens involving their two worst front line defenders, and Georgia settled for a three from Marcus Thornton, a power forward that has hit nine all season long.
You can't beat Kentucky with ball-screens.
GONZAGA
There are two reasons I don't like this matchup for the Zags. For starters, like Arizona, so much of their offense comes out of ball-screen actions involving Kevin Pangos, which are no where near as effective against the Wildcats as they are against anyone else.
But the other issue is Kyle Wiltjer. He's the vital piece to this puzzle, as he's the kind of stretch-four that will open up the Kentucky defense and give Przemek Karnowski and Domas Sabonis space to play in the paint. But Wiltjer is a liability on the other end of the floor. He's not a good defender, he's not a good rebounder and he's not physical enough to deal with Kentucky's bigs. Sabonis and Karnowski are, but those two will struggle to play together because neither of them are a threat outside of eight feet.
Wiltjer is capable of going off for 30 points, which is why the Zags made this list despite his defensive issues, but he would need some serious revenge-game mojo if this upset were to happen.
VILLANOVA
I don't like this matchup for the Wildcats. I don't think they have the size inside to deal with Kentucky's big men, but they don't really have the front line pieces to be able to spread the floor, either. The key will end up being Kris Jenkins, a 6-foot-6 stretch four that is shooting 40.6 percent from three. He's not anywhere near the defender of the rebounder that either JayVaughn Pinkston or Daniel Ochefu is, but both of those guys do all of their damage in and around the paint. That will get taken away by Kentucky's size.