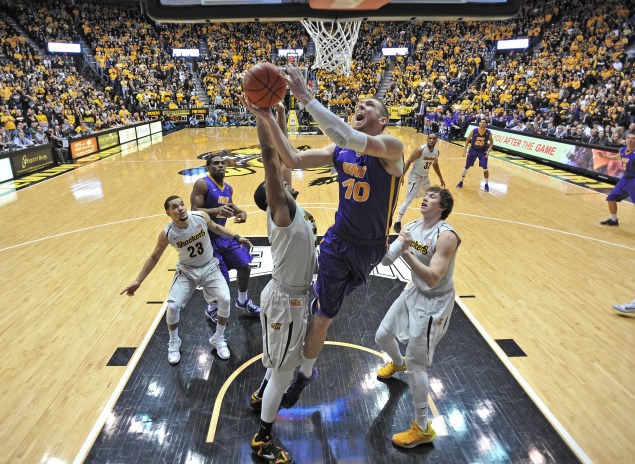 READ MORE: NBC Sports' latest Bracketology | The updated top 25
After being alone at the top in recent years, Wichita State has a nearly equal rival in Northern Iowa this season. Both teams are 27-3 and ranked in the top 15 as the Valley will surely get two teams in the NCAA Tournament. But first comes Arch Madness, and a few teams like Illinois State, Indiana State and Evansville are capable of stringing together some wins and stealing a bid.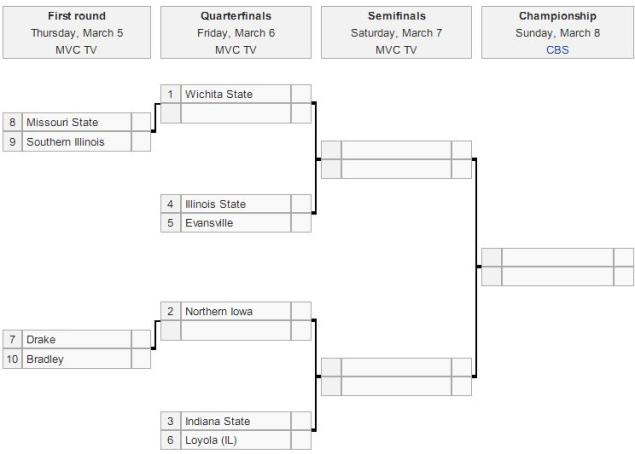 When: March 5-8
Where: Scottrade Center, St. Louis
Final: Sunday, March 8, 2:00 p.m., CBS
READ MORE: NBCSports.com's 2015 Conference Tournament Previews
Favorite: Wichita State
The Shockers enter Arch Madness as the No. 1 seed. The trio of Fred Van Vleet, Ron Baker and Tekele Cotton has won a lot of games in Saint Louis the last few years. Gregg Marshall's team should be favored again after a strong recent showing at home against Northern Iowa. If the basketball gods are looking down on his, they'll grant us a grudge match between the Shockers and Northern Iowa. Back in January, the Panthers handed Wichita State their only loss of the Missouri Valley season.
And if they lose?: Northern Iowa
Also at 27-3 this season are the Panthers, who are the No. 2 seed and might have a more favorable draw on their side of the bracket. Led by Player of the Year Seth Tuttle, Northern Iowa is deep, balanced and experienced and are looking to add some postseason success to an otherwise tremendous season.
Sleepers:
Illinois State: The Redbirds have battled injuries this season but still finished at No. 4 in the Valley. Tough defensively and balanced, Dan Muller's team will compete with anyone.
Indiana State: Evansville and Loyola have better win totals, but the Sycamores were more successful in conference play. Devonte Brown and Brenton Scott are a nice scoring combo while Jake Kitchell has looked good in conference play.
Player of the Year: Seth Tuttle, Northern Iowa
The 6-foot-8 senior is third in the conference in scoring (15.6 ppg) and rebounding (6.6 rpg) while placing fourth in assists (3.3 apg) and first in field-goal percentage (63 percent shooting). He's also improved to 44 percent as a 3-point shooter and been consistent for much of the season for a 27-win team.
Coach of the Year: Ben Jacobson, Northern Iowa
Gregg Marshall deserves a ton of crediting for maintaining Wichita State as a top-15 program, but Jacobson took a program barely above .500 a year ago and made them into a top-15 team with a chance at making the second weekend of the NCAA Tournament.
All-Missouri Valley Team:
Tuttle
Ron Baker, Wichita State – Now the main scorer for the Shockers, the 6-foot-3 junior guard is averaging 15.2 points and 4.5 rebounds per game on admirable splits (44% FG, 40% 3PT, 75% FT)
Fred Van Vleet, Wichita State – A Cousy award finalist, the junior is averaging 12.5 points and a conference-best 5.4 assists per game. Van Vleet is also averaging 4.4 rebounds per game.
D.J. Balentine, Evansville – One of the nation's most prolific scorers at the mid-major level, Balentine averages 19 points, 3.3 rebounds and 3.1 assists per game.
Egidijus Mockevicius, Evansville – In a league dominated by guards, the 6-foot-10 junior led the Valley in rebounding (9.9 rpg) and was second in blocks (2.3 bpg) and field goal percentage (59 percent shooting).
CBT PREDICTION: Wichita State over Northern Iowa