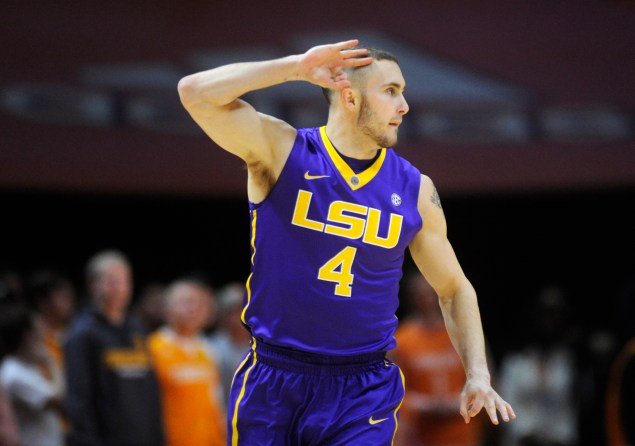 (This post will be updated throughout the night.)
WINNERS
Cincinnati: The Bearcats picked up a key road win against American leader Tulsa. Cincinnati had been inching closer to the cut-line over the last couple of weeks, but knocking off Tulsa should give them some breathing room. If Cincinnati wins two more games, they'll avoid sweating out Selection Sunday. Lose to Memphis this weekend and then fall in the first round of the American tournament, and the Bearcats are going not going to be sleeping well next Saturday night.
Michigan State: The Spartans beat Purdue on Wednesday night, shoring up a profile that is not quite as strong as their bracket projection would have you believe. The Spartans have just two top 50 wins, the same number of sub-100 losses they have. The reason they're safely in for now? Five of their ten losses have come to top ten opponents.
Miami: The Hurricanes picked up a nice road win over a Pitt team that is currently ranked in the top 50 — although, at No. 49, not for long — which will help them. But it doesn't get the Hurricanes over the hump. Miami probably isn't even one of the first four out right now, and with a road trip to Virginia Tech coming up, there's nothing else they can do to strengthen their profile before the ACC tournament. They probably need to win two games in the ACC tournament to have a real chance.
Boise State and Colorado State: The Broncos and the Rams are both sitting on the right side of the bubble right now, but neither of them are in a position where they can feel comfortable about getting a bid. That's why it's a good thing they didn't lose to
UCLA: The best thing you can say about UCLA's night is that they didn't lose to USC. The Bruins are still on the outside looking in and they still need to do some things in the Pac-12 tournament.
Illinois: The Illini avoided getting tripped up by Nebraska, setting up a massive bubble showdown at Purdue this weekend. Both teams will likely be in the purgatory that is "last four in" and "first four out" heading into that game.
Oregon: The Ducks finished their regular season on Wednesday, going into Corvallis and knocking off Oregon State in the Civil War. Oregon is going to be an interesting case on Selection Sunday regardless of what happens in the Pac-12 tournament. Right now, Oregon has nine top 100 wins and 15 top 150 wins, but they have just one elite win out of that group, coming at home against Utah. As long as they avoid an awful loss in the Pac-12 tournament, they should be just fine.
Oklahoma State: The Cowboys avoided what would have been a bad loss to TCU on Wednesday. With a number of really good-to-great wins and their four worst losses all coming in true road games, the Pokes are probably a lock by now.
LOSERS
LSU: Here's the funny thing about an RPI scale that changes on a daily basis: as of right now, LSU's blowout loss at home against Tennessee is the fourth sub-100 loss for the Tigers this season. But a road win over a top 50 team will improve the Vols' profile, meaning that not only will it no longer be a sub-100 loss, but it will likely mean that LSU will get another top 100 win on their resume thanks to an earlier win over Tennessee. My point here is that sometimes you have to take a deeper look at a team's profile than the simple grouping of a series of wins. LSU has four wins over tournament caliber teams, three horrid losses against the dregs of the SEC and a bunch of 'meh' in between. The good news? The Tigers had some room to work with, as they avoided the play-in games in most projections. The bad news? They're at Arkansas this weekend, meaning they're probably going to have to do some work in the SEC tournament to avoid sweating out Selection Sunday.
Texas A&M: Someone is going to have to explain to me why Texas A&M is in most bracket projections, because I just don't get it. The Aggies don't have any bad losses on their resume — they lost at Alabama and Florida and dropped a game against Kansas State on a neutral court — so let's just get that out of the way now. They do have a 6-9 record against the top 100, but that number is deceiving because only two of those wins came against the top 75. And, curiously enough, both of those top 75 wins were against an LSU team that is anything but a lock to make the tournament after losing to Tennessee at home tonight. That loss will drop the Tigers back out of the top 50 — which is why A&M is a loser on a night where the didn't play — meaning that A&M is now in these tournament projections solely because … they have not lost a single game to a "bad" team? That's it. Because it's a fact that they have not proven the ability to beat NCAA tournament-caliber teams. And that's not a recipe that I think deserves an at-large bid.
Tulsa: The Golden Hurricane whiffed on a great chance to add a quality win to their profile when they lost to Cincinnati. A trip to SMU this weekend — which also just so happens to be the American title game — is looking more and more like a must-win for this group. For starters, they fall into that same boat that Texas A&M does. They have just two quality wins — both Temple, a borderline tournament team — and only five top 100 wins. Tulsa also lost to Oral Roberts, not to mention the Division II team that beat them. There really isn't much on this resume to like, which is why it's imperative to add a top 25 road win and an outright regular season title in a top seven conference.
Purdue: Purdue lost at Michigan State on Wednesday, which probably doesn't hurt them all that much. Road losses to top 50 teams on the road aren't exactly bad losses. The problem? The Boilermakers are one of those teams that find themselves listed as one of the last four in or the first four out, depending on where you look, and missing out on this kind of win could end up haunting them on Selection Sunday. Winning the Illinois game this weekend is a must, as is avoiding a bad loss in the Big Ten tournament.
Pitt: The Panthers lost to Miami on Wednesday, a loss that moves them even further away from the bubble. Barring a beep run in the ACC tournament, the Panthers are probably NIT bound.
STILL TO PLAY
Oregon at Oregon State, 11:00 p.m.