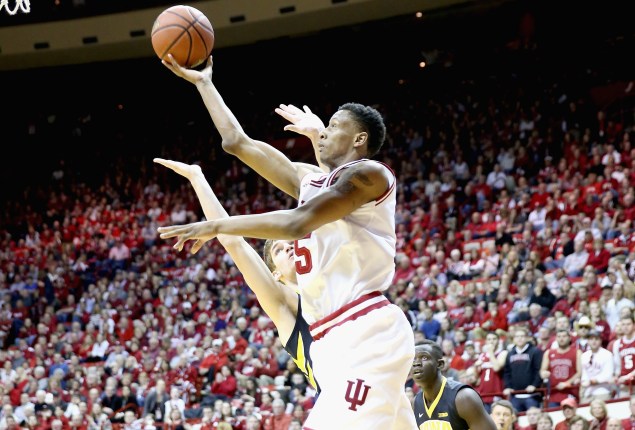 (This post will be updated as the games are completed.)
WINNERS
Iowa: The Hawkeyes are in after winning at Indiana. Even if they lose to Northwestern at home and lose in their first Big Ten tournament game, those five top 50 wins — three of which came on the road — should be enough. They're now playing for seeding.
Ole Miss: The Rebels won at Alabama on Tuesday night, putting them in a position where a trip to the tournament is all-but a given. Their wins at Oregon and at Arkansas keep getting better, and a neutral court win over Cincinnati doesn't hurt, either. Their three sub-100 losses aren't pretty — especially since all three came at home — but those are the only three losses Ole Miss has suffered against teams outside the top 50.
N.C. State: The Wolfpack picked up a win at Clemson on Tuesday night, a win ensures them a .500 record in league play and adds another top 100 road win to their resume. But more importantly, the Wolfpack avoided a loss that they may not have been able to survive. N.C. State was the bubble's big loser of the weekend, dropping a game at Boston College on Saturday that dropped them from "comfortably in" to "the think of the bubble". With a win over Duke as well as road wins over Louisville and North Carolina, there is a lot to like about this Wolfpack profile. The problem? They're 18-12 with six losses outside the top 50. Beat Syracuse this weekend avoid losing to a bad team in the ACC tournament, and they're probably on the right side of the bubble.
Dayton: The Flyers are in. They can survive a loss at La Salle and a loss in the first round of the Atlantic 10 tournament. Things might have gotten stressful if they had also lost to Rhode Island at home on Monday night.
Georgia: The eye test officially isn't a part of the NCAA tournament selection process, but it's hard to imagine Georgia not getting the benefit of the doubt after the performance they had in a loss to Kentucky Tuesday night.
LOSERS
Indiana: On Jan. 23rd, the Hoosiers were sitting pretty, tied for first in the Big Ten's loss column and coming off of a 19 point win over Maryland in Assembly Hall. They were ranked in — or around, depending on where you looked — the top 25 and seemed on track to finish somewhere around a No. 6 or No. 7 seed. Fast forward six weeks, and the Hoosiers are in some real trouble of missing the NCAA tournament. They've lost seven of their last 11 games, which includes a sweep at the hands of Purdue and an ugly loss to Northwestern last week. They're now 19-11 on the season and 9-8 in the Big Ten with a visit from Michigan State coming up this weekend. On the season, the Hoosiers have five top 50 wins — including non-conference games against SMU and Butler — but they have the loss to Northwestern and a sub-100 non-conference strength of schedule that includes five teams ranked in the bottom 280. Indiana is in as of today, but they're not making it easy on themselves.
Texas A&M: Maybe I'm the crazy one, but I'm not sure why so many people think Texas A&M is comfortably in the NCAA tournament. After losing to Florida on Tuesday, the Aggies are now just 6-8 against the top 100 with only two wins coming against teams in the top 80. Both of those wins were against LSU, a team that has floated between 45-55 in the RPI for the last couple of weeks. They don't have any bad losses on their resume, but their two best non-conference wins are Arizona State and Sam Houston State. All else equal, I value a team with a great win and a bad loss over a team with neither, but that's just me. If the Aggies end up dancing, it won't be because they've proven they can consistently beat NCAA tournament competition.
Rhode Island: A win at Dayton could have gotten Rhode Island back into the conversation. They lost. Danny Hurley is going to need to win the automatic bid.