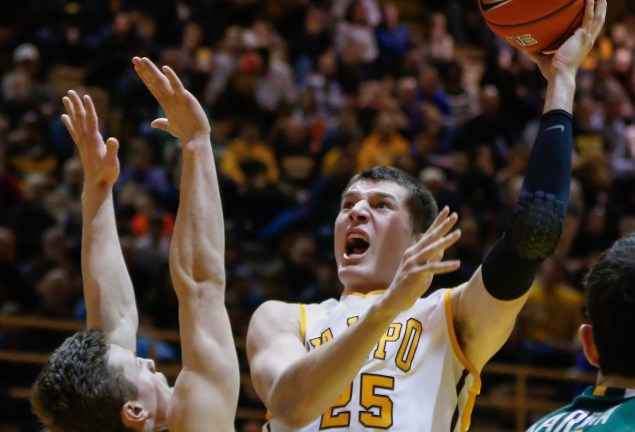 The Horizon League race was an entertaining one, as it wasn't decided until the final week of the season with Valparaiso winning the crown. The Crusaders won't have to leave home as a result, but they won't lack for challengers in the race for the automatic bid. Green Bay is looking to erase bad memories of a loss in last year's tournament, and both Oakland and Cleveland State are formidable as well. Of the four other teams in the tournament (Milwaukee's ineligible for APR reasons), Detroit may be best equipped to go on a run thanks to the presence of Juwan Howard Jr.
READ MORE: NBC Sports' latest Bracketology | The updated top 25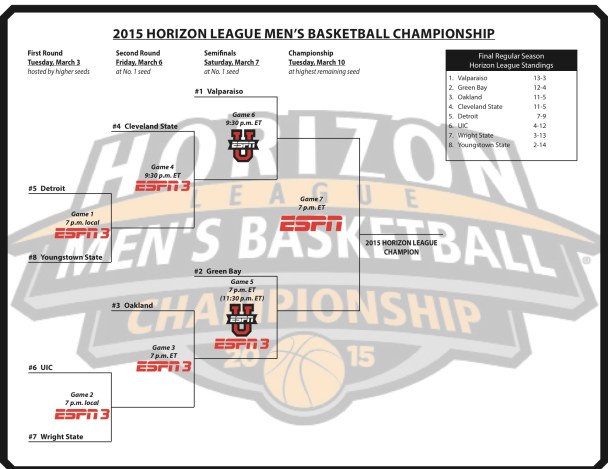 When: March 3, 6-7, 10
Where: Campus sites (first round), Valparaiso (second round and semifinals), highest remaining seed (final)
Final: March 10, 7:00 p.m. (ESPN)
READ MORE: NBCSports.com's 2015 Conference Tournament Previews
Favorite: Valparaiso
Thanks to their regular season title the Crusaders are the top seed, meaning that they host the second round and semifinals and also receive a bye into the semis. While home court certainly helps (they're 8-0 in league home games this season), Valparaiso's defense is another reason why they should be seen as the favorites. Opponents are averaging just 59.9 points per game and shooting 38.2% from the field, with both numbers being tops in the Horizon League. Alec Peters, one of the best forwards at the mid-major level, can score both inside and out for a team that led the Horizon in offensive rebounding percentage (36.6%) in league games.
And if they lose?: Green Bay
Like Valparaiso, Brian Wardle's team gets a bye to the semifinals. Seniors Keifer Sykes and Greg Mays lead the way for the Phoenix, who lead the Horizon in field goal percentage (46.6%) and also have the league's lowest turnover rate. Green Bay has also been solid defensively, but if there's a concern it's what could happen if an opponent forces them to resort to three-point shots (they're shooting a league-worst 30.2% from three). Green Bay also received some good fortune in the seeding, as a Cleveland State team that swept the season series between the two is on the other side of the bracket.
Sleepers:
Cleveland State: Gary Waters' Vikings lost two games to Valparaiso by a combined five points, and they have the tools needed to win three straight games in this tournament. And in guards Trey Lewis and Charlie Lee and forward Anton Grady, Cleveland State has three players capable of leading them on a run.
Oakland: The Golden Grizzlies are just 16-15 overall, but they won 11 of their 16 Horizon League games. In guard Kahlil Felder, head coach Greg Kampe has one of the league's best and forward Corey Petros is no slouch either.
Player of the Year: G Keifer Sykes, Green Bay
Sykes is averaging a league-best 18.5 points per game, shooting 46 percent from the field while also accounting for 4.5 rebounds and 4.2 assists per game. The senior point guard is ranked in the top five in the Horizon League in points, assists (4th) and steals (3rd).
Coach of the Year: Bryce Drew, Valparaiso
Picked to finish fourth in the preseason poll, Drew's Crusaders managed to win the Horizon League regular season title outright. Valparaiso's defense has been stellar, and with three players averaging double figures led by sophomore forward Alec Peters the Crusaders have options offensively as well.
All-Horizon League Team:
Sykes
G Kahlil Felder, Oakland: In addition to ranking third in the Horizon in scoring (17.4 ppg), Felder leads the nation in assists per game (7.7).
G Trey Lewis, Cleveland State: Averaging 16.9 points per game, Lewis is also shooting 43.1% from beyond the arc for the Vikings.
F Corey Petros, Oakland: Petros is averaging 14.5 points per game, and he also led the Horizon in both rebounding (8.4 rpg) and field goal percentage (60.1%).
F Alec Peters, Valparaiso: Peters is ranked in the top ten in the Horizon in scoring (fifth), rebounding (sixth), field goal percentage (sixth), three-point percentage (second) and free throw percentage (fifth).
CBT PREDICTION: Valparaiso beats Green Bay in the title game.