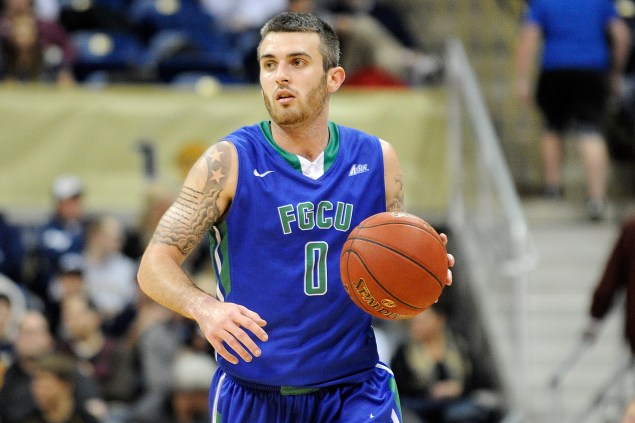 The 37th edition of the Atlantic Sun Conference Tournament will look a little different. Defending tournament champion Mercer has moved on to the Southern Conference and regular-season champion North Florida hasn't had any sort of recent success. Of course, Florida Gulf Coast remains in the picture and the conference's campus sites tournament makes for an intriguing element as well.
READ MORE: NBC Sports' latest Bracketology | The updated top 25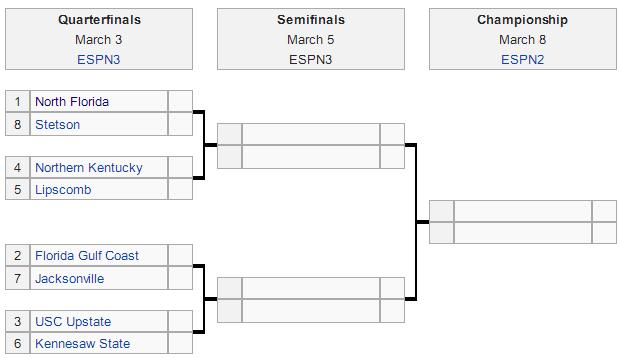 When: March 3, 5, 8
Where: Campus sites (better seed, all rounds)
Final: March 8, 7:00 p.m. (ESPN2)
READ MORE: NBCSports.com's 2015 Conference Tournament Previews
Favorite: North Florida
The Ospreys only lost to USC Upstate in Atlantic Sun play this season and swept No. 2 seed Florida Gulf Coast with double-digit wins in both games. The conference's most uptempo team, North Florida is riding a five-game winning streak entering the A-Sun Tournament and has homecourt advantage in every game thanks to the league's campus sites tournament policy for top seeds.
And if they lose?: Florida Gulf Coast
Dunk City won't play the same uptempo style that they used to, but they're still the No. 2 seed and a talented, experienced team. Brett Comer and Bernard Thompson are seniors who were both on the Sweet 16 team and both will want to return to the NCAA Tournament for one final time.
Sleepers:
USC Upstate: Home of the conference's leading scorer, guard Ty Greene, the Spartans beat top seed North Florida twice and wouldn't be scared to face them on the road in a title game.
Northern Kentucky: The Norsemen are the No. 4 seed and they've been tough at home but struggle on the road.
Player of the Year: Ty Greene, USC Upstate
The senior had always been a prolific scorer, but this season Greene upped his shooting percentages and led the conference in scoring at 20.1 per game. He also led the conference in steals per game at 2.2 a game and Greene helped lead the Spartans to third place in the conference in the regular season.
Coach of the Year: North Florida's Matthew Driscoll
In his sixth year, Driscoll has a regular season Atlantic Sun champion and the Ospreys will finish above .500 for the first time in his tenure this season.
All-Atlantic Sun Team:
Greene
Brett Comer, Florida Gulf Coast – Led the league in assists at 7 per game — second place was 4.2 per game — and also scored 12.4 points per game for the second-place Eagles.
Dallas Moore, North Florida – The leading scorer for the Ospreys was fourth in the league at 15.4 points per game while averaging 3.9 assists and 3 rebounds per game.
Josh Williams, Lipscomb – The sophomore came on strong this season, averaging 17.2 points and 5 rebounds per game while shooting 49 percent from the floor and 40 percent from 3-point range.
Jalen Billups, Northern Kentucky – Shooting a ridiculous 69 percent from the field was the 6-foot-6 junior, who averaged 11.1 points, 5.8 rebounds and 1.2 blocks per game in only 21 minutes per contest.
CBT PREDICTION: North Florida over Florida Gulf Coast